Today we're taking a closer look at some of the most popular open-faced helmet models. We're going to cover various styles from different price points, all of which are available at most motorcycle stores.
There are two main categories of 3/4 open-faced helmet styles that almost all these helmets can fit into. Retro, vintage, and Touring. There's also a new emerging category of hybrid open face helmets, but they'll get their review later.
Today we're going to look at seven successful designs, three retro styles, and more sophisticated touring styles.
All the helmets we'll check out today carry at least a DOT safety rating, let's start with a few retro models. The first time I want to show you today is the famed Bell Custom 500.

Bell Custom 500 Open Face Helmet
First up is the Bell Custom 500, and when I picture a 3/4 helmet, I'm thinking of this one. It's the icon of the open face category and probably one of the most recognizable helmets in the world.
That's because it has a pedigree like no other, in 1954 the founder of Bell helmets a guy named Roy Richter formed the company's very first helmet out of fiberglass, and he called it the 500.
A lot has changed since the beginning of the Cold War, but the 500 hasn't changed much. It's still a fiberglass bucket, nothing fancy, no ventilation whatsoever, and the liner inside is neither removable nor easily washable.
What Bell has updated is the fit. Bell 500's in the past were typically quite round, while this newer one is more of intermediate head shape.
It was made a lot slimmer and a lot lighter for its 60th birthday, and in that vein, it is a featherweight 1100 grams, which makes it easily the lightest and the lowest profile open-faced helmet out of all my top picks.
DOT & ECE Approved
For myself, I would choose this helmet over any other open face, and there are a few reasons for that. It's DOT and ECE approved, which means that it's very safe for the three-quarters of my head that are covered by it.
Helmet Sizes
I also get five different shell and EPS sizes in this guy, which is enormous. Typically manufacturers use three, so my medium helmet is always going to be a little bit chunkier than it has to be because it shares that shell size with the large.
With the bell 500, however, every size except for extra small is going to get its tailor-made shell. I loved how the exterior is a smooth blank canvas for the million colorways that Bell makes this in, and the graphic options as well.
And then the sticker up front I can peel it off, which is helpful if I want an even more streamlined look.
Face Shields
It comes with five snaps which make it compatible with a bunch of face shields you can get from Bell or even built well, and on the interior, you get style with this quilted pattern.
Color Range
The new 500 is available in 7 colorways, including matte brown, metallic, and in sizes extra small to double extra-large.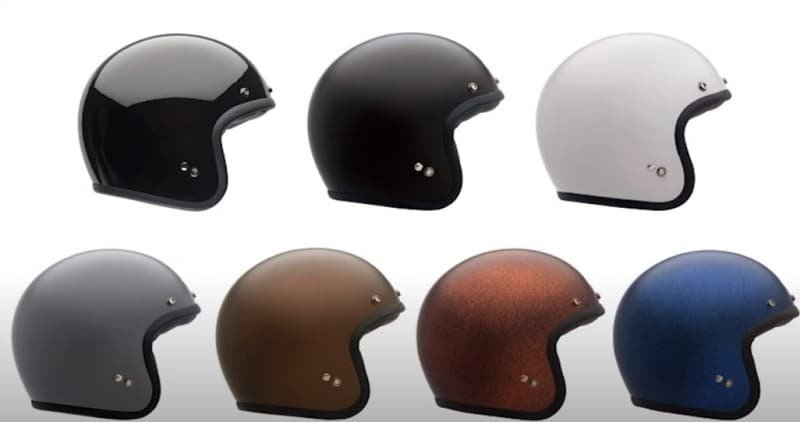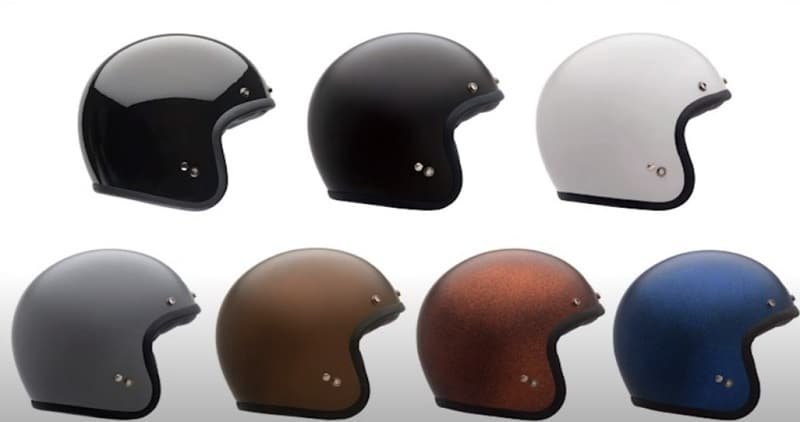 Price Range
At $150 to $170, Belle has done very well to make this helmet as good as it is, but why wouldn't they? I mean this is their heritage, it is their inception, of course, they're going to make it a very special lid.
Shoei RJ Platinum R Open Face Helmet
If I want that classic look with a little bit more practicality, I'll go for something like the Shoei RJ Platinum R.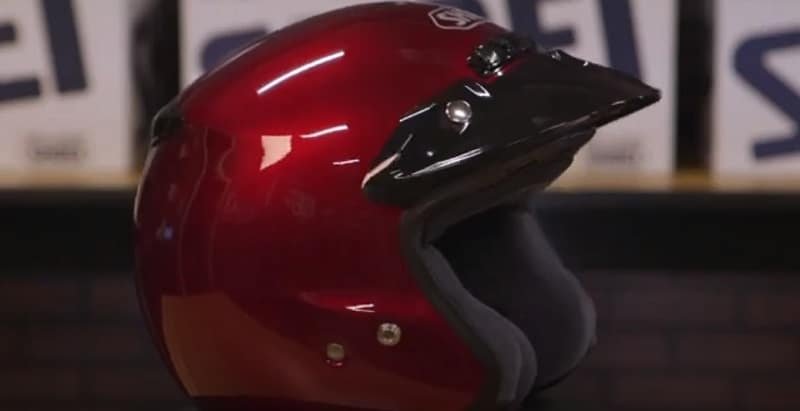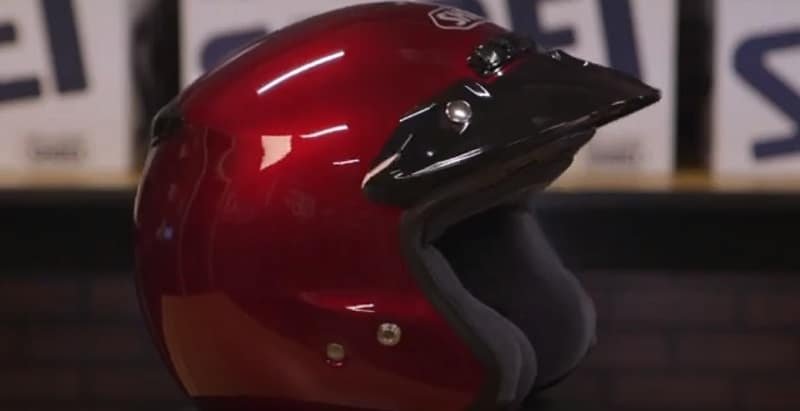 Compared to the custom 500, we have two significant improvements, one the interior in this helmet is removable and washable, which really should be a given nowadays. Still, somehow the 500 got away with that one.
Ventilation
The other big improvement is ventilation. We have two active intakes on the forehead and two active exhausts on the rear. I often hear people talking about how much safer the Shoei is because of its Snell rating, but to me, that doesn't hold water.
Based on my understanding of ECE and Snell ratings, I would say that the Shoei is going to absorb impacts better, but the Bell Custom 500 will impart less inertia to your neck, so that is to say it's a wash they're equally safe.
Interior
The interior of the Shoei has a few refinements over the Bell. We get grooves that make it easy to wear with eyeglasses, and little recesses for the speakers as well. We also have more soundproofing than the Bell 500.
Exterior
The exterior, on the other hand, leaves a bit to be desired. We get the same five snap system for visors and face shields, but I wish Shoei had avoided putting these contours on the shell because, to me, that kind of ruins the classic minimalist look.
Construction
I'm also skeptical about the shell material itself. It's Shoei's AIM + construction, which means that it's fiberglass plus some organic fibers woven in.
Weight
So it should be nice and light. However, the RJ tips the scales at a whopping 1330 grams, which is both surprising and disappointing.
Of course, you can't deny Shoei he's exceptional build quality, and at $350, they have thrown in the visor, which makes the price a little easier to stomach.
LS2 OF569 Open Face Helmet Review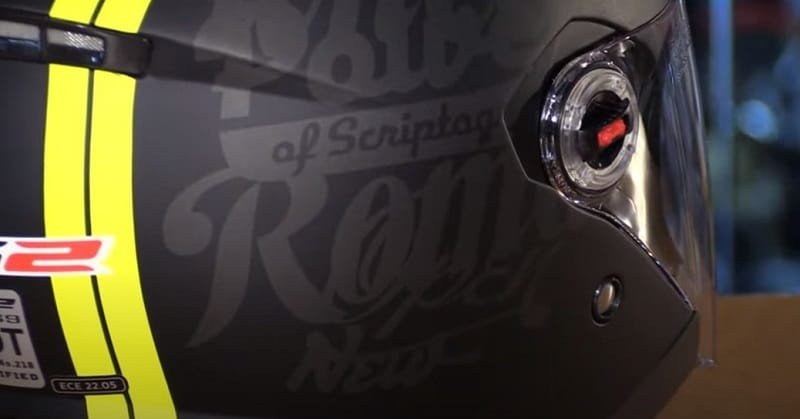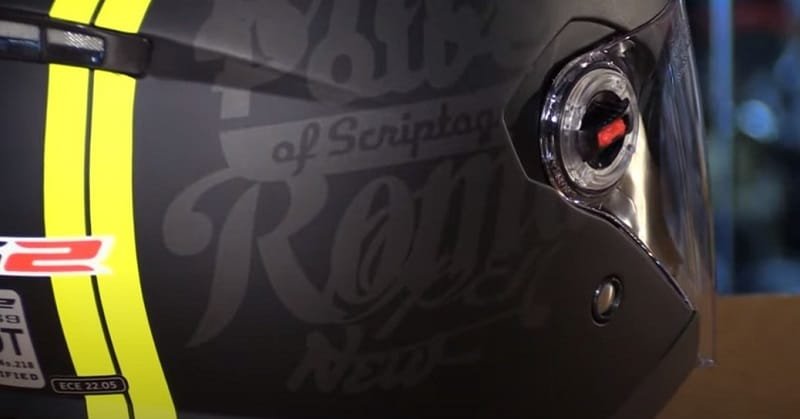 Price
Of course, you can get these same features and a lot more for even less money the LS2 OF569 comes to mind, and at $130, this is the maximum value per dollar in the open face category.
Interior
You got your removable and washable liner, you, of course, have your big face, shield you have a drop-down Sun Visor in there, two active intake vents on the forehead, and you have a passive exhaust slot on the rear.
Construction
LS2 says the shell is HPTT, which stands for high-pressure thermoplastic technology. That might sound impressive, but it's just the basic plastic. However, LS2 was able to get this thing pretty slim and lightweight.

It's lower profile than the Shoei and only thirty grams heavier, which is nothing when you consider how many more features this guy has. What I love about LS2 is that they offer cheap helmets while still giving these little luxuries.
On the chinstrap, they've gone for a ratchet system rather than the typical D-ring, which makes it easier to operate with gloves on. And this helmet has one of the best quick-release mechanism on the face shield I've ever seen.
Face Shield
You just flick a little knob to open, and then you rotate to pull it off. The only thing I don't like about this helmet is the branding. For one LS2 OF569 sounds like a tax form, not a motorcycle helmet. And then they went nuts with the decals.
I mean, they put their name on this thing not once, not twice, not three times, but four times. They're not removable stickers either, so I'm going to be a rolling advertisement whether I like it or not.
But hey maybe, it's the least I could do because LS2 is giving me a big break on the price tag.
HJC IS-33 Open Face Helmet Review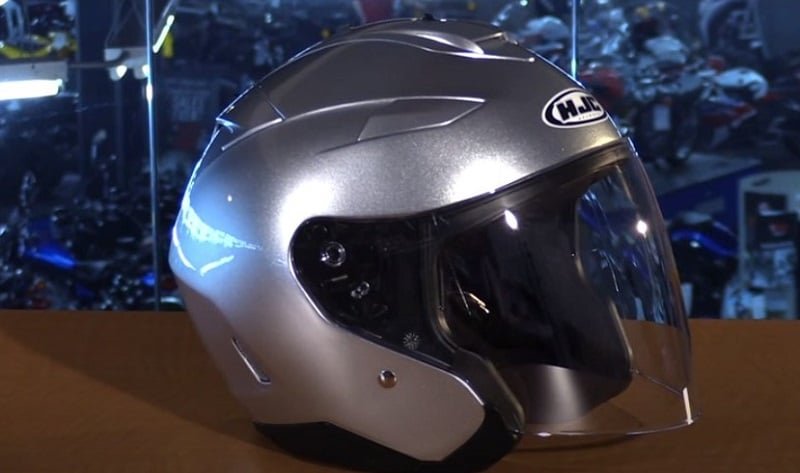 To show you what I mean, I tried a helmet that I don't like, the HJC IS-33. This helmet retail right around $160, but others have them on for $130 right now, so it's mostly the same price as that LS2.
And again we have a quick-release face shield, there is a drop-down Sun Visor, we have a removable and washable liner, all the same features as the LS2 but the HJC, only DOT, approved, while the LS2 is DOT and ECE approved.
Construction & Weight
The HJC's shell is polycarbonate rather than plastic, but somehow it still manages to be heavier at a colossal 1490 grams, which is ridiculous for an open-faced helmet.
What's even worse is that they wasted weight on this stupid retracting mechanism. It tends to leave the sunshield halfway down as soon as the spring gets worn out, and on that note, the HJC IS-33 sun shield is only a half tinge below clear, which is not nearly dark enough to be useful.
I would say that the HJC is quieter and offers better build quality than the LS2, but it's also much bigger and heavier. Maybe you could call the IS33 a decent helmet for the price, but in my opinion, all the HJC does is make me appreciate the HJC IS-33 even more.
Speed and Strength SS600 Custom Helmet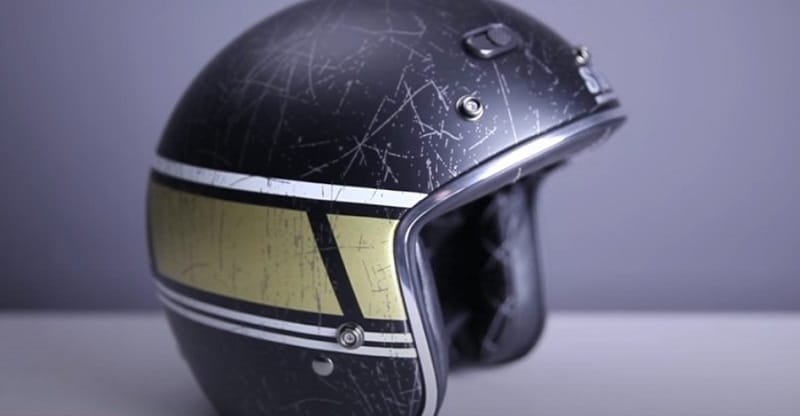 The next helmet we're taking a look at is the speed and strength SS600. This helmet doesn't have quite the fit and finish, that the Bell does, but it's still very nice-looking, especially for the money.
It has an ABS alloy shell as opposed to the Bell fiberglass, but while abs possess less impact absorption than fiberglass, it's more durable and does a better job of handling daily riding abuse.
Price Range
The price is also about 25% less in specific finishes. The SS600 is available in sizes extra small to 2x, and like most retro open-face helmets is designed for a round, to intermediate oval head shape.
I can wear it, but I need to go to a size larger than the fitment chart recommends for my head circumference.
My head measures 23 and a half inches around, so I should fit in a large according to the table, but I'd be pretty uncomfortable on anything smaller than an XL.
Ventilation
Another feature not often found in the vintage segment is ventilation. The SS600 features intake and exhaust vent ports to keep you cool and dry in warmer weather.
HCI 10 Open Face Helmet Review
Next, we have the value-priced HCI 10. while this isn't one of the premium helmets in this retro category, it's a good value for the budget-conscious.
Now I'd like to try to offer a full spectrum of price points, so you get the most helmet for the dollars in your pocket.
It also makes it easier for you to see the differences between a value-priced helmet and a premium helmet. Like the other two retro helmets, this lid also has an intermediate oval head shape.
Fitment
The fitment calls for an extra-large for my head measurement, which is correct front to back, but there's a little bit too much room for side-to-side movement. Even with a rounder head, this helmet isn't going to have quite the precise fit of a premium helmet.
Time spent on research and development translates into higher helmet cost, perfection isn't the goal with value-priced helmets affordability is.
A couple of other features you'll have to do without are a wicking liner in ventilation. Also, my example is only equipped with three snaps instead of five, which limits you a little bit on shield choice.
The next group of helmets we're going to look at have more modern styling, with advanced features that are beneficial to a more touring-oriented rider. I'm going to show you four of my favorites, including two of the most premium choices.
Shoei J Cruise Open Face Helmet Review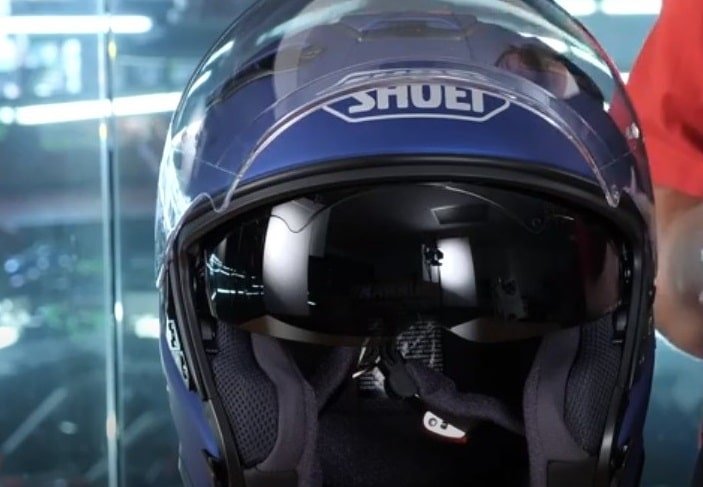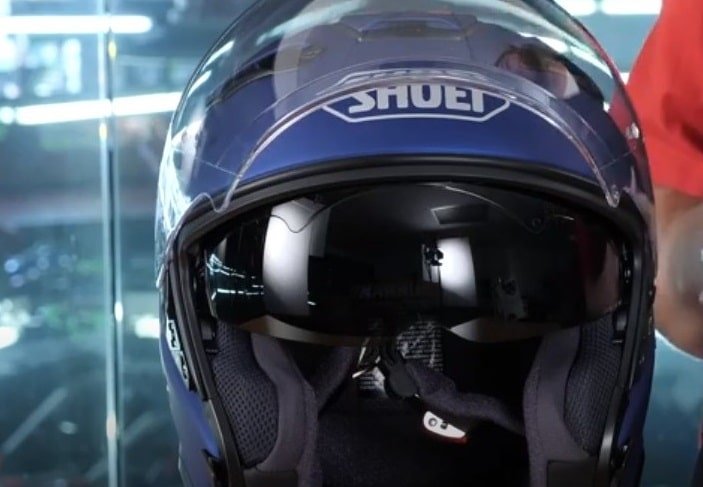 First, we have the Shoei J Cruise. this is an ultra-premium choice from Shoei, one of the most feature-packed open face helmets available today.
This helmet is designed to offer the wearer all of the best in each feature category, no cut corners with the J Cruise.
Fitment & Color Range
The fit of this helmet is what you'd expect from Shoei, it's precise, you feel the firm grip of the helmet on your head, but there's no hot spots the size chart calls for large for my head, and this is the right size.
It's pretty snug for now, but remembers, you lose about a third of the size to break. It's available in a ton of colors, and the finishes on Shoei products are excellent.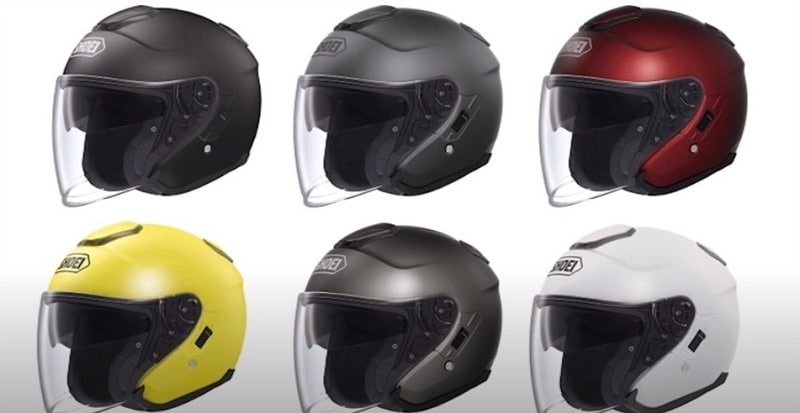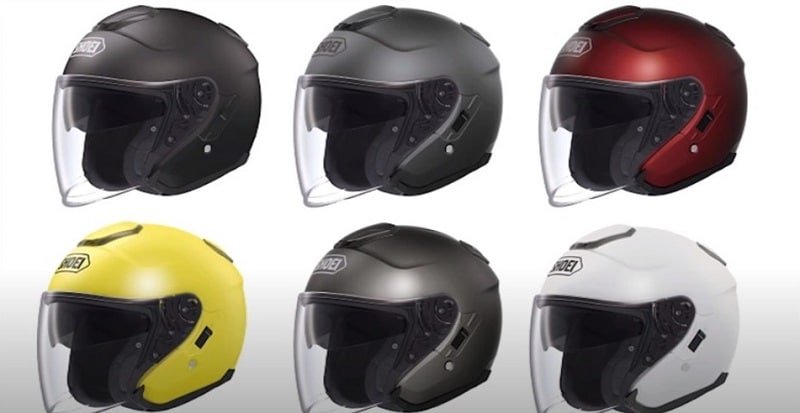 One of the issues commonly had with open face helmets is buffeting and wind noise. Motorcycle riders on all different styles of bikes like open-face helmets.
The challenge for the helmet manufacturer is creating a helmet that's going to ride smooth and quiet, regardless of the motorcycle's windshield.
The J Cruise was designed in a wind tunnel. Features like the ventilation, the new integrated air dam design on the optically correct shield, the spring-loaded base plates, and the twin blade Import gasket work together to provide a surprisingly quiet ride.
Interior
You're also getting premium features like an AIM shell with four shell sizes, multi-piece EPS liner, and a retractable internal sunshade, not to mention the work of art, the 3d max dry liner.
The padding is contoured and constructed out of different thicknesses and densities of padding to provide the perfect fit.
Arai XC Open Face Helmet Review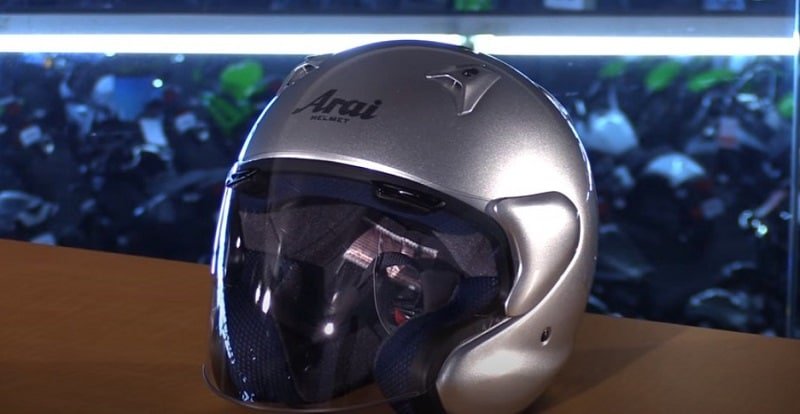 Next, we have another top-of-the-line selection from the touring segment of open face helmets, the famed Arai XC.
If you close your eyes and had someone put this helmet on your head for you, you'd swear it was a full face.
That's because of this unique shell design where the jaw area extends over an inch farther than the previous Arai open face models.
Fitment
The fits a little bit rounder with the arrival in the Showing. I have a long oval head form, so this time it will fit great on most folks with more intermediate oval heads.
Construction
Of course, it's an Arai, so you're getting a hand laid fiberglass shell and plush 3-dimensional liner construction. There are two areas where the Shoei and the Arai give and take.
The Arai gets a Snell safety rating, and the Shoei does not. It isn't a deal-breaker for me, but I know that many riders get a lot of peace of mind from the Snell rating.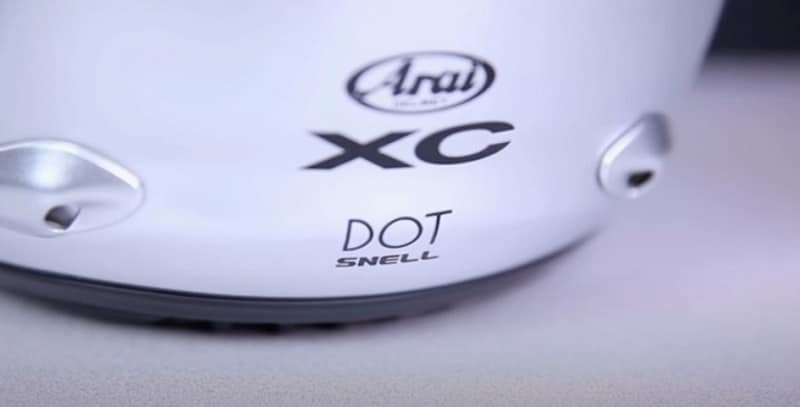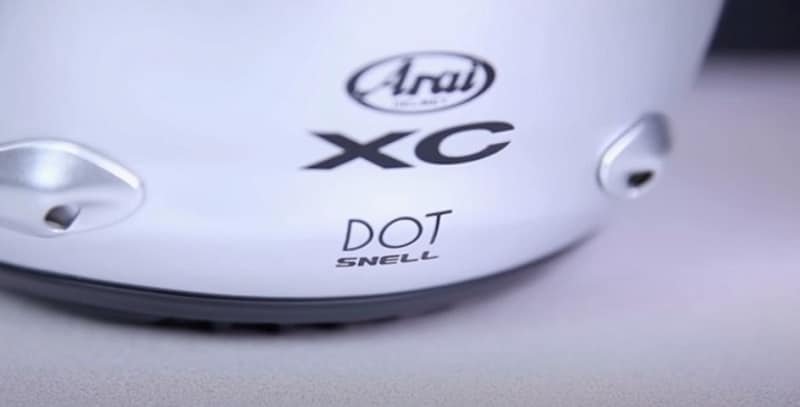 Arai Face Shield System
The area where showy shines over Arai is the shield system. There is no comparison. There's so much feature tech put into this Shoei that they're going to be hard to catch.
Every aspect of the show is the shield system is smooth and refined, and the Arai just isn't. The shield is difficult to remove, and the locking mechanism requires the wear to tug firmly on somewhat delicate baseplate components.
Choosing between these two helmets would be a tough job for any Rider I'm glad I don't have to do it.
The last two helmets I want to compare are the HJC FG jet and the G max GM 67s. Some might say that this is an unfair comparison because of the relatively dramatic difference in price points, but I look at it this way, whatever the less expensive helmet gives up in quality to makes up for in price.
Helmet Fit
The fit between the two is very similar and accurate per the size chart, although some customers did complain that they had to return their G max for a bigger size. So if you're in between sizes, definitely pick the next one up.
The FG jet has many truly top-of-the-line features, but at a price that's about a third of the rai. It has Kevlar and fiberglass composite weave shell that was designed in a wind tunnel, so the aerodynamics is quite good.
Ventilation
The ventilation also benefits from Windtunnel testing. Both of these elements have a well-designed drop-down visor system, but I have to give this feature win to the HJC.
Helmet Visor
This sunshade system works perfectly. The shape of the visor and how far it goes down are crucial. If you're stuck looking at the bottom of a Sun Shade, trade, you'll get a heading.
The three-position shield on the FG works excellent, the buttons are easy to use, and they've added a cushioned release to ease the noise.
The face shield system on the FG jet is also quiet, a simple push of a lever, and the shield pops right off, then reinstalling is just as easy.
The GM 67S has its strong points as well. Where this helmet shines is versatility.
This helmet can be set up with three different configurations. You can wear this helmet with a peak visor installed, a face shield, or you can purchase a supplementary chin bar setup that gives the helmet some full-face style debris protection.
You also have the option of adding a rear light kit that can tap into your bikes brake light circuit, giving the helmet a brake light functionality.
The GM X helmet has excellent ventilation, and the finish on these helmets is automotive quality.
Our Latest Helmet Review