My guess is that the reason you are reading this review is you have a cruiser, and you're trying to put a set of tires on your bike.
Now, if you've taken a look at what tires exist, you may realize that they're an overwhelming number of choices, and not everybody needs six hundred different tires to paw through.
Rather than every cruiser tire that is available on the market, we've assembled a few of the standout tires that we've seen come through the doors to make you're buying a little bit easier.
Before we get kicked off, let's talk about your tires and what makes them slightly different from some of the other bikes on the road.
If you're riding around in a cruiser, putting a set of tires on can be difficult for one really big and important reason. The fact is, many cruisers have lots and lots of different wheel sizes.
You may have a 15, 16, 17, 18, 19, or a 21-inch tire; there are lots and lots of different sizes out there. You may be able to find a tire that's good for one end of your bike, but maybe not a matching tire for the other end of your motorcycle.
Especially on metric cruisers, you may find that one of your tires is a commonly found size, but the other tire might be much harder because it can be difficult to find a matching set of tires that will work well for your motorcycle.
With such a wide range of wheel, sizes and tire sizes out there, this gets a little bit hairy. Still, we have a couple of selections I think that will help you, and at least get you started down the right path for what tire might suit you best.
We've broken down the best tires for a couple, different styles of motorcycle. So if you have a bike sitting next to your Cruiser in the garage that is a different motorcycle style, you may want to check out some of our other articles if you're looking for a new set of tires for that bike.
Dunlop Elite 4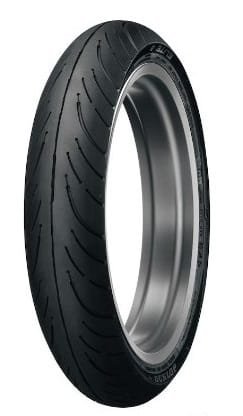 The Dunlop Elite 4 is the latest iteration and Dunlop's elite series. The elite 4 is a versatile tire.
If you're not a hundred percent sure what tire you need based on your riding style, and your bike the elite 4 is probably a good jumping-off point, you don't have much experience with tires.
These things are offered in two types of construction. You can get these as both a bias-ply and a radial. That's kind of not every tire necessarily will come radially constructed.
The Elite Four is also a little bit of an odd duck in that this tire has dual compounds.
What that means is in the rubber of this tire, down the center, there is hard rubber which good for longevity.
So when you're riding your bike, you're not going to square off your tire quickly and flatten out that middle section.
Out on the shoulders, you have a softer rubber compound that will provide additional grip, especially when you're leaning hard into a corner.
This is also a standout tire for those of you who might be on the Goldwings. It fits many Honda's that otherwise don't have a great selection for shoes because it comes in Goldwing sizing and is offered in radial construction.
Pirelli Night Dragon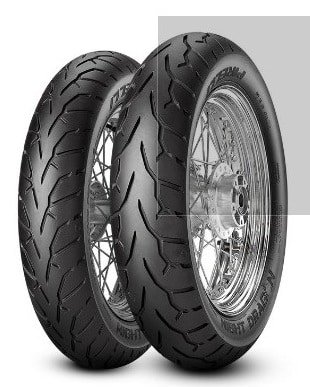 Next up, we're going to switch gears a little bit; we're going to get into the Pirelli night dragon. A great tire with a super dweeby name.
If you can look past the fact that this thing is called a night dragon, what you will find is a good tire, especially for aggressive riders.
If you go out to your motorcycle right now, flip-up either the footpegs or the footboards – and you see all sorts of grind marks on there, and maybe they're just worn down, the night dragon is probably the tire for you.
If you're accustomed to other style bikes, other than cruisers, you'll know that tires are usually pretty great. If you come to the cruiser world, however, they are not always great tires.
A lot of times you'll, have this big heavy machine with a fair amount of power, but you can't harness it all the way because the tires are slipping and sliding on you. Enter the night dragon.
This is probably going to be the best tire for aggressive riders out there. This is simply the stickiest tire on the market.
Mileage isn't fantastic on these, but of course, you knew and expected that when you were looking into a tire that was not mileage-based.
If you tend to treat your motorcycle like a rental, check out some Pirelli Night Dragon, they will probably be the cruiser tire that makes you the happiest.
Metzeler ME888 Marathon Ultra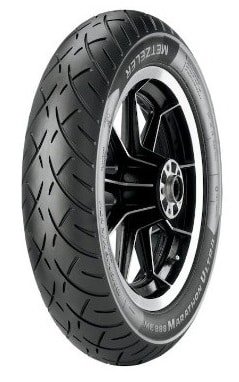 Now we're moving into our special consumer attire, and that's the Metzeler ME888 Marathon Ultra Tires.
This is an interesting tire; when I say special consumer here, I mean a couple of different people will find the Metzeler ME888 to be a good tire for them for vastly different reasons.
The first and probably most noticeable thing you'll see is that these are offered as a white wall option.
This is probably the tire offered with more whitewall sizes and just about anything else on the market today.
So if you have to have a white wall for your bike, if you're riding something like a deluxe and you want to keep a traditional look, and you'll love the white wall, the Metzeler ME888 is a great place to start.
It's a really good tire, but again your likelihood of finding it in the white wall is very high.
The other set of consumers who might also be interested in a Metzeler ME888 are riding around on bikes with strange tire sizes.
There's some really common stuff that you'll see all the time, 13916, 909021, and you can get these tires in those sizes.
But some other cruisers use some odd duck sizes, muscle, cruisers stuff out of the 80s, a lot of metric stuff, and they use these odd duck sizes.
As I said earlier, it can be tough to find the same tire that'll fit your odd duck bike.
The Metzeler ME888 comes in like a gazillion sizes, So if you have a hard to shoe motorcycle, start with a Metzeler ME888 and see what you can find.
As far as the tire itself, this is a good generalist tire, really great wear on these things.
The other thing that kind of shine it too is wet weather performance.
These things hold their own in wet weather, so it's a good option for commuters as well.
Michelin Commander II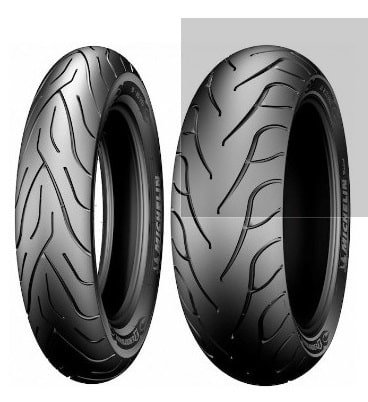 If you're looking to put a tire on your bike and have it last for a long time, commander 2 is probably the best bet.
We've got reports of riders riding full, dressed touring machines which are getting 25,000 miles, or better out of these tires.
There is no mileage warranty on here, but it should speak to the longevity of this tire. This will be a particularly useful tire for those who bring your bike to the shop to get tires done.
Suppose you're not mounting and balancing your tires, especially if you're not bringing your wheels into the shop.
You're letting the shop handle that, well, it can be a big saving to wind up putting a tire onto your bike that's going to last a long time.
If you're getting two, three times the mileage, you would out of those cheaper tires, you may be saving money in the long run because you're not paying to get the tires and wheels off the bike several times.
This can be a great saving for those who find themselves dropping the bike off for the dealer to let them do the work.
Shinko 777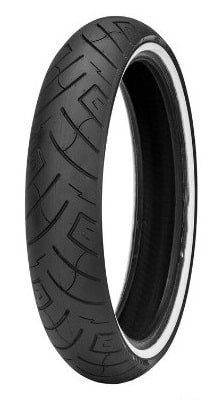 We're going to talk now about the budget-buster tire. We try and throw one of these in there for those who are watching their wallets.
Or perhaps you've just got a ratty old Harley that's not worth throwing a bunch of money into. For you guys, there's the Shinko 777 tire.
What we had here is a lot of tires for not so much money. That's The standout feature of this tire, and It's not going to break your bank. If you're saying, hey, I'm not on a Harley, what about me? You're In Luck.
There are even greater savings with a Shinko 712, a kind of an analogous tire that's the 777. It's a tire that's a little bit more affordable because it's made for lighter motorcycles. So if you're on a metric, there's also a counterpart tire.
Continental ContiTour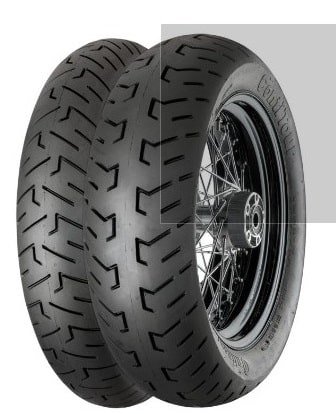 These tires are made in sizes from 15 to 21 inches. They're very much geared to Harley touring machines, but the availability of 15-inch rear also means they'll fit quite a few metric cruisers too.
These tires support a unique tread pattern designed to optimize water, drainage, nylon, and aramid carcass plies help with load-carrying ability. Some of these tires are offered with bias-belted construction.
Avon AV71 & AV72 Cobra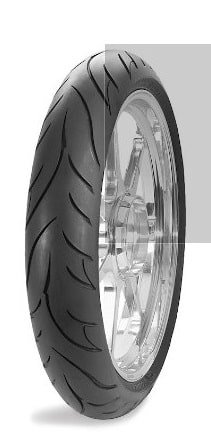 You should be looking into an Avon Cobra for your bike if you need a good tire, as well as a good-looking tire. Avon is currently making these for a very wide assortment of cruisers, custom choppers, as well as many many Harley-Davidson fitments.
You're going to notice these tires are made in a pretty wide variety of sizes. That means a lot of you reading this article who have a cruise, whether it be a domestic or a metric, will probably have something available for you in the Av 71 and AV 72 sizes.
This is a tire I recommend to quite a few people because it shines in various areas. We have good dry weather grip, good wet weather grip, and mileage is also acceptable.
It does necessarily stand out in any one of those categories, but it does a good solid job in each of them. However, this thing shines again in the good-looking sort of segment.
There's a couple of things about the tires' styling that I think resonates well with a lot of folks riding around on cruisers. Possibly the most exciting is the Cobra motif that runs through these tires.
Cobras are all over the tire, either super cool or lame, depending on how you look at things. It doesn't just stop there. You'll notice The tread design is a very modern tread pattern.
So, in addition to working well, it also looks cool. You won't have any lame looking tire on your brand spanking new cruiser. Instead, the Cobra does have a tread pattern that looks very, very modern.
It doesn't just happen on the tread, and the good looks extend into the sidewall. If you take a peek at the tire, you'll notice this tire is offered in a white wall, which is pretty cool.
The fact that it is a white wall is part of the reason we recommend it. Lots of riders are looking for a good tire, and they also want a white wall. The Cobra is probably your best bet.
If you're looking at a black wall tire, the black walls are treated a little differently. These tires have a sort of snakeskin pattern. Again, it makes the sidewall of the tire dulled down, and it also does introduce a little bit of texture to the tire. So it gives it a little bit of a different look.
The other thing to notice is they are also made for customs, as well as choppers, so you'll find super wide tire sizes.
Whether you have a custom, or a chopper that uses something like, that or you're, looking to modify your factory bike into something with a much wider tire, the Cobra does offer you a couple of rears that are pretty fat.
When it comes down to it, I got to be honest; I don't use Cobra tires. They are a little bit modern for most of the bikes I have. These are just a little bit more fashion-forward than I'm, looking for. However, it is still a great tire.
As I said, between the multitude of sizes and the whitewall options, I think this winds up being a perfect choice for many riders.
Please don't take my word for it; click this link to see what some other riders have to say about them.
Tires To Avoid
Heidenau K34 Tires

Continental Twinduro TKC80 Dual Sport Tires