There are many different motorcycle brands, from Honda to Yamaha, from BMW to Harleys, and even vintage motorcycles like the Victory, an American motorcycle manufacturer with facilities in Dickinson County, Northwest Iowa.
You can be sure of one thing when riding a motorcycle, and that is, at some point, they will need new tires.
As there are many motorcycle brands, there are also different riding styles and brands to choose from. Brands used by professional MotoGP teams are Michelin to Bridgestone and your street bikes from Continental and Pirelli.
There is an array of tires, from street bikes, dirt bikes, and cruisers, but none of that matters, unless you know which tires are proper for your motorcycle.
Are Cheap Tires Worth It?
If you intend to ride long distances or compete, you must invest in high-quality motorcycle tires. Cheap tires lack the structural integrity needed for hard surfaces. Blowouts and other issues are also common with low-cost motorcycle tires. These can also make riding dangerous.
We have put together a comprehensive list of the best motorcycle tires for Cruisers, Sportbikes, Sport touring, Off-road, Touring, and Harley Davidson motorcycles, so you don't have to. Check out our in-depth reviews of the best motorcycle tires at prices that will shock you.
The first tire we are going to look at today is the Anakee adventure motorcycle tires. You should be checking out a set of Michelin Anakee adventure tires available for your bike if you have a real mix of on-road and offer riding for your adventure machine.
These tires are currently in production in a wide variety of sizes, we'll talk about that a little more but as I said, you will see these primarily on adventure bikes and we may see them on a couple of dual sports here and there.
Installation of these tires is about standard for most tires if you know how to install tires these installs are just like all the rest of them do. So let's get right into the Aniki adventure and why you might want to consider this tire.
I think of this sort of as the realistic everyman tire, if you're honest about your adventure use you'll probably realize you're like most folks and you use your bike primarily on the pavement with some occasional forays offroad.
You're not doing any crazy technical singletrack, instead, it's more gravel roads, fire roads, on improved roads as well. In that case, the Anakee adventure should work for you just fine.
I mentioned we would talk about sizing just a little bit. To me, these things are super cool because they come in a wide variety of sizes. We're seeing the rear tires in both 17 and 18-inch sizes, we've also got fronts in 19 and 21.
What this means is if you have a 17/19 bike, something that's a little bit more street-oriented you can still use an anarchy adventure.
However, there are some of you out there who may have a bike setup instead with an 18 rear and a 21 front, something it's obviously a little bit more dirt-oriented.

You may not be using it off-road and that's perfectly okay, I know often times when I jump on an adventure bike I tend to just treat it like a tall upright touring motorcycle so if that happens to fit your riding style, the Anakee adventure might be just right for you.
This tire sort of slots between the Anok III which is almost a straight-up street tire from Michelin and the Anakee wild which is more of a 50/50 very aggressive tire, great offroad not so great on the road.
However, it's going to feel a little bit squirmy and it's also not going to give the mileage that you're going to see out of something like an Anakee adventure, instead, I'd call this more of an 80/20 tire meant for 80 percent on-road 20% off-road use. Again going back to those light off-road situations I recommend it a little bit earlier
To give you an idea of exactly where this tire sort of lies in terms of its street ability. What I think is really neat about this tire is that it is a dual-compound tire, we've got two CT + 2 CT + technology, and this tire is effectively a dual compound tire.
It uses a harder rubber down the center of the tire where you're putting most of your miles, it really helps get good mileage out of the tire.
Then there's a second softer rubber compound out on the shoulders of the tire, this gives a little bit of additional grip when you really need it.
When you're leaning over on your bike you're not going to see that in every single adventure your tire out there so it is kind of a nice value add-on.
The other really nice part is it's indicative of exactly what this tire is intended to do. Aas I mentioned installation on these things is pretty easy. If you know how to install tires these pop on just like all the rest of them.
In Summery
Michelin Anakee Adventure

is the ideal adventure tire for your motorcycle. This tire is designed for a sporty look and feel, while providing more grip and stability than traditional adventure tires.
A combination of 80% on-road, 20% off-road compounds, 2CT compound used on the front tire to enhance grip at lean angles, and 2CT+ compound used on the rear tire reduce sidewall flex and enhance tires rigidity. This tire also fits the popular BMW R1200GS.
The Michelin Commander II available from Revzilla.com

is a replacement for the original commander that had been around forever.
At first glance, you can see this is a much more contemporary-looking tire but there are some nice feature upgrades to this tire that are going to improve the life span as well as the handling,g we're going to get into in a second.
The big thing that we're expecting everyone to be talking about this year is the claim that Michelin has made that you're going to get double the life out of this tire compared to its competing tires from some other manufacturers.
What you have with the Michelin Commander II is a tire built for the cruiser market, the Harley-Davidson, the metric cruisers with a lot of different size sizes and styles that will conform to a lot of different types of bikes.
It comes in radial, it comes in bias with rear tires up to 200 and front tires up to 130 millimeters.
Some of the other features you're going to see with this tire is the contemporary styling in both the sidewall and the tread pattern but it's not just the aesthetic.
What you're getting with the Michelin Commander II is a lot of rain technology that's been developed over the last decade.
It will increase traction maneuverability and stability in wet conditions through the longitudinal grooves on the tire.
You're also getting the SRT technology which is a silica rain technology that adds additional compounds into the grooves, which improves the performance further.
You also get the aromitic fibers that are placed within the plies of the tire that allow you to increase the density without gaining any weight, this gives you a stronger construction that will deform less without adding any weight to the tire.
Kevlar aromatic panels which are aromatic plies is really another way of saying Kevlar applies are very lightweight but very very strong. That's the key standout point for Michelin Commander II.
We are seeing a lot of tire advancements in the way that the tires are formed and the rubber compounds that have been used over the last decade and it's nice to see that technology making its way into the cruiser market.
In Summery
The Michelin Commander II is a cruiser tire

that provides unmatched performance for the street. It's been engineered to deliver outstanding traction and long tread life in wet and dry conditions.
The tire's exclusive Amplified Density Technology delivers superb feedback and handling.
The tire's exclusive Silica Rain Technology helps prevent uneven wear and maintain traction. Aramid tread plies and square bead wires provide stability.
The tire's Styling Features include a unique tread pattern and premium sidewall detailing.
The Metzeler ME888

or triple 8 as we're calling is the successor to the long-running highly popular MEA 280 tire from Metzler.
For those of you there seeing it for the first time, the predecessor is the long-running, long-wearing heavy bike metric Cruiser Harley-Davidson big bike touring tire that offers a very very comfortable ride and a great lifespan.
The Metzeler ME888 has a few key changes that really take it into the next realm from Metzler. The key differences for this year are the new rubber compound, it's going to be long-wearing and to get all technical on you it has a high higher hysteresis rating which means it's more resilient.
What that allows Metzler to do is do a deeper channel, deeper tread pattern design which allows you again to have longer running wear especially when you get into wet weather handling.
The tire will perform in dry and wet grip scenarios for longer while still keeping its hypermiling rating. Other key changes as you look at the groove pattern is it went from a V pattern to now more of a U pattern and they even made some subtle tweaks that allow you better help with the road harmonics.
The original ME880 was great at being anti-nibbling, you don't lose anything with the triple 8 here. What they've done is even if you look at where the tread pattern comes towards the middle on the inside of the tire, towards the contact patch, these are actually staggered by sixteenth of an inch of where they end so again it's breaking up that road harmonics
It's about comfort, it's about being quiet, it's about heavy bikes, and this is a great stock tire replacement that's going to just give you a great feel for longer distance touring.
If you want to go sport-touring the Z8 is your guy, if you want to go a little bit more adventure touring like an off-road or dual sport you're going to look at something like the tour odds.
Over time we expect the triple eight to be rolled out in over 100 sizes just like the 881 was over a 10-year period and really provide that great hypermiling tire that's going to go head to head with something like the Michelin commander.
In Summery
The Metzeler ME888 Triple 8 Marathon Ultra Tires

are specifically designed for custom touring bikes. These tires are perfect for those who enjoy long tours or have a passion for riding. The ME 888 Marathon Ultra Tires were developed in Germany for the roads of America.
Specifically designed for custom touring bikes, the ME 888 Marathon Ultra Tires offer superior high and low-speed stability and smooth handling.
The ME 888 Marathon Ultra Tires were engineered with deeper tread depth to vastly increase the tire life.
The redesigned parabolic grooves for better water drainage and a wider white wall (WWW) offer an impressive look on your motorcycle.
Compared to the S20 Evo which replaces the Battlax Hypersport S21

has taken some big steps forward as far as dry performance and wear are concerned.
Bridgestone claims 30% better wear while dry grip handling and stability are also all also improved.
Bridgestone acclaims a two-second gain in lap times at the Sugo testing track and on top of this wet weather performance is on par with the outgoing S20 Evo. You're not losing any wet performance while there are massive gains to be had in dry performance.
The front tire features two compounds and the rear tire features three which is in line with the new generation of hyper sport tires.
It allows the manufacturers to maximize performance across the different sections of the tire, particularly for those central sections where wear is so important and then on the sides of the tire where grip is even more important.
Where the front features a smaller crown to sharpen up that steering, which is quite noticeable the rear actually goes in the opposite direction with a larger crown. It is designed to improve stability while cornering and reduce slip.
A new shoulder compound is featured on both tires as well which allows for greater cornering speed and that's particularly noticeable with those improved track testing times that Bridgestone is boasting.
The treads have also been updated from the S20 Evo and it's been tweaked quite significantly as to where it's positioned across the tire to further improve performance and the removal of water.
Wet weather grip proved really strong, it was mild weather while testing, however, warm-up times worked quick and I never really felt like I needed to hold back when it came to the morning or even in commute and setting out.
It's just a matter of avoiding the greasy slicks, the tires tracked extremely well and there were no train tracks.
Overall the tires gave me confidence in the wet. In the dry, the more aggressive profile was particularly noticeable as I was going from a set of sports tires that were much less aggressive and to start with that felt far more aggressive.
However, as I spent more time with these tires I actually found it became very natural and it does give the bike a lively feel when it comes to cornering and even just riding around town.
It's a very linear transition from upright to leaned over and it doesn't demand any force of the rider, stability and confidence mid-lane are a real strong point.
On the road, you're exercising a bit more caution so you're not as far out onto the tire shoulders but at the same time I found it very easy to make small Corrections mid-corner on these S21 tires
Getting back on the throttle is also very confidence-inspiring, you can do that nice and early while free-riding which makes up quite a lot of my riding.
The center of the tire after 1500 kilometers was looking barely worn at all which I have to say, bodes well for the overall life of the tire.
When it comes to the track as an everyday rider I found the S21 tire was extremely confidence-inspiring, I spent a couple of hours doing lots and lots of laps.
On the track, warm-up times were very very quick. There was great stability while hard on the brakes and trailing the brakes into the corner.
Transitioning to full lean was effortless for my pace, I just found again the tire profile offers a very linear and neutral experience making it very very easy to ride. The Bridgestone Battlax Hypersport S21 gives you heaps and heaps of confidence.
The track that I was testing on had an extremely good surface and that's something that does come into it as well, I wasn't personally pushing the limits of the tire to any extent but I can say as a more casual track day rider they gave me great confidence.
All in all, I'm really looking forward to my next track day on these tires, the road wear and performance have been absolutely exemplary and I have to say I'm really impressed with these tires overall.
I definitely recommend the Bridgestone Battlax Hypersport S21's, they're a great road tire, they're still great in the wet and they're an ideal option if you're doing some track days as well.
In Summery
The Bridgestone Battlax Hypersport S21

is the ultimate tire for high performance and durability. It features a new Micro-Contact-Patch compound (EMC) which provides the best grip potential and thermal stability.
It also has a Triple compound rear tire (5LC) and a Dry Grip compound front tire (3LC) to deliver a performance tire that delivers the best dry and wet grip in all conditions. This tire is designed to be tubeless ready.
New for this year again improving on what was one of the best tires we've ever seen for the sport-touring community in the Michelin Pilot Road 3

is now the Pilot Road 4.
The big things they are claiming are better handling but increased longevity, so if you can believe it in the sport-touring since we're going to get a 20% better lifespan out of these tires.
I'm going to walk through each of these changes from Pilot Road 3 to Pilot Road 3 4 one by one but let's break down why you would use this tire.
The Pilot Road 3 was in many cases the Goldilocks of tires because it was just right for so many applications, the Pilot Road 4 only continues that tradition.
There are three versions, including the Pilot Road 4 which both the front and rear are dual compounds, and there are 17-inch rims throughout.
Then you move into the Pilot Road 4 GT which is for bigger touring bikes, for grand touring bikes with luggage with two riders.
Then you move up into the Pilot Road 4 trail which is used for big dual sport bikes like a 12 GS KTM 990 adventure.
You get different front tire sizes but that's exclusively an on-road tire. This tire is great for handling as well as longevity for all riding scenarios.
They have all season silica charged compound which they have tweaked for this newer version, again you can see all of the saiping on the tire as well as the tread pattern which is very aggressive to give you phenomenal grip and handling in multi-season riding scenarios.
Let's take a step back and walk through the tires one by one, the key commonalities of Pilot Road 4. It is a dual-compound tire, meaning it has a harder compound in the middle with a softer compound out into the wings.
On the front tire compared to the previous version you will see a few key changes. The first thing they've done is a decrease in the groove pattern or the tread pattern, what that's going to do, and especially when you get out here onto the sidewalls is it's going to create more surface area for more grip.
They're trading off some of the saiping, some of the water rejecting qualities to give you a more dry grip and better grip handling with more rubber on the road.
What they also found was under heavy braking, especially with bigger bikes it tended to be a little more flexible than people were expecting under heavy braking.
It is still a dual compound but it is medium in the center and softer on the sidewalls, which is the same as it was in the previous Pilot Road 3 version.
On the rear tire, there are a few other changes from the previous version. These tires have X site plus technology just like on the front tire versus regular X site which again changes the siping pattern.
It's still great for getting rid of the water but now you're getting much more rubber to the road, especially on the sidewall.
The Pilot Road 4 has new silica charged compound but here's the big key of this 20% increase in longevity, the previous version of the Pilot Road 3 was medium through the center it was 80% of the tire and soft way out on the sidewalls 10% on both sides now when you move into the Pilot Road 4 there is a complete change.
It has 20% hard down the center so your rubber on the road in upright acceleration is hitting the ground.
There's a big increase in longevity by doing that and what you have is 20% down the middle of the tire and you have 40% on either side which is going to be a medium compound so now your rears have no soft compound.
Again you're getting better longevity, it's going to last longer, and remember tire companies are working on different compounds to increase the longevity as well as the performance of these tires so it is a completely new style of rubber.
If you looked at the Pilot Road 3 you would see the sheen is different than the PR4, it's much more of a matte finish.
The oil compound also looks slightly different and again the tread pattern is optimized for better performance in wet weather and dry weather at higher lean angles along the side of the tire.
One key difference is if you look at the Pilot Road 4 for trial or trail tire, which again is for on-road dual-sport adventure bikes the rear compound is similar to the PRr3.
This means it's a medium and a soft versus a hard medium on the Pilot Road 4 GT and the Pilot Road 4 or in its simple or regular version.
In Summery
The Michelin Pilot Road 4 tire is the best tire for sports touring on dry roads. It provides more confident handling and better traction on wet roads than other sport-touring tires.
Its long tread life, reliable grip, and superior traction make it ideal for a variety of riding conditions.
The C

ontinental Conti-Motion available from Revzilla.com

is one of our best selling tires for sport touring motorcycles and there are some good reasons for that.
Number one is a bang for the buck, the value that you get with the Contin motion is pretty much unparalleled when you're looking at budget sport or sport-touring tires.
These tires can come in at around $200 for a set in most sizes which for s set of tires it very reasonable.
The Contin motion has a good reputation for lasting pretty well, they have a polymer compound in the rubber tread and if you dig your fingernail into the tread you will find it's definitely a little bit firmer rubber than what you'd find on a pure sport tire.
If anyone ever asks me what my favorite tires are and because I've tried tons of tires it really comes down to what kind of riding you're doing.
With the Continental Conte Motion's I have no problem recommending to anybody who's just looking for a tire that's going to get them down the road safely in wet or dry conditions.
Any budget-oriented tire or sport touring tire that's not designed to be pushed really hard can overheat if pushed over the limit of traction.
If you push really really hard if you aren't a rider that is going out there and pushing it to nine-tenths or maybe you have a couple of different bikes and you're looking to just you have a bike that you mainly just cruise around on Contin motion is a great choice.
A lot of people love this tire because of the tread pattern if you take a look at the way the front and the rear look it's definitely a good-looking tire.
It's got a nice modern-looking tread pattern to it, very nice large grooves that will evacuate water really well so in wet weather conditions it will disperse water and get it away from the center of the tread.
You have plenty of adherence to the road even in wet conditions if you take a look at the contour the profile of the tire is a very even round profile, it tends to almost even be a little flatter in profile than a lot of sport tires.
That means that it has a very stable feel, especially at speed so if you do a lot of highway riding it's will be very stable. The rear tire uses a zero Degree belted radial, which also helps with comfort and stability and it turns in very predictably.
It's wont feel like it's falling into the turns and it's also going to turn in with a reliable predictable rate so it won't just flop over on you.
It's not going to feel like you're fighting the tires either so Continental definitely did their homework.
In Summery
Designed for long rides in demanding conditions, the new Continental Conti-Motion Radial tire

delivers outstanding all-around performance for the whole season.
The tire's innovative, force-oriented tread pattern creates a large contact patch and maximizes traction.
Its specially formulated polymer compound provides outstanding wet and dry grip and a long service life. The steel belt construction on the rear side of the tire ensures excellent stability and ride comfort. It is eligible for the company's free three-year roadside warranty.
Today I'm here looking at the Pirelli Diablo Rosso Corsa 2. This is a new tire with a brand new tire carcus.
It has a two-compound front and a three-compound rear and it's just an awesome tire. What you're looking at and what Pirelli are describing is a 50% track and a 50% road tire.
It's got much stronger Road performance in a lot of areas, not to mention they've also beefed up the performance on the track showing some considerable performance gains and time gains in comparison to the old Rosso Corsa.
These tires definitely aimed at people who want a really high-performance track tire but also something that they can ride on the road as well.
For those people who are looking at the high performance so it's just a really great option if that's what you're considering.
The Diablo Rosso Corsa 2 sits below the very race and track centric options of the Diablo Rosso Corsa SC and the SP in the Pirellis lineup of the hyper sport tires and it's above the Rosso 3 as far as track performance.
There are some trade-offs made there so it's all about you as a rider picking the right tire and the Diablo Rosso Corsa 2 is designed for those who want really high performance on the track and also a viable road tire.
It's much more of a relevant choice if you're a high-performance rider on the track than say the Rosso 3 without getting quite to the extremes of the super courses which are all-out track tires.
Wet performance is something that Pirelli has improved on this tire over the outgoing Diablo Rosso Corsa, they're claiming a 3 second faster lap time at Mugello with their test riders with a 3 compound rear and 2 compound front tire.
You get the full carbon black on the shoulders of the tire which gives you heaps of grip on the back tire. Moving to the front you've got a full silica center compound which gives you lots of feel and lots of tire grip.
This tire is intended for someone who's not just doing track days but also doing high-performance Road riding, someone who uses their bike every day. This is how they've managed to offer that additional longevity in the tire.
They're not saying that the track wear is better than the outgoing tire but it does provide extra performance and in doing so if the tire wears at the same rate as the old tire, which is what they're claiming it certainly seems to be true from our testing you're getting more performance with the same level of wear.
My impressions on the road of the Diablo Rosso Corsa 2 are that you've got a very nice handling tire, it doesn't fall aggressively onto its side as some sports tires do.
However, it's very neutral so you're not having to muscle the bike over regardless of what kind of machine you're on. That's a real boom because it just makes it a very fun very nice tighter ride with exceptional grip.
We did get an opportunity to test the Diablo Rosso Corsa 2 on wet roads, we did ride on some very wet roads but there was no real noticeable drop-off of confidence.
Obviously, in the wet, you're riding slightly differently but at the same time, I at no point felt like the tire is restricting me which is a really good sign.
As it is such a high-performance tire quite often the wet grip is what you lose, whereas, as really represented here this is a tire that you can go out and you know if it did rain and you're doing a track day and you paid all that money, you can keep going out so that's a real boom.
Switching to the track I have to say these tires warmed up really really quick, quite often we were jumping on bikes that someone had ridden before us but that wasn't always the case and the warmup time was really really quick.
Again, just having that really nice profile design and that balanced profile design between the front and the rear makes for a very linear and seamless transition onto the side of the tire.
Getting it over to full lean was just an exceptional grip.
For someone who mainly rides on sports cheering tires these tires were just beautiful, the amount of grip and the amount of feel on offer on the track, especially on a new track it was just exceptional.
They're very well supported on the brakes, even trailing the brakes into a corner which is important.
There's no aggressive standing up of the bike as I come out of the corners as I'm still leaned over, it is just a real confidence-inspiring tire.
I'm not the fastest track rider, there were plenty of much faster riders than me there who seemed to mirror my thoughts, it's pretty safe to say that these are an exceptional track day tire
What Pirelli has been saying about the tire is definitely true and I think it's just going to be a great option so if you've enjoyed using the Diablo Rosso courses in the past this is a significant step forward pretty much across the board and it's definitely a tire you should try both on and off the track.
In Summery
The Diablo Rosso

Corsa is the most advanced tire ever made by Pirelli. Its new dual-compound design provides increased grip in every condition and lean angle.
The innovative combination of 100% silica and black carbon gives the tire increased safety and confidence in cornering both street and track, dry and wet.
The racing-derived structure and profile make the tire more agile and more accurate. This tire has been developed to race at the top level, so it will provide the best handling and best performance in the world.
Continental designed these tires

for Cruiser riders who want a white wall tire that can hold up to heavier motorcycles and deliver touring level mileage.
These tires are made in wide 16 17 and 18 inch rear sizes and are geared to Harley-Davidson motorcycles as well as some metric cruisers.
These tires Sport a very unique tread pattern designed to optimize water evacuation, the Conti legends also come in a white wall variation size mostly for Harley-Davidson machines.
In Summery
Continental's new Legend tire features the same top-tier performance and durability as the Legend Plus. The new tire boasts superior handling and consistent performance throughout its life of the tire.
The unique pattern design with whitewalls provides a classic look that works well on a variety of touring bikes.
MileagePlus Technology compound significantly extends mileage while maintaining remarkable handling.
Engineered carcass construction for solid behavior.
Eligible for Continental's free 3 year roadside warranty.
The American elite

is a new series of tires from Dunlop's Bothwell new york's factory to fit Harley-Davidson motorcycles.
When Harley redesigned their FL touring models for the 2009 model year, Dunlop engineers worked right along beside them designing all the original equipment tires.
These same Dunlop engineers took all that technical knowledge of the Harley bikes and combined it with all of Dunlop's knowledge of Harley riders and what they want to put it all together into the Dunlop American wheat tire line.
The first two sizes of the American elite are the 1380 B-17 and 180 65 V 16 sizes to fit 2009 and later Harley FL touring bikes.
The American elite is great at handling long-lasting confidence-inspiring tires, it even looks good on your bike, let's look at the tire from the inside out.
The Dunlop American Elite rolls on a finely-tuned tire carcass tested extensively in the lab and on bikes at Dunlop's test track. Other tracks across the US-controlled real-world mileage testing and on select high mileage customers' bikes.
Remember, Dunlop designed the original tire to work on the Harley FL and used this knowledge in designing the Dunlop American Elite tire.
The tire carcass is made of three plies of polyester in three fiberglass belts, this internal framework of the tire provides the basis for the American Elite combination of handling wear and feel.
Working our way out from the inside of the tire, the tread compound the part of the tire where we say the rubber meets the road uses Dunlop's proprietary multi tread in the rear American Elite tires.
As you know when you ride you mostly ride on the center part of the tire so that is where the most wear occurs, as you lean the bike over you want grippy rubber to hold the road as you corner.
Dunlop's multi tread gives you this combo with a long-wearing center compound flanked by lateral grip compounds down each side, once again the best of both in one tire.
Continuing our journey to the surface of this tire we come to the all-important tread pattern.
If it never rained we would all ride on bikes with slick tires with no tread pattern, the tread pattern is necessary to evacuate water from under us as we ride in the damp or wet.
Since we need a tread pattern we need to make sure it does a few other things for us. It must, of course, work well in the wet, it needs to be designed in a way that wears well over time and it can add to the looks of the tires and bike too.
Dunlop has a motorcycle test track in Huntsville Alabama and they can wet that course in a controlled manner and test and compare different motorcycle tires to determine how well they work in the wet.
The American elite is a good performer in the wet conditions, the American elite pattern was also tested tweaked, and optimized to wear well over the life of the tire.
They tested in the lab and in thousands and thousands of real-world miles in all kinds of conditions.
The American elite sports an aggressive bold pattern that looks good on your Harley, speaking of looks the last thing to talk about regarding the Dunlop American elite is the rest of its good looks.
The tread pattern looks good but so does the sidewall, the American elite was designed to look at all angles on your bike under your fender, it also flies the flag prominently in several places around the sidewall.
The Dunlop American elite is made in Buffalo New York in the USA. This is important because it means these tires are made for US rides, not designing them for somewhere else and just selling in the US.
The Dunlop American elite tires for Harley-Davidson motorcycles will give you the handling wear and overall confidence on your Harley.
It means you don't have to think about what the tires are doing so that you can just enjoy the ride.
In Summery
The Dunlop American Elite

is a high-performance tire that offers the best of everything. Its tread compound is designed for speed, durability and grip.
The rubber compound offers high abrasion resistance, which means it won't wear out easily. And the steel belt provides durability and traction.
The tread pattern is designed to provide good grip and steering responsiveness. The American Elite is made in the USA and meets all safety standards.
You should be looking into a Metzler Road Tech tire, if you want a tire for your sport, sporty or sport touring bike.
It's will give you good mileage and handle well in wet weather, perfect for those of you who are commuting and also for those of you who are doing some long haul mileage.
Keep in mind these are being made for sportbikes so whether you're on a 600 or 1,000 or perhaps you're on some of the newer crops of naked out there, the FZ07 FZ09 maybe you're zipping around on a Z800 a road tech is a tire for you.
This tire is competing against such entrance as the Bridgestone T30 Evo, it's also competing loosely against the Michelin Pilot Road 4. Keep that in mind that if you're looking for these tires there are some pretty stiff competitors in the arena.
RoadTech 01 is a new entrant to that sport touring tire market and this is an iteration of the earlier z8 interact tire. I put the RoadTech 01 on my R1200 RS and they were a really fantastic tire, the wet weather performance definitely impressed me.
There are two big changes that they're promising us with the new road tech and the first is wet weather braking.
I think that's actually a pretty bold claim and the reason I say that is not because I don't think Metzler can deliver but because the wet weather braking on the original Z8 interaction was fantastic.
It was phenomenal to start with so improving that it seems like a very tall order but Metzler is a short asset that is going to happen.
One of the other big changes they made which I'm going to say probably defines the road tech is the fact they revised the land to C ratio. When we talked about land to C ratio in the world of motorcycle tires we talked about land, the raised sections of tread, and then C the voids between the raised sections.
Metzeler went ahead and revised this a little bit to combat some of the funky wear that can happen with tires.
What they did was they reworked things to get better wear, lower road noise and give you a longer life out of what was ready a pretty long life tire.
The Metzeler RoadTech 01 is a fantastic tire for those of you who are trying to put in long miles and who are going to hit the real-world whether.
Those of you who are commuting and those of you taking long trips, you know you're going to hit some bad weather and the road Tech is going to see you safely through it.
In Summery
Metzeler Roadtec 01

offers increased grip on wet roads, with a focus on low friction surfaces (such as city streets and worn tarmac, low temperature), thanks to the radial position of grooves.
Rebalanced tire stiffness to allow a better adherence of the rubber with the tarmac micro-asperities, increasing mechanical grip even on lower friction surfaces.
Higher mileage vs. Roadtec Z8 Interact (up to 10%), thanks to a different footprint shape (larger and shorter) which also enhances motorcycle handling.
Increased wear resistance, obtained through a revised land/sea ratio on the rear tire in conjunction with the new tread design, ensures product performance consistency allowing users to enjoy the tire for its entire service life.
Metzeler multi-compound rear on selected sizes, with increased harmonization between the different compounds. HWM (Heavy Weight Motorcycles) special version brings the ROADTEC 01 performances to a wider selection of motorcycles.
Increased stability by reducing both intensity and duration of oscillations due to road irregularities or steering maneuvers.
Distinguishable by a "Weight" icon next to the product name on the tire sidewall. Increased stability is reached by employing stiffer carcass material and sidewall construction plus a slightly different compound recipe.
Where To Buy
Bias-Ply Motorcycle Tires vs Radial Motorcycle Tires
There's a lot of rolling on your motorcycle tires, but do you know what is below the tread rubber or do you know the difference between a bias-ply tire and a radial tire?
Despite all the different sizes and purposes and appearances motorcycle tires only really come in two varieties, you've got your bias-ply or cross belt tires as they are sometimes called and you've got your radials.
Up until the 70s, all bikes used bias-ply but then as motorcycles started to get more powerful and people were riding faster it became clear that better technology was needed, hence radials.
Before I explain how bias ply and radial tires are different let's do a brief tire anatomy lesson because the parts of a tire are going to be similar regardless of the design.
If you take a look at a cross-section of a tire you will see the tread cap which is the rubber portion that rolls down the road.
Beneath that are layers of fabric that create the tire's carcass and give it its structure and those layers extend down to create the tire sidewall and wrap around the bead which is a thick steel cable.
All of it is splashed in rubber and more or less represents the components of a tire whether that tire is a bias-ply or a radial.
The difference between the two is in how those fabric layers called carcass plies are oriented. On a bias-ply tire, the layers which are often made of aramid or polyester or nylon are laid down diagonally, hence the term bias, in a crisscross pattern from one bead of the tire all the way over to the other bead.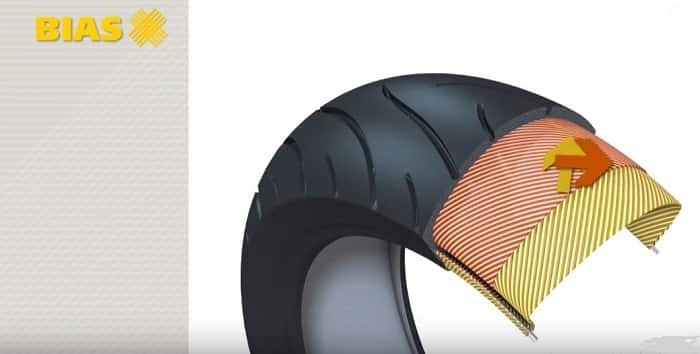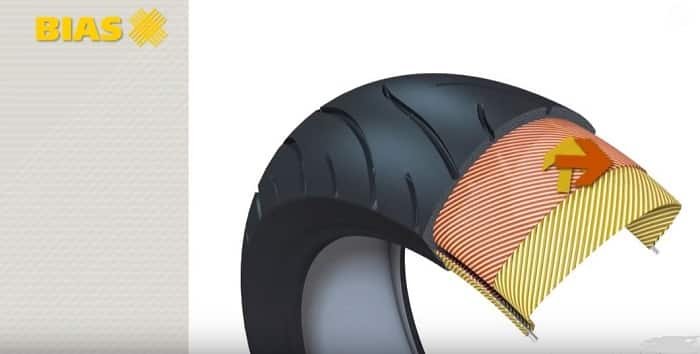 Occasionally an additional layer or two of fabric will be laid just on the tread portion to strengthen that section, but the fabric is still at a diagonal, and in general, the construction of both the tread and the sidewall are similar so they have similar thicknesses and flex properties.
On radial tires, however, the carcass plies are laid down perpendicular to the bead than at an angle and that gives you a more flexible sidewall, there's also a belting package beneath the tread that is going to be made of either steel cable or aramid thread and it only exists beneath the tread and it's there to stiffen that area of the tire.
With a radial tire the tread and the sidewall have independent constructions and what that means is if those areas of the tire have different flex properties, that's obviously really important if you're trying to design a tire with very particular behaviors.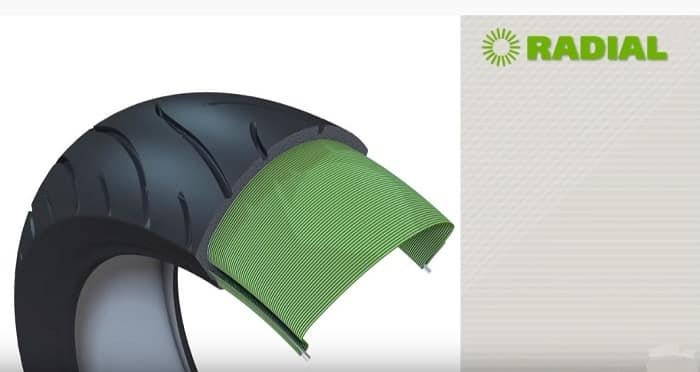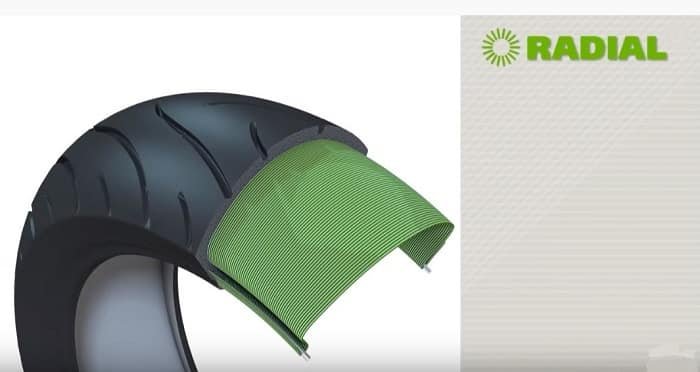 With the radial, you're not stuck compromising the tread rigidity versus sidewall flexibility like you are on a bias ply, which again, has that uniform construction.
What it boils down to is two families of tires with different behaviors, in general, bias-ply tires are going to have a more robust construction with taller sidewalls and rounder profiles.
That may have worked well for bikes back in the day and it might still be a good fit for bikes like cruisers and touring rigs but back in the 70s bias-ply tires were overheating because they couldn't handle the horsepower. The bikes were making and they weren't providing the handling that riders needed, enter the radial tire.
First seen in the automotive world shortly after World War two radials first appeared on motorcycles in the 80s on the 500 GP bike of one fresh-faced Freddie Spencer.
Rather than relying on layer after layer of fabric to build its structure, as a bias-ply does, a radial tire might have just two carcass plies and one steel belt.
What you get is a light tire that manages its heat better and because you can tune the stiffness of the tread and the sidewall independently, you can design a tire with optimized flexibility which gets you a better grip that is handling and a lot of other benefits.
With radial technology, you're able to design a tire that has a large tread area in a short sidewall, as is common on modern sportbikes. So radials are better for high-speed applications where handling and outright traction is a priority.
Meanwhile, bias-ply even though it is an old technology is still a good fit for larger heavier slower bikes because the tire's more robust design offers more load capacity and durability.
Also, bias-ply tires are a must if you're rolling on old-school spoke rims since modern radials aren't meant to be used with the tube.
That's all because the soft lining on a tubeless radial will supposedly create a lot of friction and thus heat is used as a tube and that's not a good situation. With that being said I will admit that I have run tubes in radial on spoke wheels without a problem but in general, the manufacturers do not recommend it.
In the end, radials are the newer more sophisticated technology and they claim the lion's share of the marketplace, still, bias-ply tires are popular on a certain kind of motorcycle.
It's not about which technology is newer or more advanced but more about what type of motorcycle the tire is being put on and how that bike will be ridden.
How To Tell If Your Tires Are Worn To The Limit
Do you know how to tell if your tires are toast? Your tires are the only thing connecting your motorcycle to the road, so it's really important that they're in good condition for both safety and performance. Here's how to tell if your tires need to be replaced.
Where is the most common reason a tire needs to be replaced? To help you determine if your tire has enough tread there's a treadwear indicator molded into the tire, it's marked on the sidewall by a little triangular symbol in the letters TWI.
If that sucker is level with the surrounding trend anywhere on the tire it's time for some fresh rubber, the legal limit is 1/32 of an inch which is about the height of old Abe's head on a penny. Even if the tread isn't worn to the limit it might be worn unevenly.
The most common type of uneven wear is squaring off of the rear tire, nearly as common is cupping or scalping of the front tire when the tire tread wears unevenly along the length of the tread.
This condition can cause stability handling and traction issues. If you notice this type of wear on your bike it's not only time for new tires, it's also time to have your suspension service since scalping is often indicative of poor suspension setup.
Another thing to check for is tire damage like puncture cuts or bulges, any damage to the tire is cause for concern as it could lead to a blowout.
We have an article that shows you how to plug a tire. Butt plugs are a temporary repair and your safest course of action is to replace the tire.
Finally, even if your tires have ample tread and look great they might simply be too old to ride on. Most tire manufacturers say five years is a lifespan of a tire because oil is in the rubber evaporates and the rubber will dry out and harden. How can you tell how old your tire is? Its birthday is molded right into the sidewall
The four-digit code at the end represents the week in the year of manufacture, this tire was born in the twenty-fifth week of 2006.
This tire looks good but it is way too old to ride on and since tires are really pricey you should make sure that yours lasts as long as possible.
The best way to do that is to make sure they are properly inflated. If your tires are overinflated or underinflated it's not only going to affect in traction it's also going to impact the tread wear.
Motorcycle Tire Pressure and Why It's Important!
Tire pressure is not the most exciting topic but it is important after all your motorcycles tires are the only thing connecting it to the road and tire pressure affects things like traction, comfort, stability, handling, and tread wear.
As a rule, you want to check your tire pressures at least every other week, make sure to use a quality tire gauge and check your pressures when the tires are cold.
That does not mean waiting until winter, just means doing it before you ride since the tires are going to heat up as they roll down the road.
Left alone your tires are going to deflate, tubeless tires bleed down more slowly than tube-type tires but the simple fact that air molecules like to skate the tire all on their own means that under-inflated tires are pretty common.
If your tires are under-inflated you end up with a soft tire and a big old contact patch, which leads to heavy steering, sloppy handling, premature tire wear, excess friction, tire temperature, and poor fuel economy.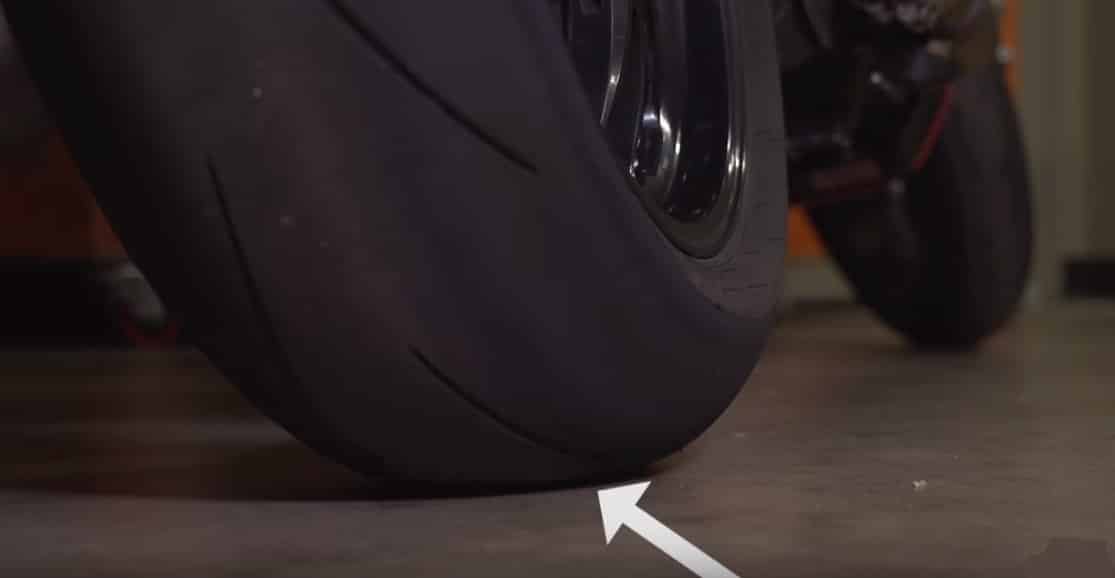 On the other hand, if the pressure is too high you're going to have a small contact patch and a really hard tire, which means less traction and a really rough ride.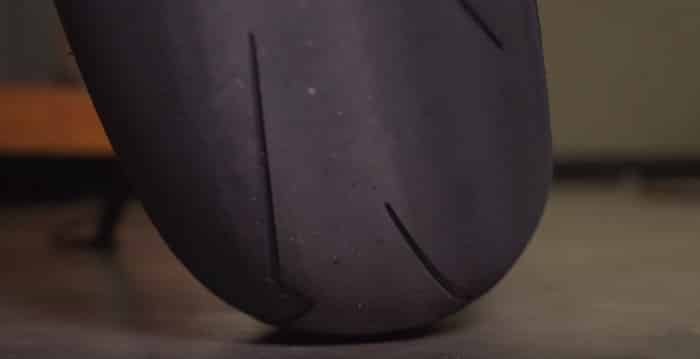 So how do you know what the correct tire pressure is?
Some people go by the number listed on the tire sidewall, that is the wrong place to look. That is the maximum allowable tire pressure, the recommended tire pressure is sure to be a lot lower.
The right place to look is in your owner's manual or right on your motorcycle. There will be a sticker on your bike swing arm or the frame, it will list your bike's front and rear tire pressures.
Since the tire pressure is so critical you should use a quality tool to check it, pencil gauges are cheap and convenient but they are notoriously inaccurate so you should invest in a decent gauge to do the job.
So in review. Check your tire pressures at least every other week, use a good quality gauge, and take the measurement when the tires are cold.
Next Article: Why A Motorcycle's Rear Tire Wear on One Side?