The N87 is Nolan's new top-of-the-line full-face helmet, available in Europe and the USA. 
This helmet has got about every feature you need in a motorcycle helmet. The build quality is amazing at a price that seems half what it should be.
You'll notice the quality as soon as you pull it out of the box, and there are plenty of features. 
The shape is very modern, with nice molded character lines and curves. Everything is made in Nolan's factory in Italy.

Nolan N87 Review
Shell Construction
The N87 shell is made from polycarbonate. Nolan used Lexan, which is a high-quality version of polycarbonate. 
That's something Nolan has been doing since they were founded way back in 1972.
Weight
The size medium N87 weighs 1,560 grams on our scales. That's not the lightest in the sports touring category, but it is pretty good for a plastic shell helmet, which is usually heavier than a fiber shell. 
And we've also weighed some fiber shell helmets similar to this.
Ventilation
The N87's venting system is reasonable. It's usually the case that plastic shell lids fall in this area against fiber shells, but it has a chin and top vents on this helmet.
The sliding chin vent below the visor is pretty good and brings through a decent scoop of air. It is also really easy to use. It's quite nice and chunky. On the top, there are twin slide events. 
This is the second N87 I've worn, and the airflow isn't amazing, but it's okay. Air comes in through the two holes at the top of the shell.

And then, there are channels in the impact liner allow air to circulate from front to back. It then comes out through the permanently open exhaust fence at the back.

Visor
The visor on this helmet is a classy piece of kit. The lifting mechanism has a pivoting design, so it rotates backward when it's either fully raised or fully dropped. 
As you lift or lower it, the visor mechanism moves forward before rocking into a more secure resting place on its last notch. 
It's simple to remove and replace. It took me 20 seconds, and without doing loads of practice runs, it's intuitive and easy. 
It's also fitted with a Pinlock Max Vision insert and is fitted on the visor when you buy the lid, so there's no need to fuss about it. Instead, you can get on and ride.
Sun Visor
The sun visor is a cut above the norm. It has stages for opening and closing, so you can leave it partially down.
And there are steps on the lever, so you know that it's going in graduated amounts rather than just up or down.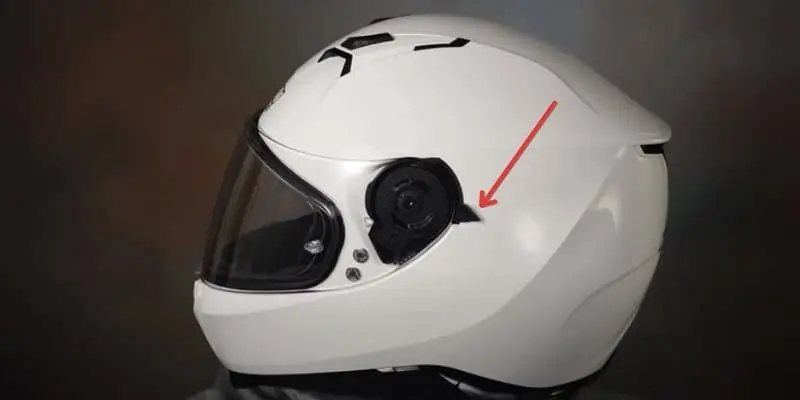 It's also anti-mist, putting many more expensive helmets to shame.
Interior
The lining is a comfortable Nolan lining that slips easily in or out; it's antibacterial.
So that means it will be less smelly for day-to-day riding, which is important on a lid like this and aimed at daily riders. 
It's also what Nolan called "eyewear ready." To make it eyewear ready, take the foam out of the cheek pads.
There's a top section that you can take out to give room for the arms on your spectacles.

Intercom
Behind those cheek pads, there are recesses for intercom speakers. The N87 is prepared for Nolan's end-com setup. 

It integrates neatly by removing and refitting the trim around the base to accept the control unit and the battery. You can pick up one of those for circa $250.
Another optional upgrade for this helmet is Nolan's emergency stop system ESS. 
It screws onto the back of the helmet and uses an accelerometer to detect that you are breaking heavily. It then lights up to give you an additional breaking light to draw attention to the traffic behind you. 

It costs about $100. The problem is that you can't have that and the en-com system fitted at the same time. You've got to choose between a communication system and that breaking light.
Safety Straps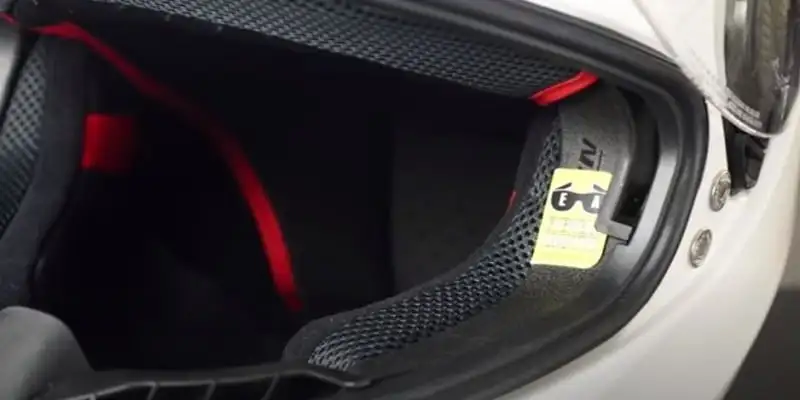 The strap for this helmet is micrometric. It's a two-stage operation. To open, you lift the red tab, and then the gray section comes up to release the two sliders.
Safety Ratings
This helmet's approval is ECE 2205 for the road, and it's also ACU gold so that you can use it for track days and racing. It is also DOT-approved for the American market.
Shell Sizes
It comes in a wide range of sizes, from double XL up to triple XL. In addition, two shell sizes cover that range.
Everything up to a medium-sized helmet goes on the smaller shell, and then large and above use that bigger shell.

Nolan Helmet Sizing Chart
| Size | Head Size |
| --- | --- |
| 2XL | 53 cm |
| XS | 55 cm |
| SM | 56 cm |
| MD | 58 cm |
| LG | 61 cm |
| XL | 62 cm |
| 2XL | 63 cm |
| 3XL | 65 cm |
Nolan also has an addition to this helmet, an N87 Plus. It has a slightly superior lining, which is also adjustable and lets you alter the angle at which the helmet sits on your head. It also has emergency cheek pads.
If you like the color schemes and an adjustable liner angle is important, then it's worth upgrading to the Plus. But on the whole, I would say this helmet is just as good.
The customer reviews for the N87 are reasonable, with 73% being five stars. That's not an amazing performance.
And I would say this helmet is more popular with professional reviewers than with customers.
Noise Levels
I would say a lot of that comes down to noise. When you're reading through those reviews, you can tell there are people who feel this is a little bit on the noisy side.
In my experience, I've used N87 for about two and a half thousand to three thousand miles, and I found that it is a little bit noisier than average. I always wear earplugs, and I found that it's acceptable.
But if noise is an absolute priority for you and you're looking for a quiet helmet, then I would suggest either getting a really impressive pair of earplugs or possibly looking elsewhere because I don't think this has been optimized to make it a quiet helmet.
In Conclusion
This Nolan N87 motorcycle helmet is DOT approved and comfortably fits both small and large heads. 
It also features a ventilation system with air booster technology, a pinlock face shield and lens, and a micro lock double lever retention system.
It also has washable cheek pads, a ventilated inner sun shield with UV400 protection, a ventilation system with air booster technology, and is ready for the N-com Bluetooth system.
Where To Buy