If you're reading this review, we know that you probably have a sports bike, and you're looking for a set of sticky tires for it.
We also know that it can be a little bit scary. Looking at all of the options when you pull up your common sportbike sizes on just about any website that sells tires, you just get a flood of results.
Hopefully, we can chisel down the options and present you with some of the things we think are going to work best for you.
First, we're going to talk about the bikes these tires are made to fit. Specifically, this review is going to focus on middleweight and larger motorcycles.

So if you've got a sportbike, A sport naked, a sport touring, anything utilizing a 180/192 rear, and you have a pair of 17-inch wheels on your bike, this review is likely going to help you out.
We recently did a best sports bike motorcycle tire for mileage article too, so if you're trying to get long wear out of your tires, check this review out as that will have all the information you need.
Instead, what we're focusing on here are riders who are hitting it really hard. whether you're carving up some canyons, you're hitting the occasional track days, or maybe you have a track-only motorcycle.
Some of the tires you're going to see here are going to be very helpful. This is also going to be great for those of you who are just riding super aggressive in the street.
A track tire is not always the right tire for most riders unless you have a dedicated track bike and you're among the very fastest people. So we don't usually recommend them to folks.
Instead, some of the stuff you're going to see here is probably going to help you go your very fastest on your street-legal motorcycle. that having been said, let's get into some of the products we're going to talk about today.
Best Sport Bike Motorcycle Tires for Grip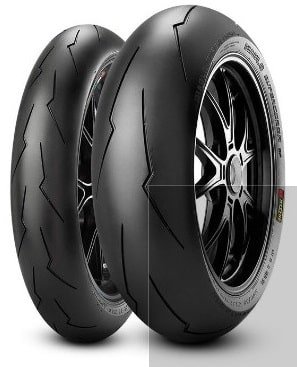 The Pirelli Diablo Super Corsa is a very aggressive tire, super-sticky. This is a W-rated tire, and It's going to deal with all but the fastest of motorcycles. This is current The fastest motorcycle speed rating we've seen on a tire yet.
If you examined this thing, you'd notice there's very little tread on here. You are not going to be encumbered by lots and lots of voids in between the rubber.
What that means is you have the maximum amount of rubber you can get on the road. Speaking of that rubber, it actually comes in a few different compounds on this tire. This is actually a triple compound tire.
As we move from the outside of the tire towards the center of the tread, the rubber gets progressively harder, giving this tire a fighting chance at living a slightly longer life than it was just made of wintergreen bubblegum.
This tire also has a very aggressive profile. This tire is very pointed, this is important for those of you who hit in the twisties, and you're hitting them hard.
What this aggressive profile is going to do for you is make your bike easy to pick up off of one side and flip back down onto the other.
If you prize cornering and handling, a set of super courses is going to help your bike out in a very big way.
As I mentioned, this tire does heat up super quickly and is probably one of the stickiest tires that you can spend your money on. It will be at home on the track, as it is on the street.
In Conclusion
The Pirelli Diablo Super Corsa is the most advanced tire ever created. It is the result of intense development, with many new compounds and innovative technologies, to provide the best possible grip in all conditions.
It is a dual compound on the front, with three compounds on the rear. The innovative combination of 100% silica and black carbon provides better grip in all conditions, with increased grip in every condition and lean angle.
The advanced tread pattern and optimized contact patch optimize the grip and performance of the tire, especially when cornering.
The increased agility and more accurate trajectory provide greater confidence and safer riding, both on the street and on the track.
The improved traction allows the rider to make a more aggressive entry into corners, while the enhanced feeling when cornering gives greater stability and control.
The Pirelli Diablo Super Corsa is the most advanced tire ever created. It is the result of intense development, with many new compounds and innovative technologies, to provide the best possible grip in all conditions.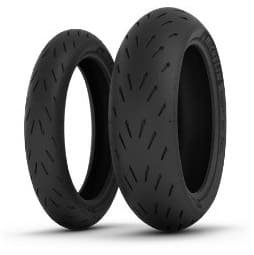 The Michelin Power RS Tires are the latest offerings. Unlike the Super Coursa, you just looked at; this tire is a little bit more at home on the street.
There are a couple of cool technologies that Michelin has cooked up into this tire. Let's Talk about a couple of them real briefly. If you look at the tire head-on, you will notice two lines running around the center.
This is a dual-compound tire, unlike the triple compound we saw before. But again, keeping that softer rubber out towards the shoulders gives you cornering confidence when you really need it most, especially when you get the bike laid over on its side.

One of the other cool things that Michelin has done is they have used their adaptive casing technology. This sounds super-duper techno difficult to understand; it's not.
The sidewalls have body plies that are folded back over, doubled over themselves, and then fused together.
What that means is you get a tire that's exceptionally soft throughout the tread area, but then it's very rigid in the sidewall.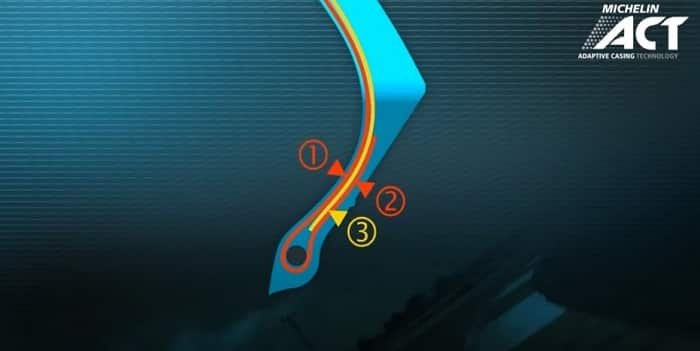 The body of the tire can conform well to the road. However, the sidewalls are going to transmit lots of feedback to you, the rider.
So you've got a tire that's able to grab the road and chew on it a little bit, then you've got sidewalls feeding lots of information back to you. Again, it's going to promote confidence in cornering.
It is W-rated, so it should be good on just about the fastest motorcycles out there.
In Conclusion
The Michelin Power RS is a racing tire for road bikes. It incorporates ACT (Adaptive Casing Technology) developed from Michelin race tires for improved grip and a unique feel.
The front tire profile was optimized to promote quick turn-in and accurate feedback. The 2CT compound on the front tire enhances corner grip without compromising longevity.
The 2CT+ compound on the rear tire reduces sidewall flex at lean and increases corner exit stability. This high-performance tire is W-rated for speeds of 168+ mph.

If you loved the OEM tires on your leader bike, it's very likely that the RS10 may have been the tire that you really liked. . It gives very OEM-like performance.
These are super sticky tires, and they do not last long at all, which is exactly what these things are intended to do.
Once again, if you love that OEM tire on your bike, take a look at the RS10.
Even if you didn't have an RS10 on your bike, this is going to provide very neutral OEM tire likeability.
It's a very chameleon Eska tire. You can do a lot of things very well for a lot of different motorcycles.
This is the exact same tire that Honda sees fit to put on the $184,000 RC213V. If it's good enough for that bike, it's probably good enough for yours.
It's a super sticky tire, not the greatest life, this thing is here to let you have a good time: it's not here to be around for a long time.
In Conclusion
Bridgestone Battlax RS10 is the ideal all-around street tire for sports car enthusiasts. It has high-performance radials optimized for high-grip and handling performance on dry surfaces.
The specially formulated rubber compounds front and rear offer sure grip as well as increased durability. The rear profile enables a larger contact patch for improved grip in mid to high lean angles.
The rear tire has softer sidewall construction incorporated for better damping to improve handling.
The front tire uses a Mono-Spiral Belt constructed with stiffer steel to enhance the rigidity of the tread area for upgraded response and stability.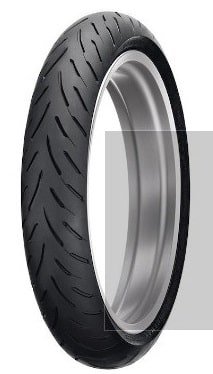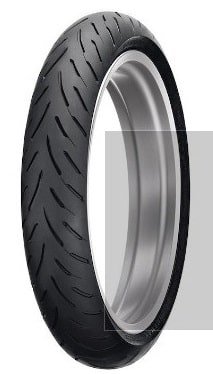 Finally, we have our last tire: the Dunlop Sportmax GPR300 tire. This is a fairly intriguing tire for a couple of different reasons. The first is that this baby comes in a lot of different sizes.
Not only will this fit your larger middleweight and literbike size sportbikes, but this will also come in sizes suitable for smaller bikes, the 300 and 500 classes.
This is your budget-buster tire; that's why it's up here. It's a pretty good sportbike tire for that middleweight and larger motorcycles, and man, these babies are cheap.
You can grab your stereotypical 180 and 120 rear and front combo set for $200 shipped to your door.
The reason they're in the performance section is not for you big bike guys, but for those you who are on the smaller motorcycles.
Nowhere do we recommend you stay with the OEM construction on your tire. I would never tell anyone to deviate from stock.
But I will tell you this much. If you're the type of person who does not listen to people like me, the only reason you have bias-ply tires on your bike is that they are cheap. The OEM is trying to save money.
They were trying to keep the cost of that bike down, and one of the ways they did that was by putting a crappy set of bias-ply tires on your bike.
If you're the type of person who's going to go out and change the construction type on your tire, moving into a GP are 300, which is already in a really affordable tire that also bumps you up into a radial tire is an immediate performance boost that you can and will feel.
For that reason, it is up here as one of the best sportbike tires we run into,
Hopefully, you're feeling a little bit better educated about what some of these tires can do for you, and hopefully, you've honed in on one of these as possibly being the tire for you.
You might want to examine one of these tires, or perhaps some of the competition, and figure out exactly what might be the tire for your motorcycle and your riding style.
In Conclusion
This is the world's first radial tire for road and off-road racing. Its unique belt and sidewall structure deliver superior performance and a smoother ride in wet and dry conditions.
Advanced belt design and JLB (Jointless Band) rear tire construction utilize a continuously wound belt for smooth performance and a consistent tire contact patch.
Aggressive sport-derived tread pattern for enhanced on-bike appearance.
Where To Buy