Flip-front helmets are not for everyone, but they are incredibly popular for a few reasons.
They're very practical as you can show your face without taking your helmet off, or you can open the front to let in a little bit more air, although with some helmets, it's not legal to ride with the chin bar up.
Riders wearing glasses are probably the ones who love flips the most, as you can put a flip front helmet on and take it off again without taking your specs off.
You don't have to break the bank to get a great flip, and the five helmets in this review are all available for under $200 as we write this post. 

We've chosen them mostly based on the scores in reviews by customers, but with one wild card helmet that I've thrown in, as I think it's well worthy of a place in any top five.
If we've done a more in-depth review of any of the helmets mentioned today, you'll see links directly to the review.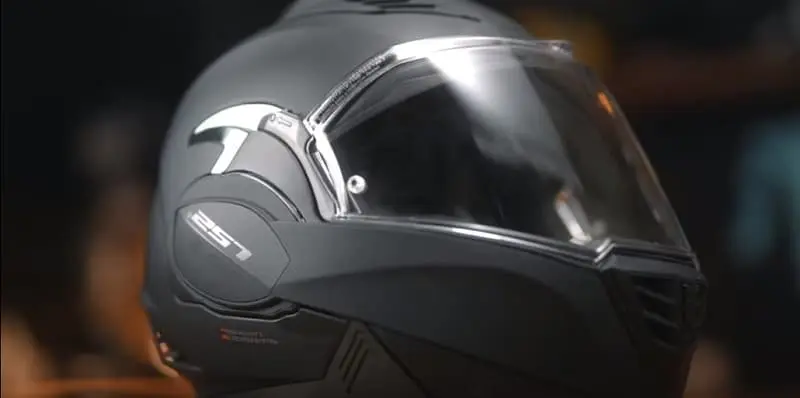 Best Budget Flip Up Helmets
HJC i90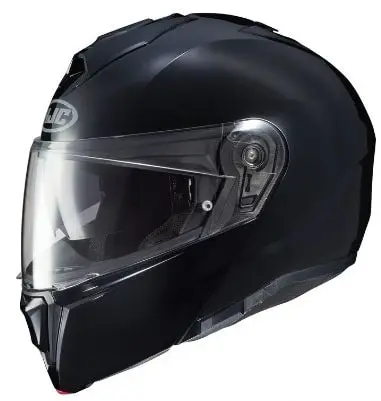 The HJC i-90 helmet is right at the top of our price threshold, but thankfully, it has the quality to back it up.
Shell Construction
The shell is made from polycarbonate, and the lifting mechanism firmly seats the chin bar on top of the lid.
It's dual-hormonated, so you can legally ride with the chin bar up, and there's no lever to fix it in place as there's enough resistance anyway.
Ventilation
There's a good level of venting. It comes with a Pinlock 70 anti-mist insert in the box and a sun visor with a good amount of depth to it.
Interior Lining
The comfort lining, which is all removable, has a comfy quality fabric covering it over the top as well.

Intercom
It's prepared for HJC's smart intercoms, but it's also easy to fit a universal comp system, and if you prefer that way, that's easy to do with this lid.
Safety Ratings
It's certified to the ECE 2205 standard for the road and achieved three stars out of five in the UK government's Sharp impact testing scheme.
It is also DOT, and ECE approved for the US market (3XL-5XL DOT only).
Of the 61 reviews I have seen for the i-90, 49 owners gave it five stars. The most common criticism is over noise, with nine people mentioning that, but six people say it's quiet.
It shows that you never know how much noise you'll get from any lid until you get out and ride it on your bike.
One thing that's only fair to point out with this helmet is that to stay under the $200 threshold for this post, you'll need to buy an i-90 in a plain color, as the graphics bust the $200 budget.

LS2 Strobe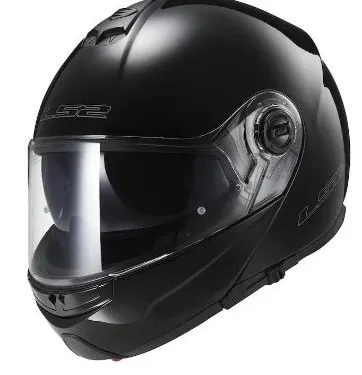 The LS2 Strobe is one of the cheapest flip fronts, but that doesn't come through if you read the feedback from customers who've left a review.
On the whole, there's positive feedback for this lid. Of the 53 reviews we have seen, 33 are five-star, and another 19 are given four stars.
Weight
People like the comfort and the weight. The size medium weighs in at 639 grams/ 1.4 lbs, which is pretty respectable for a flip-front.
Sizing
There is a swell of opinion that people should order a size bigger than they would normally, but there are also people who say they did that and then it backfired on them, and they ended up having to swap back to their normal size. 
So if I'm trying this one, I'd say the Strobe is quite a compact helmet. The medium size fits me around the head, but it doesn't come down far enough for my liking and doesn't leave much room around my face.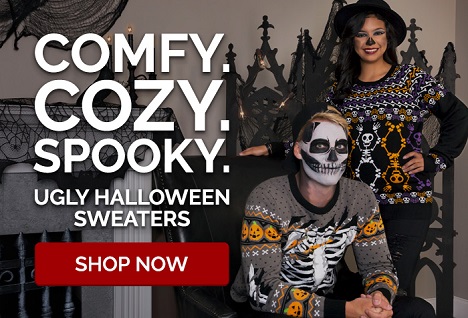 I would say this is one we are better off trying on before you buy it. 
This lid isn't dual homologated, so it can only legally be worn with the chin bar down, and it doesn't have a Pinlock insert, but an insert will fit. There's also a sun visor.

Intercom 
There's room for intercom speakers. The neck roll is integrated into the helmet shell, so we recommend not using a communication device that uses a clamp mount.
Safety Ratings
It's been approved to 2205 for the road and achieved three stars in the UK government's Sharp impact tests.
Caberg Duke II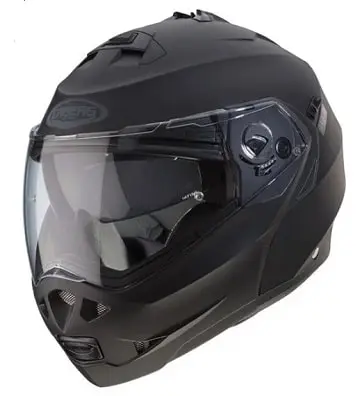 Caberg has been making budget flip up helmets for at least 21 years, and this Duke 2 is their current headliner.

Of the 637 reviews we have seen, which is way more than any other lid, 478 reviewers have given this helmet five stars.
Safety Ratings
The Duke 2 also has a 5-star rating from the UK government's Sharp impact testing program.
Personally, I think that plays a big part in this helmet's popularity. It's a helmet that costs less than $200 in its most basic colors, and it has that five-star stamp that gives people confidence that they're getting good protection.
Having spent a bit of time wearing one of these lids, I find it to be a no-frills helmet, but if you bring it back to basics, everything is there.
It's dual homologated for use with the chinbar up or down. 
Pinlock Anti-Mist
It comes with the Pinlock insert in the box, a sun visor, and an intercom that is easy to fit.
If you want a fuss-free flip-front and are on a budget, this is the one hundreds of riders go for every year.

MDS MD200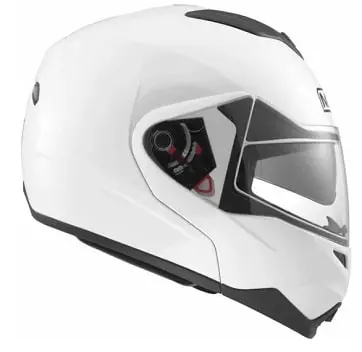 MDS helmets are a sub-division of AGV, so you get the technology from older AGV models at a lower price. 
The MD200 has been around for almost ten years and comes with a plastic shell.
The lifting mechanism is neat for the chin bar, and the lining is comfy. The sun visor also operates on a wheel on the left of the lid, which is simple to use. 
It's not dual-homologated, so riding with the gym bar closed is legal.
After 62 customer reviews, it has an average rating of 4.6, with 39 of those reviewers giving it five stars. Unfortunately, this helmet has fallen a bit by the wayside recently. 
Almost all those reviews were written when this helmet cost less than $120. Now it sits at around $150. 
That puts it in competition with the Cabo Jute 2, and most people prefer that helmet when it comes to the choice. The Cabo also has a pin lock insert, which this lid doesn't.
Safety Rating
The MDS has a four-star rating in the Sharp impact tests, and it's still a decent option, especially if you find that Caberg doesn't suit you.
Grex G9.2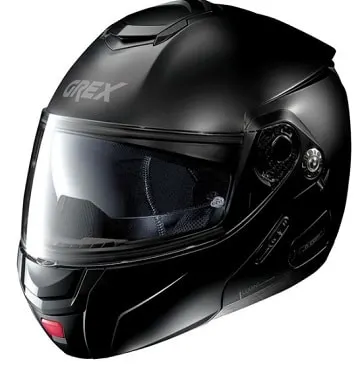 This is the wild card helmet I told you about at the beginning of this post. I'll bet that most riders will see the GRex logo on this helmet and say something like, "Grex, who are they?" 
But if I did that with a Nolan logo, then people would recognize that. So, in essence, Grex is Nolan as part of the same group.
When an entry-level Nolan helmet gets replaced in the range, that lid gets a mild spec tweak and is re-released as a Grex.
So this G 9.2 is, to all intents and purposes, a Nolan N92 with a downgraded liner and a simple one-pull strap fastening buckle rather than the twin pull system that came on that Nolan.
There's also no chin curtain on this helmet, but the G9.2 is a pretty damn credible helmet for UNDER $200.
It's got the same Lexan shell as used on all Nolan helmets. The chin bar is an extra layer of safety over other flips as you need to pinch the two buttons together to open it.
It's dual-hormonated so you can use it with the chinbar up or down and a sun visor.
Pinlock Anti-Mist
There's no Pinlock as standard, so adding one of those costs around $50, which takes you to our $200 threshold.
Interior Lining
The liner isn't as plush as the old Nolan, but it still stands compared to other helmets in this review.
These helmets don't suit everyone, but if it works for you, I would say this helmet gives you good value for money.
So those are our top five best-value flip-front helmets. Again, I think the HJC and the Grex quality stand out in this grouping, but those two helmets are at the top end of the price scale. So, I guess you might expect that to be the case. 
If what you want is a known quantity that's trusted by thousands of riders, then it's the Caberg Duke 2 that stands out.
It does miss some luxuries, and it's not as plush as the HJC or the Grex, but it covers all the basics. It also has that five-star sharp impact rating, which is a definite plus point.
As always, I suggest trying as many helmets as possible before making a final decision. It doesn't matter much what I or anyone else thinks is a good helmet if it doesn't suit your head.
To keep things fair, I should also point out that the list of helmets we've used for this guide is restricted to those whose list price is currently $200 or less.
That means there might be helmets on clearance deals when you're reading this post, meaning you've got quite a few more helmets to choose from.
Where To Buy