The Scorpion EXO 491 helmet landed in the summer of 2022 to replace Scorpion's very popular XO 490, and from the short time I've spent with this EXO 491 helmet, they've done a very good job of it.
It's a plastic-shelled Sports touring and commuter helmet with an internal sun visor that passes the new ECE 2206 safety tests. 
As of writing this review, it costs £119.99 if you're happy with the plain colour or up to £149.99 if you want a graphic paint Scheme.
Adding together those last two bits of info means this is currently the cheapest full-face helmet you can buy that meets the new safety standard.

So let's run through what it does and what it doesn't have.
Scorpion EXO 491 Review
Shell Construction and Weight
The shell on this helmet is plastic, and the size medium helmet weighs 1658 grams, which is what I expected to see from a lid like this. So it's not particularly light, but it's not particularly heavy either.

Ventilation
The ventilation at the chin comes through the top of the chin bar when you slide the shutter down.
Image
On top of the helmet, there are three sliders. The central one covers two Inlet holes, and then the two rocking switches on either side also control airflow through an Inlet each.
That means four Inlet holes that allow air down into the lid, which can then move through deep channels in the EPS protective liner and escape through three Outlet holes near the spoiler on the back of the lid.
Visor
The visor on the EXO 491 is used on a variety of scorpions already, so it's tried and tested and works in a pretty neat way.

From fully open, it's got four intermediate steps, and then the fifth step shuts it bringing the base plate back towards the lid for a good strong seal.
The lever on the left side lets you lock the visor down to stop the wind from getting underneath or leave the visor open slightly.
If you leave it with that open, it gives you a slight opening to let some air in and clear Mist off the inner surface of the visor.
Pinlock Anti Fogging
That function may be useful as the visor's pin lock is ready but needs to be supplied with the insert. Unfortunately, that costs £29.99 extra as we write this review.
If you run this helmet without the pin lock, the ability to get some air inside is likely crucial, so if you want that pin lock insert, that will bring the base price for a plain color of this helmet up to £149.98.
Sun Visor
There's a sun visor backing up the main one, and it lowers and lifts on a rotating lever by your left ear.
There's an anti-fog coating on that sun visor as well as there is with most scorpions, and I found that to be effective when I wore this lid.

Interior
The lining is fully removable, and it's pretty standard for a helmet of this price. It uses Scorpion's quick Wick liner, so it's treated to be antibacterial, hypoallergenic, and also to Wick moisture away from your skin. It's easy to remove and replace it as well.
No foam at the top of each cheek pad leaves room for spectacle arms to go in without a crush.
Intercom
There are recesses inside the helmet for intercom speakers. They're big enough for 40-millimeter cardo speakers, which are the most problematic ones when it comes to fitting them in recesses so that most speakers will go inside those recesses with no drama.
I fitted a cardo packed up bold to this helmet as a trial fit, and everything went okay, but it was quite a challenge to tuck away the excess cables as this helmet is pretty compact.
I did a trial fit as well with the center 20s, and that was a bit easier as there's not so much cabling to accommodate, but either way, I think finding somewhere to tuck away those cables will be the main challenge when putting an intercom on this helmet.
Fastening Strap
The fastening strap is the last bit with the interior, but it's important all the same. Like most helmets in this price category, it does up with a micrometric buckle.

Sizing
The Scorpion EXO 491 Full-Face Helmet comes in sizes from double extra small to double extra large, covering a range from 51 centimeters to 64 centimeters.
There are three shell sizes, which is always a benefit. The smaller shell covers lid sizes up to and including small. 
The middle one is for helmet sizes medium and large, and then the biggest shell covers helmets from XL and above.

Safety Ratings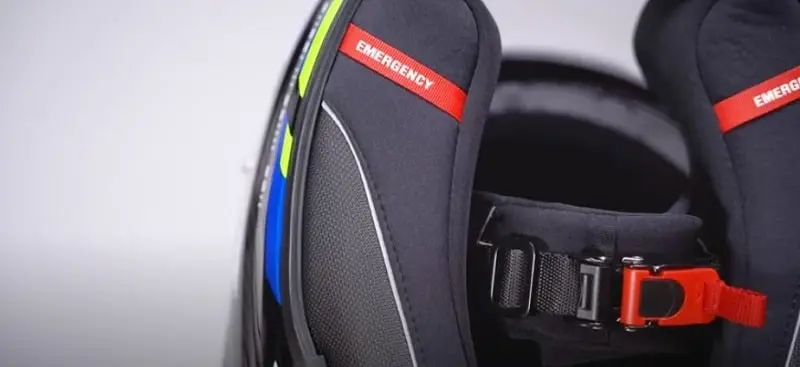 In terms of approvals, as I said earlier, this meets the latest ECE 2206 safety approval for use on the road. That's a stiffer series of tests than the outgoing 2205 standard.
It subjects a helmet to more impact tests at a wider range of speeds, and a greater proportion of the helmet is potentially subject to testing.
I feel the better helmets that pass the old 2205 standard would still pass the new standard if they were put forward for it, but you can be more confident in the protective qualities of a helmet like this that meets the 2206 standard.

It also has an Acu gold sticker, so you'll be happy to see it if you want to use it on track.
It still needs to be rated by the UK government's sharp impact testing program as we wrote this review, and on current form, it's going to be at least a year before we see a Sharp rating for this helmet.
Wearing this helmet on the road for a short time makes it a good addition to the Scorpion range. However, if you Splash out for the pin lock insert, this becomes a decent helmet that does a good all-around job.
It would be ideal for year-round commuting for not a huge amount of money.
In Conclusion
The Scorpion Exo-491 motorcycle helmet offers a lightweight, modular design that is easy to customize.
With a removable and washable interior and cheek pads, the Exo-491 is also easy to clean. The internal drop-down sun visor protects from low sun and is ideal for riding in low-light conditions.
The Exo-491's Micrometric Quick Release Chin Strap Retention system is convenient and comfortable, allowing you to adjust the strap length for your perfect fit. 
Its pinlock-ready visor is scratch resistant and offers an efficient ventilation system.
That tells you everything you wanted to know about the Scorpion EXO 491 helmet, and if you want to purchase it, click here to check out the latest prices.