Motorcycle Helmets are designed to keep your head safe when riding a motorcycle. It is designed to protect your head from impacts, road debris, wind damage, and general wear and tear. Oval-shaped helmets have been shown to increase protection from injuries if you have an oval-shaped head.
They can also help decrease the risk of concussions, reduce neck strain, and help reduce the amount of vibration transmitted through the helmet. They also come in a range of sizes to suit a variety of heads, so you don't need to worry about being too big or too small.
Our Top Picks For Motorcycle Helmets For Oval Heads
The Quantum X is my first choice, which happens to be identical to their oval offering the Signet-X, in every way, except for the head shape.

The Signet-X padding has five millimeters of peel away foams, so you can customize it and make this helmet even more oval if need be.
The crown is adjustable too, which is a rare level of customization. But of course, Arai provides that their bread and butter are wealthy motorcyclists with weird heads, so why not?
Touching on the wealthy part, this Signet-X is circa $800 in dull colorways and $1,000 in graphics. $200 is pocket change to Arai buyers because the paint is more expensive in Japan. Arai has no shame; choose whichever excuse you like.
Shell Construction
The shell is PBS CLC for peripherally belted super complex laminate construction. Any name that includes the word "super complex" is designed to impress, not descriptive.
This helmet comes with a fiberglass shell, with an extra-strong belt wrapped around the top of the I-port that allows me to have less EPS foam allowing for a thinner shell and allowing for a higher field of vision in that full tuck position.
Ventilation
Ventilation is good and bad. The good part is that the vents close with the flaps located on top of the helmet. That maintains aerodynamics and, therefore, how quiet the helmet is.
The visor ducts are good. They run fresh air back to your temples, which helps with blood flow.
The bad is that you have no hope of finding these vent controls with your gloves on. Speaking of bad, the chin curtain makes the helmet way too stuffy, so rip it out and put it someplace where you're never going to find it again.
In a similar vein, the new shield latch is also unnecessary. Push it down, push it up, either way, you need to get in there with your finger to unlock the visor properly.
It is so badly designed that I'm not even sure how it was supposed to work.
The Signet-X

is still the most comfortable helmet for oval heads, it's also one of the safest with five different EPS densities, and one of the lightest at 1605 grams.
Your Signet enjoys long rides to the ocean, daily outings, and the occasional spirited romp. You could also coax it to the track with its Snell sticker, but it's probably better to leave that job to the mistress.
In Conclusion
The Arai Signet-X is a versatile, weatherproof face shield that features a dual-function lever release mechanism and VAS (Variable Axis System) lens lock.
It has a built-in Pinlock insert that allows the user to easily change the visor without removing the neckroll. The visor is held in place by a VAS MAX Vision face shield that includes a pinlock insert and anti-fog lens.
The face shield also features a VAS shell that is made from a variety of carefully positioned materials and is designed to be as lightweight as possible.
The shell also features five different ventilation holes that provide improved airflow. A neoprene cheek pad is included to help reduce heat build-up in the eyes and nose.
The neck roll features 5mm peel-away cheek pads that can be removed and replaced as needed. The neck roll also features QVF and QVR upper ventilation ducts that allow for increased airflow.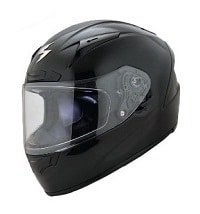 The Scorpion EXO-R2000 is naughty and fun. There are fast helmets, and then there are fast helmets.
This is the latter, as evidenced by the large reflector on the bottom of the neckroll. The only way this is visible is if you're going full missile mode.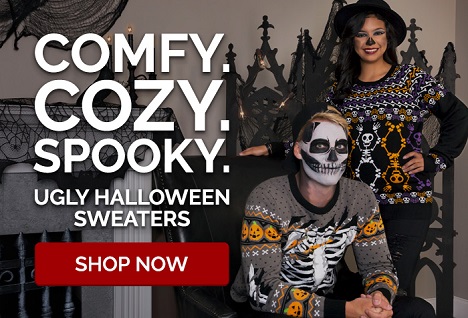 The EXO-R2000

was developed by nobody's favorite MotoGP rider, Alvaro Bautista. So maybe it doesn't come with a note from the doctor or a dead seagull for maniac Joe, but it's still a bonafide MotoGP helmet, and that's cool.
Visors
Even cooler is that it comes with a regular visor and a badass visor. Their websites will tell you this is an intermediate head shape; don't listen to them.
I have an intermediate head, and an EXO-R2000 is tight on the sides and roomy front to back.
Plus, with the air fit system, I can pump up the cheek pads to sit even narrower, I don't care what anyone says, this thing is as oval as Trump's office.
Safety
Of course, the R2000 is Snell-rated with emergency release cheek pads. It does suck that the paramedic instructions are written on the chin curtain, as I would probably remove that for harder track days.

Ventilation
Ventilation is powerful, and I can feel the little torrents of wind hitting my skin. One other thing. Because the cowl is closed at the opening, it doesn't trap any whistling vortices of air inside the helmet. It's much quieter that way.
However, good luck finding the tiny vent toggles with your gloves on is the kind of helmet you set up in the pits before you ride, not during the race.
Shell Construction
The shell is TCT, a blend of fiberglass airbeds and organic fibers that must be decently potent as it's good enough to slim this helmet down to 1645 grams.
It's also very heavily molded. This is one of few helmets that looks better from the back than from the front.
In Conclusion
The Scorpion EXO-R2000 is a new level of protection for your head. It features a composite shell that's developed exclusively by Scorpion and consists of a proprietary 5 layer blend of fiberglass, Aramid, and organic poly-resin fibers.
The AirFit system lets you adjust your cheek pads for a perfect fit and the EverClear no-fog face shield features anti-scratch and fog-free technology.
The KwikWick II liner and cheek pads are moisture-wicking, easily removable, and washable. The KwickFit cheek pads are designed to accommodate the most common styles of eyeglasses and are easily removed and washed.
The Elip-Tec Ratchet System makes changing the Faceshield a quick and easy process. The Emergency Release System provides an easy way to remove the cheek pads in the event of an emergency.
The six intake air-ports across the front of the helmet force cool air in while the 10 exhaust vents maximize the release of hot air.
The titanium double-d rings make it easy to attach your helmet to your motorcycle.

3. Icon Alliance GT Helmet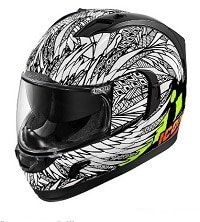 Well, here's their illegitimate love child, the Icon Alliance GT. The bastard outdoes its parents, having a comfier liner than Papa Arui, and a smaller price tag than the Scorpian, under $300.
I think the Icons oval fit is as comprehensive as the cygnets 2, and the only difference is the Arai is way more adjustable. Whereas, this is more of one size that might fit all standard oval.
Sun Visor
Keeping with the theme of everyday functionality, we have a gilded Sun Visor. Ventilation and quietness are both excellent, nothing exciting to say there, but the shield does annoy me.
It opens and closes with a peg and the hole, which is a bit elegant and takes a lot of strength to open.
At least it does work. The only thing left to say is that the shell is polycarbonate, and it weighs 1675 grams. There are also no speaker cutouts, so if you have a passion for music, lose it.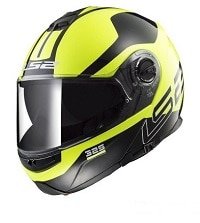 The LS2 FF325 is the Modular option, or if you prefer your helmets not to be named after fax machines, the strobe.
Of all the modulars I've tested, this is perhaps the most impressive. The shielding mechanism is tight, slick, and quick releasing. The chin bar mechanism is easy to find and smooth.
The sun shield is low. The neck roll is reflective, and the ratchet strap has a comprehensive seal. That last bit makes the strobe quiet, which is rare for cheap modulars.
Even more rare is the featherweight 1630 grams, I have no idea how LS managed to put out a thermoplastic Sun Visor modular within that weight class.
All for around $200 bucks. Whereas, comparable helmets charge north of 5. But every cheap rose has its thorns, the tight neck roll makes the strobe hard to put on, and then the pin lock ready face shield doesn't come with an anti-fog pin lock lens.
Ventilation is stuffy with absolutely no exhaust ports whatsoever, so fogging is frequently an issue.
Then the safety ratings are excellent everywhere except the left side, where it sucks so bad that the whole helmet lost two stars from sharp.
LS2 is good for glasses on the inside of their helmets, but not very good at carving eyeglass channels.
I know that sounds like a lot of flaws, but some core stuff, this news flip-up, a big Sun Visor to quiet patting, the lightweight are incredible, I don't think I've ever seen those things done this well for $200.
Icon Variant
If I'm an oval-headed and looking for an adventure helmet, the options are few. For most, we have the LS2 MX436 Pioneer and the Icon Variant.
The Variant is a solid helmet, comfy, refined, and very aerodynamic. Still, it's not much of an adventure helmet since it's quite stuffy around the trails and hates playing with goggles.
In Conclusion
The LS2 Strobe Helmet is a DOT-approved motorcycle helmet with an integrated strobe light. This helmet has a hard-shell inner, soft outer liner, and a removable, washable comfort liner.
This helmet also features an FFS (Face Forward Safety) 3D face shield with a quick-release system, an inner drop-down sun shield, a breath deflector, and a cheek pad with laser-cut foam.
This helmet also has a quick-release metal security plate reinforced strap and a neck roll. This helmet is ECE 22.05 certified.

That leaves the LS2 MX436 Pioneer, which is very strange. The shell is KPA, a pretty chunky blend of polycarbonate and thermoplastic.
Plus, there's a Sun Visor, a pretty good one, and a peak. I would expect the whole thing to weigh as much as a small cow, and yet it comes in at only 1520 grams.
How did they do that? Probably the same way they can sell it for $170, mass production magic.
Visually I see the profile of an MX helmet, and I also see a bright orange interior, reminiscent of a motocross immature sense of fun. I see eyeglass badges, but with LS2, we all know that doesn't mean much.
I also see vents on the flanks of the chin bar, very Batman. I see a hideously tacky main event that looks like it was made by fisher-price, not very Batman.
I see emergency pad releases, which are still rare on an ADV lid for unfathomable reasons.
Functionally
The shield takes the strength of a Greek god to open, and then it stops moving once it hits the Sun peak, which is a bit crude.
Also, the optical distortion from the bottom ridge is noticeable; at least you can wear goggles with this helmet.
Ventilation
The forehead vents are permanently open to the rain, and then the peak adjusters are thumbscrews on the top and regular screws on the sides just because it's more annoying that way.
Fitment wise this helmet is long and low, it's a narrow oval head shape and not that tall.
The pressure point right on the top of my head reminds me of the AGV AX8 in that sense, not the right choice for coneheads.
I'm sure the LS2 Sun peak has never seen the inside of a wind tunnel. Very briefly choose the LS2 barber if you want an oval open-faced.
It's a fiberglass helmet that sounds impressive for $150, but the thing still weighs is an average of 1100 grams.
It is slim and nicely made. The trim is real leather, and the liner is synthetic suede. I can't tell where one ends and the other begins, I guess that's a good thing.
Also, the snap-on some peak is removable and adjustable. The LS2 comes with vintage goggles, which is like getting a toy in your happy meal. Yes, they feel cheap and sucky, but who's going to complain about a free toy?

Where To Buy