These are the four of the best Adventure and dual sport helmets I would buy, and why.
2 Helmets To Avoid
Gmax GM11 Review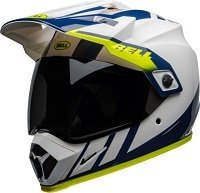 It's often referred to as a snow helmet, but it's not, the GM 11 is what GMax is for season multi-purpose lid, Street riding in the summer, snowmobiling in the winter, with a bit of motocross thrown in for good measure.
Pricing
I was skeptical at first because this is a hundred and fifty dollar lid that claims to do the job of three helmets, so far as I can tell, though, G max has pulled it off.
Specifications
It comes with a removable Sun peak, removable face shields, double lens Franchi fogging, speaker pockets, removable and washable liner, chin curtain, breath guard, six chin bar vents, two forehead vents, two chimneys, and six exhaust vents.
Now, two things I like and two things I don't like. On the positive side, this face shield opens wider than any of the other helmets on my list, making it easy to use even large frame goggles in here whether you keep the face shield on also if you take it off.
Weight
The other thing I like is the weight of this thing, this is a basic plastic shell, and yet this large comes in at one thousand eight hundred and thirty grams, which is only 40 grams more than the Shoei Hornet X2.
Visor
For the two things I don't like, I wish the G max gave us thumb screws rather than Phillips heads for the visor because the Sun peak isn't very aerodynamic. So I'm probably going to want to take it off for extended highway riding.
That's not a huge deal, but there's also a bigger problem, this helmet is only DOT rated, and I have more peace of mind in an ECE or Snell lid.
Helmet Shape
This helmet has a neutral head shape, so it's somewhere between a long oval and round, and I would classify the GM 11 is suited to an equal mix of on-road and off-road use.
It does ventilate well with the breath guard taken out, and the I-port works perfectly with goggles.
Insulation & Noise
At the same time, though, this is a secondary purpose snowmobile element, so it has excellent insulation, which translates into decent on-road noise reduction, but what if I'm a dual-sport rider that sees more dirt than pavement?
Bell MX-9 Adventure MIPS Review
I grew up riding motocross, so I know how a much lighter and cooler looking helmet can be. In the dual-sport category, Bell takes it to those extreme limits with the MX 9 adventure, and this is the best ADV helmet for trail riding.
Weight
At 1,650 grams, it's even lighter than Aries XD4. for the MX9 Adventure is a variation on bells MX-9 off-roading helmet. They just angled the Sun peak down for better highway aerodynamics.
They added the face shield, and then they truncated the chin bar for better insulation and crash safety. Other than that, though, the MX9 Adventure still behaves like a motocross helmet.
It is super light with loads of air coming through the chin bar and the big open gap underneath. There events on the forehead in the rear as well, but they're not closeable, and to me, that's a misstep from Bell.
Sun Shield
Though, in my opinion, the Sun peak catches a lot of wind on the highway, but Belle seems to know this because they gave us thumb screws, and that makes it easy to take the Sun peak on and off.
Of course, I'm not supposed to be doing too much road riding in this helmet anyway, nor would I want to because it's deafening in traffic.
Whether you keep the face shield on or off, it's super easy to wear goggles with this helmet.
And because of the big gap, the Bell left between the face shield and the shell of the helmet itself you can wear goggles and have the face shield down at the same time.
Personally, that's not a useful feature to me; if it's muddy or dusty, you're hot enough to be wearing goggles, and keeping the face shield on is just like asking for it to get fogged up or scratched.
Shape
The mx9 Adventure is a neutral head shape that fits right to the sizing chart online. It has a DOT and an ECE safety rating, which you know I love, and it cost $270 even for the black and high-vis illustrated version, which is a misnomer by the way because the base color here is gray.
Arai XD-4 Adventure Helmet Review
Dual sport helmets don't get more dirt worthy than the MX-9 adventured, but if you have $700 burning a hole in your pocket, there is an equally impressive dirt helmet that brings street prowess into the mix that's going to be an Arai XD-4.
Size
Arai invented the adventure helmet category with this series, and today the XD-4 is still the golden standard. This large helmet is equally slim and only thirteen grams heavier than the MX9.
I'm going to say that it doesn't vent quite as well, but it's a close second place and of course you can wear goggles with this guy no problem.
Pricing
The XD 4 is almost as dirt worthies the MX 9, but it costs three times the price, so where's my money going? Intangibly it goes in to build the quality, but more tangibly, we could also point at the shell.
Construction
The helmet is manufactured from woven fiberglass instead of cheap plastic, so the XD-4 is going to have DOT and Snell safety ratings without needing as much EPS Foam. So, it has more room to put comfort padding and soundproofing.
The XD4 is quieter on the road, but it also has more creature comforts for touring. The visor is flattened in this dimension, so there's no distortion at all. There are also two vents on the visor itself, which I pretty much never see.
Sun Peak
Moving up to the Sun peak, which is adjustable, and that's the first of the day. Smooshing it down allows for maximum streamlining at high speed.
Ventilation
The vents on top and at the back are nothing new, really, except for the closing mechanisms, which are slick.
Safety
I'm a total sucker for this lid because the Aria subscribes to the same safety school of thought that I do.
The idea is pretty simple, yes impact absorption is essential, but it's equally critical to have a slim and lightweight helmet because it's going to transfer less inertia to your neck.
Aria puts that into play here, every little protrusion on this helmet, like the Sun peak, like the little vent cowlings they're all designed to snap right off in a crash. So, they're not going to catch on anything, and they're not going to transfer any force to your neck.
Interior
One last thing I love is that the interior padding has five millimeters of peel away from foam.
I have a neutral head shape so they Arai fits perfectly, but four oval and round heads it might be best to peel off a few of those layers and customize the fit.
Since I have to say something terrible about the XD4, I'm going to talk about the color. The solid colors of this helmet are circa $700, but this Explorer graphic, which is the same except for a few swatches of paint, it's $850.
For that price difference I could buy the entire GM-11 helmet, I think Arai is screwing me on the paint, and I don't like it.
Shoei Hornet X2 Review
The XT4 is the best 50/50 on-road, off-road helmet in the world, but if I want a premium lid and I tend to ride more on the pavement, I'm going to go for the Shoei Hornet X2.
The previous version, called the Hornet DS was much closer to the Arai. It was slim, it was lightweight, it was well suited to off-road use, and it cost around $700.
I think that Shoei realized that they couldn't compete with the Aria because they moved the newer Hornet x2 towards street use.
Weight
Shoei added a lot of weight here with the new Hornet x2, so the large size clocks in at a whopping 1790 grams, and for premium fiberglass and organic fiber shell that is heavy.
Remember that the cheaper Gmax GM 11 weighed only 40 grams more than that.
Soundproofing
A lot of the new weight went into soundproofing, making this helmet the quietest one on my list. It's also the most stable at speed thanks to this complex visor, which I suspect, adds a few grams of its own.
There are a few bonuses which you might expect for $700 lid. Recesses for installing speakers, emergency quick-release cheek pad.
iT IS Snell and DOT certifications, and in the box, you get a pin lockshield, a breath guard, and a chin curtain.
Ventilation
I was disappointed to find that the Hornets ventilation is minimal for an adventure helmet. Still, then again, this guy's designed more for quiet and comfortable touring than intense off-roading.
I think that Shoei has managed to distinguish themselves from Arai with the Hornet X2. Still, in moving towards street use, this guy is getting dangerously close to the icon variant, which offers similarly premium features for $300.
To me, the Hornet X2 still makes sense, but I would love to see them trade the neutral head shape for a more rounder one, that would help to sway more buyers away from the variant.
So, what did we learn? The GM 11, insane value for money, loads of features 50/50 on-road off-road riding, and it also works on a snowmobile.
The mx9 Adventure is going to be the best dual sport helmet for off-roading that money can buy and it won't even cost that much of it.
For three times the price, you could get the XD4, which is pretty similar capabilities in terms of off-roading, but it adds street-worthiness to the mix.
And the Hornet X2 is going to be the best ATV helmet for riders who tend towards the pavement.
Helmets To Avoid
Scorpion EXO-AT950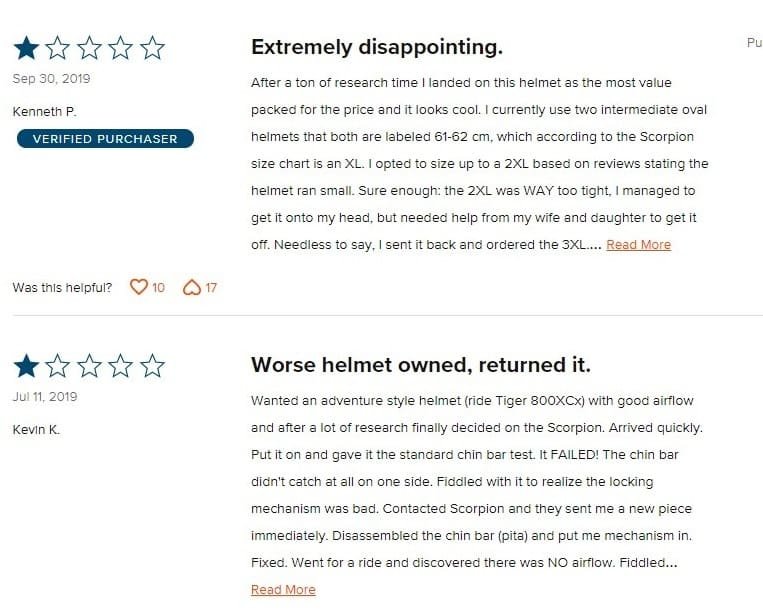 Sedici Viaggio Adventure Helmet