This is X-lite's exclusive high-carbon content flip-up helmet. It has an elegant and dynamic design, a striking appearance, and many technical features, some of which are extremely innovative.
The X-lite X-1005 ultra carbon helmet is the sister brand to Nolan, and they make some lovely helmets, including this flip front.
I've heard people say there aren't enough premium flip-front helmets on the market, but I would place this one in that category.
The X-1005 ultra carbon costs circa £459 and has a quality feel throughout.

X-Lite X-1005 Ultra Carbon Review
Shell Construction
It runs a composite fiber main shell with an outer layer of carbon fiber to give it that eye-catching appeal, and that's where this ultra carbon model differs from the straight X-1005.
Weight
The carbon skin over the top looks really good, and that's the main attraction for running this shell, as it doesn't make this helmet lightweight. 
The size medium X-1005 ultra carbon weighs in on our scales at 1755 grams/3.8 lbs which is normal for a flip front. But, the straight X-1005 only weighs 20 grams more, showing the attraction of the carbon rather than a weight saving.
Ventilation
The shell has two sizable air intake vents running through it, one at the chin and another on top.
The chin vent has a chunky sliding shutter that allows air to flow in, and then it comes through the top of the chin bar and into the eye-port.
It's not as direct to flow as you find on some helmets, but I could feel the extra air inside the helmet when riding with that vent open.
The top slider is a grippy switch with two opening stages that let air flow into the impact liner and then down to the rider's head.

It can then travel through channels in that impact liner and escape through the exhaust fence at the rear.

Chin Bar Mechanism
This helmet's chin bar lifting mechanism is like other X-Lite and Nolan helmets. It takes a little more input than other brands, but it is a more secure closure. 
Pulling the lower two buttons away from the chin bar makes the upper button pop out. You pinch the two together and then lift the chin bar. 
It doesn't take long to get used to that, and there is less chance of accidentally lifting the chin bar than on helmets with just one release button.
So as part of the UK government's sharp testing program, those testers record how many impacts make the chin bar come open on a flip front helmet.
The Nolan group's flip front helmets never had a chin bar open in those tests. They've got a 100% rating on all of their helmets.
Sharp has tested 111 front flip helmets as we write this article and only 31 of those helmets have remained closed during 100 of the impacts. 
Ten of those 31 helmets were either X-lite Nolan or Grex, the three brands in the Nolan group. 
One last thing about this chin bar mechanism. The lever on the side of the helmet locks it in the raised position, meaning it can't accidentally slide forward and cover your eyes.
That allows this helmet to have dual homologation. It's been tested to ECE 2205 as a full-face helmet with the chamber closed and then as an open face locked in the raised position.
That makes it legal to wear this helmet with the chin bar down or locked up. I'd say riding with it up is something you only want to do at low speeds.
Visor
The visor on this helmet is quick-release, and it's dead easy to change. Even when I was in clumsy mode, I could do it in 20 seconds, and the visor lifting mechanism was slick too.
From fully open, it has five steps down until it rests on the bottom seal, and then an extra push secures the central tab against the lock on the chin bar.

Anto Fogging
The inner surface of the visor is very large, which is good for peripheral vision. In addition, the pinlock anti-mist insert covers the vast majority of that surface so that it won't interfere with your view more than is strictly necessary.
Another plus with this helmet is that the pin lock is already installed. There's also an internal sun visor, which is treated as fog-free.
The sun visor operates on the switch on the lower left side of the lid. It clicks as it moves through the gradual steps from top to bottom.

Then it retracts by pushing the button on the front so you can quickly get that visor away when you need to. For example, when riding into darkness in a tunnel or something like that.

Interior
The linings are always one of the main strengths of X-Lite's helmets, and this one is comfortably up to their usual standards. 
It's incredibly soft and comfy, especially around the top of the head, where it uses a carbon weave to help with moisture management and comfort.
The cheek pads are what X-Lite calls eyewear adaptive. So if you wear glasses and struggle to fit the spectacle arms comfortably, you can modify the cheek pads.
You can get to the foam inside the pads, and then there's a section in each pad that can be easily trimmed away to make room for the spectacle arms. 
A plastic belt at the back of the neck roll alters the angle of the helmet as it sits on your head. 
You either pull that belt through more so that a lot of it protrudes from the main liner, and then the helmet will tilt forward on your head.
If you push it back through again and clip it up, the helmet will be tilted further back on your head.
I didn't find the need to fiddle around with that in the time that I spent wearing this helmet. 
However, it might be useful for some people who find that the helmet sits at the wrong angle for riding their bike.
Bluetooth 
Behind the cheek pads, there are recesses for intercom speakers. 
They're filled with foam inserts as standard, which will keep it quieter for people who don't fit a comm system.
I didn't fit an intercom to this helmet as I think it best suits the dedicated X-Lite Encomp system.
X-Lite put a lot of thought into how that system is fitted to this helmet, and I think a universal intercom wouldn't sit on this helmet as well as that unit.
A chin curtain comes with this helmet that clips into the base of the chin bar, which helps keep the ride quiet.
I can't speak for all scenarios regarding noise, but I reviewed this helmet while riding my bike and found it very quiet.
I think the chin curtain helps with that, as do the extension flaps on the base to create a closer fit around the neck and block out more wind flow.

Strap Fastener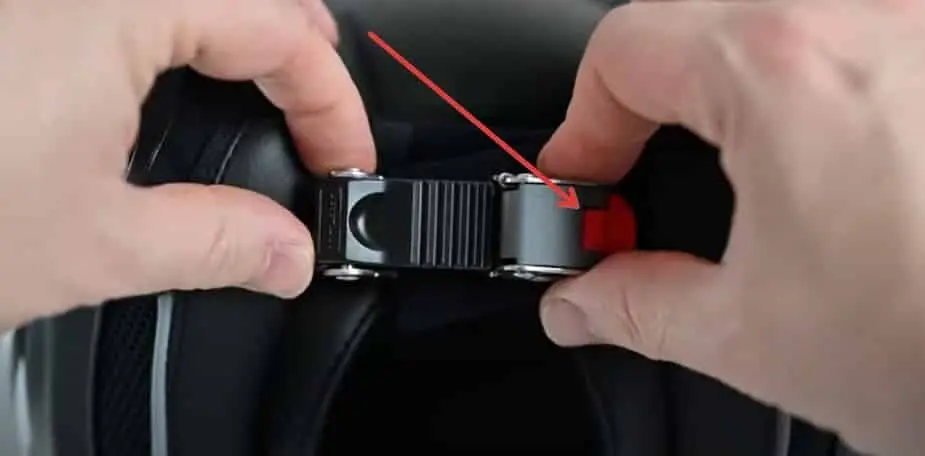 The final point about the interior strap fastener is that it's a micrometric sliding buckle, which is common with almost every flip front helmet I've ever seen. Still, X-Lite and Nolan do this micrometric thing differently.
The operation is designed to be more secure than others, with a two-stage opening. 
First, you have to rotate the red tab on the fastener before the gray lever opens, allowing you to pull the toothed belt out of its housing.
Sizing
The X-1005 ultra carbon comes in sizes from double extra small to triple extra large. In addition, there are three shell sizes to cover those helmet sizes. 
The smaller shell is for helmets from double extra small to medium, and the large gets a shell to itself. The biggest shell is for lids from extra large and above.
Safety Ratings
The helmets are proved to ECE 2205 for the road. It's not yet been tested by the UK government's Sharp scheme, but its two predecessors scored four stars, which is very respectable.
In Conclusion
The X-Lite X-1005 Ultra Carbon motorcycle helmet is an innovative helmet that features a composite fiber shell construction, three outer shell sizes, and a ventilation system. 
The touring performance comfort liners provide ultimate comfort, and the touring performance cheek pads give you a more aggressive look. 
The X-Lite X-1005 also features a single block cheek pad design, fully removable and washable interior pads, and a dual action chin mechanism. 
This precision tool also excels at tracking subjects, so if you're looking for something that will get you noticed on your next photo shoot, this may be the helmet for you.
Where To Buy
| Model | Sports Bike Shop |
| --- | --- |
| X-Lite X-1005 Ultra Carbon | From £459 |