The Evo ES can be run as an open-face or a full-face helmet, and it's legal to do so in either configuration (check your local laws). 
Of course, that's the same with a lot of flip fronts, but this one's designed to be done like that on a more permanent basis.
If you want to be riding for hours at a time in an open-faced lid, then this will do that job. And then you can flip it back down and run it as a full face for the rest of your journey.
Flip Up Functions 
The flip section of the helmet opens with a button at the base of the chin bar. By operating this button, it releases the small red tab, which sets the visor in motion. 
And then, as you lift the chin bar, the visor automatically lifts out of the way to keep it clear of the chin bar as it passes.
In a normal modular helmet, the chin bar would stop in an upward position, giving you a top-heavy helmet with the weight at the top of your head. 
This one carries on and nestles at the back of the shell, giving you a much better weight distribution. 
Instead of having that weight at the top that's naturally trying to pull your head forward, you've got much better balance as you ride so that you can spend longer periods with this as an open-face helmet.
When you want to be able to flip it back into full face configuration, again on this helmet, you need to pull that chin bar slightly away from the shell. 
Then as it comes over the top, it automatically retracts the visor, creating that clearance that you need for it to click back down into place. flip the visor down, and then you're able to carry on with full-face riding 
One of the things I've found with this helmet compared to other convertible helmets is that motion of needing to pull the chin bar away from the shell to return it to the front is a little awkward.

With other convertible helmets that don't need that, you can flip them forward while riding. However, I found that the need to pull that away from the back of the shell meant I couldn't do it while I was riding.
I needed to pull into a layby and convert the helmet back to full face, which you need to bear in mind with this helmet. 

Shell Construction
The shell is made from polycarbonate, and the ventilation comes from two slide-operated switches on the top of the helmet, which draws in a certain amount of cooling air. There are also twin chin vents on the front.
The first one's obvious, and it's this rocker switch on the front of the chin bar. Some customers have noted in the reviews of this helmet that it has a mind of its own, and you don't know you've operated it, so it's easy to open it accidentally.
The second one is less obvious, and it is a left-to-right slide switch on the inside that draws through the channel on the chin section. This pulls air onto the inner surface of the visor.
That's potentially even more useful and necessary with this helmet than with others. That's because this helmet, although it looks like it's Pin-lock protected, it's not, and it's not Pin-lock ready either.
There's no option to fit a Pin-lock insert to this visor, although it's got the recess for the max vision insert. It's an adaptation of another visor that runs pinlock; instead, this one has an anti-fog coating.
Reading through the customer reviews of this helmet, people are pleased with that anti-fog coating. And there are even some customers who've used a pin lock visor with a similar style of helmet, and they prefer this anti-fog coating to the Pin-lock.
Sun Visor
As well as the main visor, there's an internal sun visor. Like most shark helmets, it operates on a sliding switch on top of the helmet. It has good coverage to shield your eyes from the sun.
The outer visor is anti-fog coated, but the inner visor isn't, and that's something that I feel that sharks should be looking at for future models.

Interior
The interior of the Evo ES has all the touring comforts you'd want for those long-distance rides. The lining is moisture-wicking and fully removable, so you can take it out and wash it when it gets a bit grubby.
The neck roll also has an elasticated section at the back, pulling it around your neck to reduce drafts and make the ride quieter.
Customers who've bought this helmet are generally very happy with the noise levels while riding in this helmet.

Of course, that will always be subjective and depend on the bike you ride, but the people who bought this so far are quite happy with the noise levels.
Also, with the interior just beneath that neck roll, there's a chamber to tuck away the battery for a Shark tooth intercom. 
There are also recesses inside the helmet where you can sit speakers without them compressing against your ears and making things uncomfortable.

Chin Fastener
The helmet is fastened with a micrometric fastener, popular with touring and commuting riders. So naturally, these people will buy this helmet, and there's also a flip-down chin curtain in the front. 
A normally fixed chin curtain wouldn't work with this helmet because it would clash. So instead, the chin bar slides over the top of the shell, or you can get one that is a fold-down one.
You can pull that down when you need it, and it will flip out of the way when you try and retract the helmet.
Weight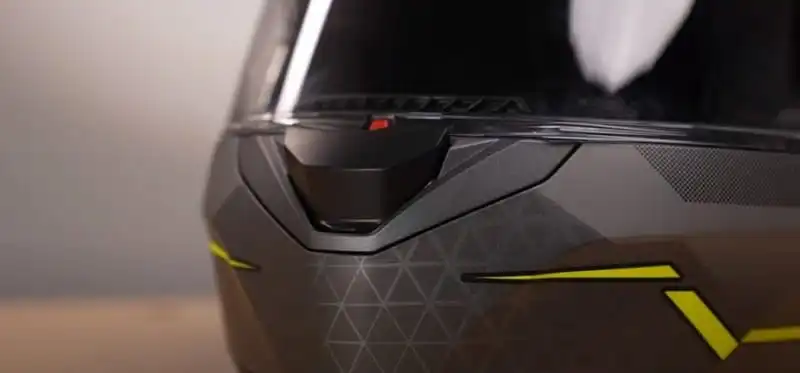 Most people assume that helmets like the flip fronts and convertibles will be heavy, but we've had a size medium on our scales, and it weighed in at 1 634 grams, which is pretty good for a flip front.
It's 100 grams or so lighter than some helmets that aren't even flip fronts, so I think weight compared to other helmets of his type is pretty good.
I think it's taken a bit of time to refine the design of these convertible helmets over the years. Still, it seems like they're getting closer every year, and this is probably close to the ideal setup for a convertible helmet.

In Conclusion
Shark EVOES is a new generation motorcycle helmet with a unique style. It is a dual-purpose helmet that can be used in different ways. 
It has a special helmet design allows it to be used as a regular motorcycle helmet or an EVOES helmet. 
The unique design of the EVOES motorcycle helmet allows you to use it as a regular helmet or EVOES helmet, depending on how you want to use it. 
The EVOES motorcycle helmet is designed to be used in different ways. It is made of a strong thermoplastic material known for its durability. 
This motorcycle helmet is a dual homologated helmet, which means it meets the requirements of the EU and the US. 
It has an internal sun visor, a must for all motorcycle riders. In addition, this motorcycle helmet is equipped with a quick-release chin strap. This motorcycle helmet is available in three colors: Black, White, and Grey.
Where To Buy