Bell is known for its iconic helmets, and they've taken it one step further with the Bell SRT modular motorcycle helmet. 
Bell's SRT Modular is one of the few flip fronts on the market closely based on a regular full-face helmet.
When Bell launched this SRT modular, they also released the straight SRT simultaneously. That regular full-face SRT is no longer in Bell's range, but the flip front version has survived.
The two helmets were very similar, with the obvious exception of that chin bar flip operation, but it still shows the sporty intention behind the SRT modular.

Bell SRT Modular Review
Shell Construction
The shell for the main helmet section is fiberglass, and the chin bar's plastic, just as the chin bars on every flip front helmet have been plastic.
Weight
Bell says in their literature say that it's lightweight on our scales. The one-size medium weighs in at 1770 grams.
Personally, I wouldn't say that's light, and if a light lid is your primary focus, then there are quite a few other modular helmets that come in lighter than this one.
This helmet is not a beast either, it's definitely not the heaviest flip front around, and in my experience, it carries its weight pretty damn well out on the road.

Chin Bar
The chin bar's lifting lever sits at the chin bar's tip. You push it away from you, which frees the front of the lid so you can lift it up.
In its uppermost position, It rests securely, which stops it from accidentally slipping back down and blocking your view. 
It's worth pointing out that the SRT modular is singly homologated as a full-face helmet, which means it can only be legally worn with the chin bar closed, at least in the UK.

One thing I have noticed while I'm out and about in this lid is you get two clicking sounds when closing the chin bar.
The first is when the two parts of the locking mechanism meet up, and the second firmer click is when they engage and lock together.
It's worth ensuring you've given the chin bar a firm pull to get the two to engage fully.
Ventilation
The SRT road helmet inspires the venting on this lid, and it's pretty effective. The chin vent slides open and lets air flow through two inlets on the front and then through the top of the chin bar to ventilate the eye-port.
On the top front of the helmet is another single slider that, again reveals two holes inside the helmet.
There are channels through the EPS impact liner that allow that air to circulate towards the back of the lid and then come out through the exhaust vents always open.
I found the venting to be pretty decent on this helmet. Again, when using this helmet on the road, I found that this SRT modular is pretty breezy.
I found it wasn't crucial to open the vents as quite a bit of air could circulate inside, even when shut.

Visor
The visor on this lid is quick release and is dead simple to change. You push this button, slide it forward to release it, and then reverse that process to put it back on.
It lifts and lowers from the tab you will find on the front bottom part of the visor.
There are four positions you can use on the visor. First, you get fully up, partially up for a good flow of air; you get it cracked open a fraction for a small amount and then fully locked tight.
The visor gives good breadth and depth of vision, and it's protected against missed by pinlock 120 insert, which is their highest grade.
I never had an issue with misting from the visor, even when riding in really bad weather. And that's one of the benefits of good airflow inside the helmet at all times.

It will help keep any condensation from forming on the visor's inside and on the pin lock itself.
As an aside, this visor is shared with Bell's race helmets, which means you can also get a light reactive pro tint visor to fit this helmet. one of those will automatically tint when it's exposed to daylight. 
It's great to have that on a helmet, but it is a bit of a luxury at over $150 for just the visor as we write this review.

It's not essential as the SRT modular comes with the drop-down sun visor. It operates on a sliding switch on the left rim.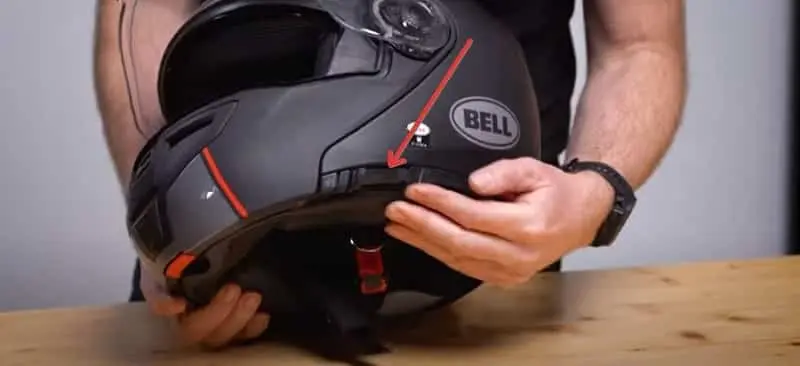 When you want it closed up, you give it a firmer push on the last piece of travel, keeping it more securely in its raised position.
The visor has a good drop level, reaching almost as far as this breath guard, which is another sporty touch that's not common on front flip helmets.
Bell doesn't specify whether the sun visor is coated to protect against the mist. Still, I didn't suffer any fogging issues when riding in this helmet in weather conditions where I would have expected a sun visor to mist up if it didn't have a coating.

Interior
This helmet has a plush liner covered with a brushed material around the top of the head and then a lighter fabric on the cheek pads and the forehead.
It's all antibacterial to help stop it from getting smelly, and it's very easy to take it out and put it back into the helmet again.
Bluetooth
Behind the lining, there are recesses for intercom speakers. They're way bigger than the ones you get on most helmets. 
I fitted a pair of cardo Packtalk Bold speakers with a 40-millimeter diameter, and there was loads of room left over. 
So if you're tempted to ask whether a certain intercom will fit this helmet, then I wouldn't bother. The answer will be yes, as these recesses are absolutely massive.
I fitted the whole Packtalk Bold system to this lid with absolute ease, and I'm certain it would be exactly the same with any Senna system.
The final detail with the interior is that the strap fastens with a micrometric buckle.
Sizing
The SRT Modular comes in sizes extra small through to triple XL. the biggest head size covers a 66-centimeter head. 
There are two shell sizes to cover that range. Helmets from extra small up to large go in the smaller of the two shells, and then lid sizes XL and above go in the bigger shell. 
There are two different sizes of EPS impact liner for the smaller of those two shells. One covers extra small and small, and the other covers medium and large.
So if you have a small head, YOU KNOW it's not just a huge lid that's been padded out with foam to fit your head as there's a bigger EPS liner is there to help bring it down to your size.
But I would say this is a size medium and quite big externally. So if you're a small build with a small head, this is likely to look quite big on your shoulders.

Safety Ratings
In terms of approvals, this helmet meets ECE 2205 for the road. However, like most flip fronts, it's not been approved by the ACU for track use, nor has it been tested by the UK government's sharp impact testing program. 
In addition, the Bell SRT Modular motorcycle helmet is DOT approved but not Snell and meets all federal and state safety standards.
Specifications
The helmet has a lightweight fiberglass composite shell construction and a removable/washable interior that is antibacterial. In addition, it has a drop-down inner sun shield for increased visibility. 
The Bell SRT Modular Helmet also comes with 3 EPS sizes to ensure that it fits properly. The EPS shell is made of durable, washable polycarbonate material and is engineered to withstand the rigors of motorcycling. 
The Bell SRT Modular Helmet has a panoramic view face shield with class one optics and a windshield frame to keep the wind off your face. It also comes with a five-year warranty.
In Conclusion
I liked wearing this lid. I found the fit plush, the venting works well, and the sun visor is effective in bad weather.
In addition, it kept my vision clear, which is something I couldn't say of all flip fronts, even those with a fitted pinlock insert.
Where To Buy