The Arai Debut has the R-75 shape shell, it has removable cheek pads and a great ventilation system which makes this helmet an all-rounder for pretty much any bike.
The timing is perfect because Arai has released several items of genuine interest to the urban rider segment of the motorcycle clothing market.
This hasn't traditionally been the case for such an amazing helmet brand. Instead, they've often focused more on the touring street and race segments, and this new arrival signifies a statement of intent.
Arai is a highly respected brand, and they feature some of the best technical specifications and safety certifications you can find of any helmet on the market.

The Debut is Arai's entry-level helmet. But, of course, that doesn't compare to the entry-level helmet for most brands, we're talking about a premium brand here, and their entry-level means you're spending around £300.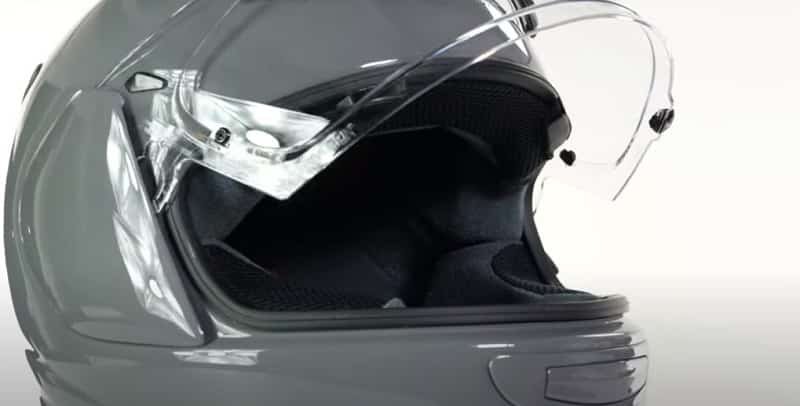 Aria Debut Review
Shell Construction
The Debut shell is made from Arai super fiber laminate material. It's their entry-level shell and uses their most basic material, but it's hardly basic. It's still a laminate of fibers designed to give the strength that Arai demand.
Weight
This helmet is slightly heavier than the average for this style and this size. We weighed a size medium on our scales, and it weighed 1572 grams/3.5 lbs which is a little bit above the average.
That weight isn't accidental. Arai has deliberately chosen to have a stronger and heavier shell for various reasons. 
First, they can run a softer polystyrene liner on the inside, the bit that does the work in an impact.
They say that a softer liner gives you better protection in an accident, and a stronger shell also resists penetration even if the safety certification they're aiming for doesn't demand that a shell passes a penetration test. Arai's carry one out anyway, 
This involves dropping a pointed weight on the helmet to make sure that it doesn't break through the shell and reach the inside of the helmet.


Ventilation
The shell on the Aria Debut has four main ventilation points. First, on the top of the helmet is a three-stage sliding switch. 
You can have it fully open, fully closed, or halfway between the two to bring in some cooling air. 
That works in tandem with a switchable set of exhaust vents at the back of the helmet. 
Again they can be open, closed, or midway between the two so you can tune the amount of air allowed to escape.
The chin vent also has three stages of opening. First, it is fully closed, halfway, or fully open to bring in some cooling air.
The final set of vents is Arai's trademark brow vents located at the top of the visor. Again, the air pulled through the shutters and channeled alongside your temples.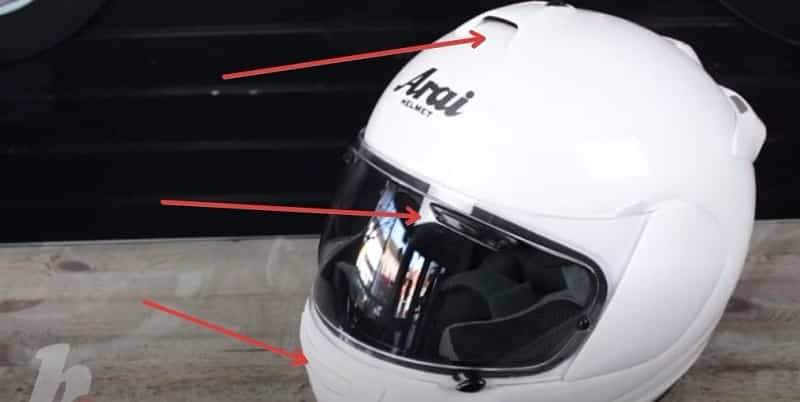 While riding, you can feel the air flowing through, bringing the temperature down inside the helmet. It is surprisingly effective.
On the subject of the visor, it's Arai's older eye-type visor. But, again, it's Pinlock protected, and it's a pinlock 120 insert which is Pinlock's second-highest grade of insert. 
It's a max vision insert that covers most of the visor aperture. The pin lock will keep the vast majority of your vision clear from mist without actually interfering with your vision at any point.
To open the visor, lift it off the tab on the helmet's left-hand side. To close and lock the visor, slide that tab forward to lock the visor in place. 
This stops the wind flow from getting underneath and inadvertently lifting it while you are riding.
One thing with the eye-type visor that we're looking at is it's harder to change than it is one of Arai's most recent Vas V-Type visors. 
It involves teasing out a lever near the visor mounting point and then coaxing the visor clear of its mounting point.

Then when you put it back, there's a degree of coaxing; it feels like you're forcing it. Then, finally, you get some disconcerting plastic sounds when you push it back in; it feels like you might break it.
There is a knack for changing these visors, and there are people who can change these in just a few seconds. 
So it's something that you learn with time, but it can be disconcerting at first, so that's something worth bearing in mind with this helmet.

Learning how to change the visor is a bit of a knack. However, it's something that will be practical learning on this helmet because it doesn't come with a sun visor. Arai's philosophy is fundamentally against sun visors.
They feel that adding an extra visor inside means removing protective EPS material. It's something they won't do, which, personally, is something that I respect them for.

Some alternatives are available if you want protection against glare from this helmet.
Arai's equivalent of a sun visor is their pro shade system, where you replace the outer visor with an additional visor with a tinted section that slides up and down across the front.
Alternatively, you can replace the pin lock with a light reactive protectant insert that reacts to the sunlight. 
It will darken as the daylight gets brighter. So the final option is to switch between dark tinted visors and a clear visor depending on the daylight conditions.
 You are risking breaking the law because it's not road legal to use a tinted visor that allows through less than 50 percent of the outside transmission. (Check your local laws)
A light smoke visor can be road legal, but one of those dark smoke visors that racers use wouldn't be legal.
Interior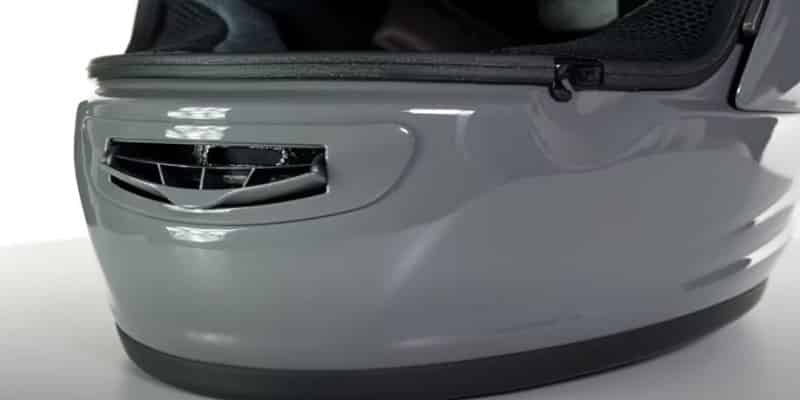 Arai is famous for many things with helmets, but probably the number one thing that people who are really into Arai talk about is comfort. The interior is very plush and very, very soft and very forgiving interiors.
Many people put these helmets on their heads and feel like it's slipping into a comfortable armchair. 
The interior is Arai's most basic interior, but it's still their super soft interior which uses a brushed nylon cover on comfortable, compliant foam.
The cheek pads are removable, and so is the neck roll. So they can be taken out and washed, but the rest of it is fixed in place. So it's washable, but it has to be washed in situ. 
Our advice for washing the interior of this helmet is to put it upturned in the shower on a wet towel to protect the shell.
Wet the interior with lukewarm water from the shower head, wash the lining with baby shampoo, rinse it through, and then hang it on the washing line to dry.
It's a bit of an old-school method, and it's a bit awkward, but washing a helmet lining is something we maybe do once a year or twice. So it's not too big a deal in your life if this is the kind of helmet you're looking for.
The strap-like all Arai is a simple D-ring arrangement, nothing complicated. It's exactly as you'd expect from a sporty helmet like this.
On the whole, people who've bought the Debut helmet are really happy with it. However, a couple of issues crop up; one is that the venting isn't the most effective, and there's also that difficulty in changing the visor I mentioned earlier.
But, on the whole, people love the ability to get Arai's builds quality, plushness, and comfort without stretching their wallet quite as far as they would on the other models.
Price
It's £300 for plain colors and £380 for a graphic design like this one. It's called the Debut, but this helmet is heavily based on a previous Arai model called the Access 3. 
The Access 3 was discontinued, leaving a gap in Arai's range. The entry-level for them was considerably more expensive, but they needed something in this price bracket, around £300. 
They made slight changes to the design for the Access 3, and hey presto, we've got the Arai debut. 
It's been around for a few years and has become quite popular with customers.
In Conclusion
Arai Debut Motorcycle Helmet is a lightweight and strong protective gear with a VAS visor mounting system that makes the helmet fit like a glove. 
The Arai Debut Helmet is the perfect choice for any motorcycle rider who wants to protect his head in case of an accident. 
This Arai Debut Helmet is equipped with a shatterproof and UV resistant pinned visor, dual brow with 3-way chin flow vents, a three-position chin vent, speaker cut-outs, hand-made, and five times inspected during production. 
This Arai Debut Helmet is designed not only for the protection of the rider's head but also for the rider's comfort. 
With a 5mm wider base making it easier to get on or off and a semi-removable top liner with hook and loop, Arai Debut Motorcycle Helmet is perfect for riders who want to stay safe on the road.
Where To Buy