Today we're going to discuss the first EEC 2206 helmet on the market. It's the new Arai, and it's called the Arai Quantic. 
Of course, the launch of any new Arai is a newsworthy event, especially when it's a helmet aimed at the sport and touring market.
The most exciting thing about this motorcycle helmet is that it meets the new 2206 standard. A new safety standard for motorcycle helmets is the first helmet in the world to do so. So this new standard is a pretty big deal. 
In March 2021, the standard had been agreed upon, and within a couple of years, all helmets will have to meet that standard.

In this review, we will discuss the new 2206 safety regulation together with all the features you would expect from an Arai.
Outer Shell
The shell is constructed using Arai PBE CLC material, but instead with the new softer multi-density EPS liner. One thing that separates this liner from the others is that it's a single formed piece, as opposed to a different piece for each different density. 
As far as I know, Arai is the only manufacturer to do this. Admittedly, it's difficult and expensive, but it offers the performance levels the Japanese company demands.
The Quantic sits between the Profile V and the RX7V helmets in the range and is aimed predominantly at sports touring and long-distance riders. It's built for comfort with excellent ventilation, so in reality, it will suit most riders.

Head Shape
The Araia Quantic is made for those people with round heads.
Ventilation
It has some excellent new features. The most obvious one is the new 3D Arai logo duct. This is the first time Arai has put any ventilation hole in the helmet's brow. 
It is a critical impact area, and it's because of the enhanced super fiber belted construction, that Arai is now happy to put ventilation holes in the brow.

Further ventilation is provided by the new teardrop ducts on the top and come straight from Arai's formula one helmets. 
They have two open positions, and like the rest of the parts on the outside of the helmet, they are designed to break away in a crash to aid with glancing off.
There's a new chin vent too, and I particularly like how this works over the hinged version found on the Profile V. Behind this vent is a replaceable filter to stop insects and debris from entering the helmet.
A new diffuser design also features to aid stability at high speed and help draw warm air out of the helmet. In addition, it's switchable between closed, half-open, and fully open.
The shell itself has a five-millimeter wider and longer opening than before, similar to the Profile V, and it's designed with flatter sides at the base, making fitting comms units much easier.
Arai even incorporated a little pocket in the neck roll so that you can tuck any excess cabling out of the way nice and safely. 
Visor
As far as the shell is concerned, the Quantic uses the VAS-V visor. This system is part of Arai's safety considerations as it keeps the mounting mechanism small and low on the side of the helmet.
It's a clever and neat system that makes visor changes quickly and easily. lift the visor, press the release tabs to pop the side covers off, close the visor until the brass buttons reach the red dot, and lift it away.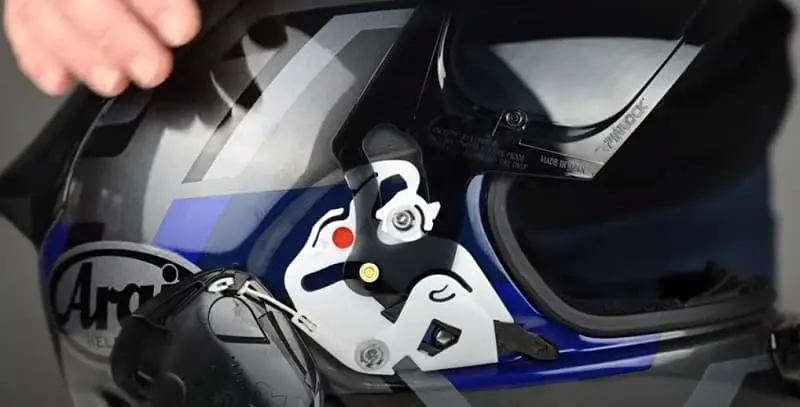 A dark tint visor is available. Because it's the VAS-V visor, any of that range will fit on this helmet, including the pro shade.

Interior
The interior features the same materials as the Profile V and RX-7V. It is fully removable and therefore adjustable, with different thicknesses available to tailor the fit.
The facial contour system cheek pads are still the most comfortable I've ever tried in a helmet while offering excellent support. 
Again there is a tear-away five-millimeter layer inside, which can be removed, and a speaker pocket is incorporated for comms.
Safety Rating
The Quantic is not only Arai's newest helmet but also the first helmet on the market that meets the new ECE 2206 standard. 

This is a big deal as the testing for the new standard is much more rigorous than the previous one.
The new ECE 2206 testing it's a much more stringent test, and it'll be interesting to see how other manufacturers cope with the changes as they bring their new helmets to this standard. 
The standard velocity drop test is still used and is unchanged. However, for 2206 there are now an additional 12 impact test points.

Added is a high and low-velocity impact test using five original impact points and a new oblique impact test on five new 12 impact points.
This test is designed to measure peak rotational acceleration, which has always been a key consideration for Arai, hence staying with a smooth round shell shape throughout their history.
Of course, Arai is always trying to build the safest helmet they can rather than build a helmet to get through a test. 
As a result, in-house testing has always gone beyond what is required for certification; as such, they test with a hemisphere anvil and a pretty nasty-looking penetration test.
I mentioned glancing off earlier and explained that in-depth in my Profile V review. But, while we're here, I'll touch on it again.
Very briefly, Arai recognizes that any helmet can only absorb so much energy. As a result, the forces encountered in real-life crashes are much higher than those simulated in ECE testing. 
So to mitigate these forces as much as possible, the helmets are built round and smooth to help them glance off objects and slide. 
This feature dissipates the impact force as much as possible. This is why their helmets have retained their distinctive shape and will continue to do so.

Noise Levels
The most asked question in any of my helmet reviews is how quiet this helmet is. As I always say, this is somewhat subjective. 
Of course, there are inherently noisy helmets on the marketplace, but largely for a decent helmet, the noise comes down to two things. The fit and the bike that you ride 
When I first went out in the Quantic, I was riding the Honda Africa Twin 1100, and my first thoughts were that it was noisier than I expected. 
I was a little disappointed, if I'm being honest. So I stood up to see what it was like without the screen and bodywork interference and found it much quieter.
I switched to my own KTM 790 adventure, a completely different experience. Smooth, quiet, and very comfortable, it was the same on a naked bike.
This was interesting as it proved that the combination of helmet and bike is important when discussing noise. 
I went out again on the Africa Twin, with the seat in its lowest setting, and the wind noise was significantly lower. That's with just 20 millimeters difference in the seat height.
If I was pushed on the question asking, is this helmet quiet? I would say definitely yes. The insulation inside is very good, and it is a comfortable helmet.
In Conclusion
I have to say the Arai Quantic is good; in fact, very good. I've always struggled with Arai helmets a bit, as although I can get a good fit around my head, I felt they always sat too close to my chin. 
The Profile V with its widened opening was better, but this Quantic is much better. 
I'd go as far as to say it's the best Arai I've worn. It's a brand new helmet, so it's reassuringly snug yet incredibly comfortable.
I may need to remove the five-millimeter peel-away pads in the cheeks, but I'm going to leave it a bit longer to see how it settles down.
All-around vision is excellent from the sizeable eye pool, whether you're riding an upright bike or something more sporty. 
Apart from the helmet shape and comfort, the most striking element is just how much ventilation is available and how controllable it is.
The new chain vent is easy to use, although, on the bike, it's easier to go from fully close to open fully. Finding that middle setting is tricky, but it is possible.
The new raised 3D duct vent makes a difference. When the tab is down, the vent is active, and you can feel a nice flow of air through the lining onto your forehead. Pull the tab up, and the vent is closed.
If you combine the chin 3d logo top and eyebrow vents, then the airflow is amazing. 
It has good concentrated airflow through the helmet with nothing blowing in your face or eyes. I think this helmet will be very good in hot weather.
There are also lots of exhaust vents other than under the diffuser. There are two vents on the shell, two on the side of the neck roll, and one large panel on the back.
The Quantic has proved to be very stable at high speeds, and I can see why this would be a genuinely good helmet for touring or for very long days in the saddle.
So the Quantic it's very protective, it's very comfortable, it's quiet, it's well ventilated, it's quite light, and also it's a good-looking helmet.
I always like to offer balance reviews, so there must be some negatives, right? 
Well, one aspect of Arai helmets is that they don't and are unlikely to offer an internal drop-down visor.
As a company, they see that as a big safety compromise. So they have to make the shell larger to accommodate the mechanism with the same EPS thickness or make the EPS thinner to make space. Neither of these options sits well with Arai.
Some people will never buy an Arai because of this, and I understand that drop-down visors are very useful. But having said that, the pro shade system does the same function, and I think it works well.
The other drawback which isn't a negative of such is the price. For example, the helmet in the graphic finish retails at £599 and the plain color at £499. 
Admittedly, that is a lot of money, but it does raise that age-old question. How much is your head worth?
There's no doubt that this is a very safe premium helmet from Arai. So if you've got the budget for it and have never tried an Arai Quantic before, I would suggest you click the link below to get the very best price on the Arai Quantic, guaranteed.
Where To Buy