Often, you have to compromise quite a bit on comfort to get a high level of protection from boots, but with the TCX RT-Race motorcycle boots, I don't think that's the case with the TCX RT-Race motorcycle boots.
The TCX RT-Race race boots have been around for quite a while, and I've found they simultaneously deliver comfort and protection at the same time.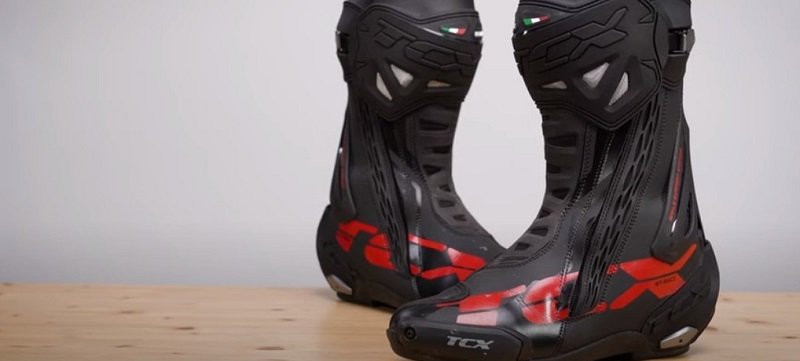 TCX RT-Race Review
Exterior
The upper on these boots is made from a tough microfiber material reinforced with plastic cups for the toes and the heels, and then there's a plastic wrap around the shin guard.

There's a plastic overlaid gear shift protector that takes the sting out of any stiff gear changes, and then there's a suede-like material on the inner surface that gives a better grip against the inner surface of your
The toe sliders are plastic, but they seem pretty durable, and the mounting screw is around the front of the boot where it sits in a recess, so you shouldn't have any trouble removing a worn slider.
But the real standout protection on these boots comes from the ankle bracing. This rigid structure encases the ankle and only allows it to flex on its natural path.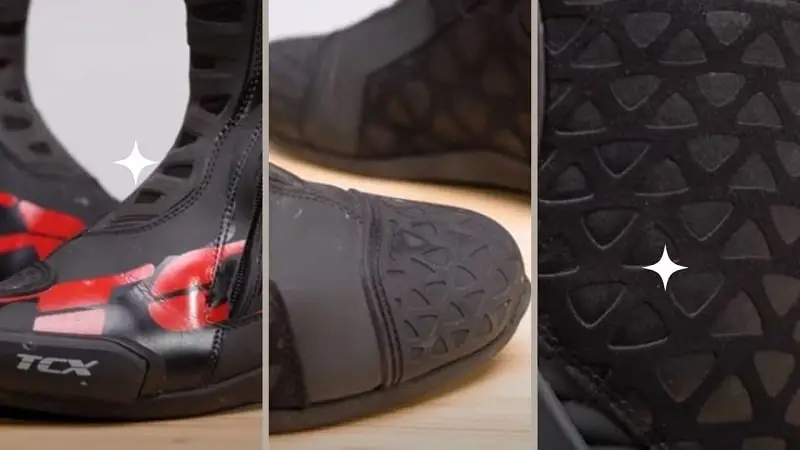 So when you want to change gears or walk, you get that motion, but if you have an accident, it won't allow your ankle to flex laterally, which helps you avoid ankle injuries. 
It can pivot at both the calf and the heel for good flexibility, and it's surprisingly comfortable.
Sometimes braces feel very restrictive when walking around, but this one doesn't. It also doesn't cause any rubbing issues against my ankle, which other boots have.

These boots can open up pretty wide thanks to the zip opening. I wore the same size that I normally would.
It was a bit of a tight squeeze to get my feet in there, but the boots were very comfortable once they were in.

To fasten them up, there are three stages. First, the speed lace system pulls the inner section of the boot tight and holds it around your ankle. 
Then you do the zip back up, and finally, there's the toothed clasp around the top. 
These aren't the speediest boots to put on, but I've spent a lot of time in a couple of different pairs, and now it takes me about 30 seconds to put on both boots.
Interior
There's a mesh lining to help with heat management, and it's got a soft insole that can be removed and replaced. 
You can also see the CE label that shows that these boots pass the most recent tests at the higher level for resistance to abrasion and cuts, and then they make the lower level one for transverse rigidity.
Now I find that quite surprising as the soles on these boots feel stiff, and they give good feedback on the pegs, so the performance in that test doesn't cause me any particular concern.
This is the second pair of RT racing boots I've bought, and overall I've done over a thousand miles on both road and track. 
These feel reassuringly solid on both road and track and give me the feedback I need to move around on the bike, which is especially important on track. 

I wore them both over a leather race suit and under some denim jeans, and they were comfortable either way.
Sometimes the top edge of a race boot is uncomfortable when worn against the skin, but that wasn't the case with these.
They are relatively bulky around the top of the calf, so fitting them under denim was tricky, but I managed it.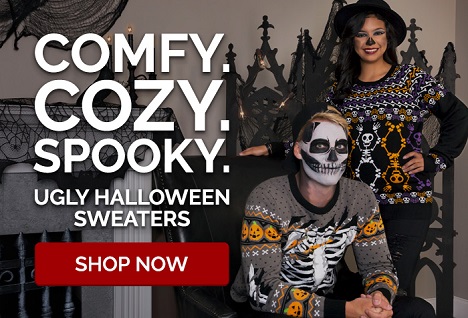 The soles are stiff, which is how I like my boots to be, but the insoles have a good level of squish, so they're comfortable to wear off the bike.
Ventilation
They're not particularly well ventilated. Though I have to say, there are some small mesh panels on the shin, and they can get pretty warm on the inside. 

I wore these on track when it was low to mid-20 degrees, and my feet were pretty warm afterward, although I have to say I didn't notice that while I was riding.
So if you're looking to ride in red-hot temperatures all the time, I'd say a pair of TXC RT Race Pro Air Boots with perforated uppers might be a better bet.
Review Ratings
Regarding customer feedback. Twenty-six customers have left reviews of these boots, and 23 of those people gave the boots a full five stars.

The issue that crops up regularly is that some say the size comes up small.
I wore the same size as I do in virtually all other shoes and boots, but they are snug-fitting, so people who prefer a looser fit or want to leave some room for thick socks will probably want to go up a size.
The other thing that comes through from those reviews is the squeaking noise. The plastic on the Achilles section of these boots makes a noise as it moves within its housing.
But that's just par for the course on a boot like this. So if you can get your hands on a pot of silicon oil, it's the stuff that comes with Shoei and Arai lids. A smear on the bracing will lubricate that and alleviate the squeak.

In Conclusion
Race your times in the TCX RT-Race Boots, an innovative pair of racing boots designed for professional and amateur road racing.
They provide a comfortable and secure fit with an over-injected front and side panel, allowing easy step-in and a precise fit around the foot/leg.
The TCX RT-Race Boots have been designed to be lightweight, durable, and comfortable, with a soft microfiber upper, padded rear flex area, soft microfiber gaiter, air-tech breathable lining, and double-density foam.
They also have ergonomic features, like the replaceable abrasion-resistant polyurethane toe slider, replaceable magnesium, and polyurethane heel sliders, replaceable anatomic insole, reinforced midsole with differentiated thickness, and lightweight, mono-compound rubber sole.
Where To Buy