Held's latest adventure boots are much more serious than Held's previous attempts.
They have always had adventure styling, but they've been relatively budget touring boots rather than what I'd call proper adventure boots. 
These Brickland Gore-Tex boots have a much more substantial and robust feel, and the arrival of Gore-Tex as Held's waterproof membrane in their boots makes them a much more serious contender than those old boots.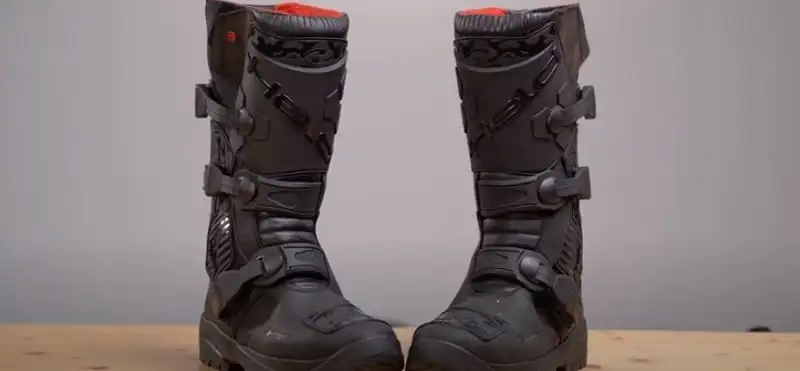 Held Brickland Gore-Tex Review
Exterior
So these are made from a genuine leather upper, which is great for breathability, and there's hard plastic reinforcement around the toes and the heels, as you'd expect.
There's also a plastic chin guard, but the label that shows the CE safety testing results for these boots shows that it hasn't been tested for its impact absorbing or deflecting capabilities. 
That's not particularly unusual, as that is an optional part of the CE test, but it's something I felt is best to point out. 
There's also foam padding on either side of the ankle, but again, I won't call that impact protection as there's nothing on the CE label to say they've been tested to provide impact protection at the ankles.
There's a plastic gear change protector, as usual, that's replicated on the right foot as it just looks plain odd if there was anyone on the left boot. 
And the last piece of extra reinforcement on the upper is the plastic section, which runs down the outside of each boot behind the fastening clasps. 
The soles are by Vibram, a respective brand, and they're comfortable. 
Half of the sole has lugs for grip while walking on loose surfaces, and the other half has a lower profile for comfort when you're resting them on the foot pegs. 

The soles are reinforced for stiffness, and these boots meet the basic level one of the transverse rigidity parts of the CE test. 
This ensures a boot doesn't just fold over on itself in a situation like a bike toppling over on your foot when it's laid on its side.
So, the boot is secure with three clasps along the side, and on the size nine boots, the lowest of those clasps is a strap. 
It's got 50 millimeters of adjustment, and then the top two have 85 millimeters of adjustment in those sliders to help suit different rider sizes of rider.

Interior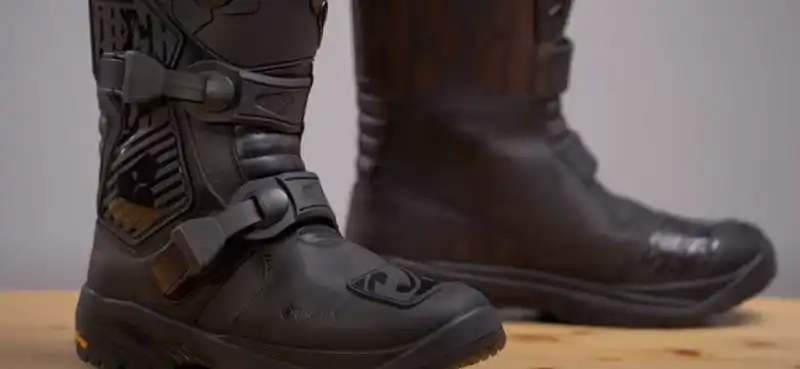 Once they're undone, the bell reveals a decent-sized opening that should let in any size calf. 
Once inside, there's that Gore-Tex membrane I mentioned earlier. Again, it's relatively new to Held, but Gore-Tex boots have earned a great reputation over the years, and in my experience, they have the quality to back up that reputation. 
It's not just about the ability to keep water out but more about how it allows moisture to escape in warm weather. It's more effective at that than cheaper waterproof membranes.
The insoles for these boots are two. So, you can replace them if you need to tailor the fit or if the originals wear a bit thin. 
While looking inside, you will see the CE label for their performance in the safety tests. Held list these boots meet the basic level one in all four compulsory tests. 
For the technical test, that's resistance to abrasions, cuts, and crushing forces. So, it makes sense that they've done that, but they're also listed as level one in the height category, which strikes me as a bit odd.
These size nine boots measure 36 centimeters from top to bottom, which, in my mind, makes them full-height boots.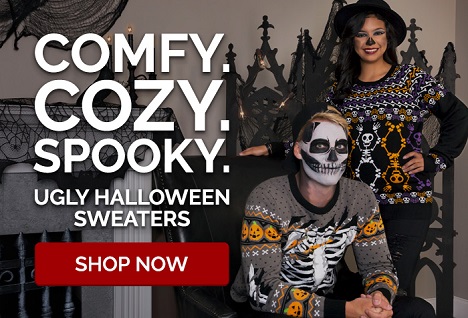 In most people's opinion, these will be full-height boots, and they should be capable of meeting the higher level too.
I've asked Held if there's an explanation for that. But, unfortunately, I've not heard anything back yet. 

So, I've spent 100 miles or so in these boots, and I'll say the biggest plus points for them are comfort and flexibility. 
I've tried a few different types of adventure boots over the last year or so as part of this review, and the most popular alternative to these boots is the City Adventure 2 Gore-Tex. 
They also have ankle bracing and have some recent new additions from Gayane. 

However, these don't have that ankle bracing, making them much more attractive to riders who want a little bit more flexibility rather than outright protection and bracing.
Sizing and Colors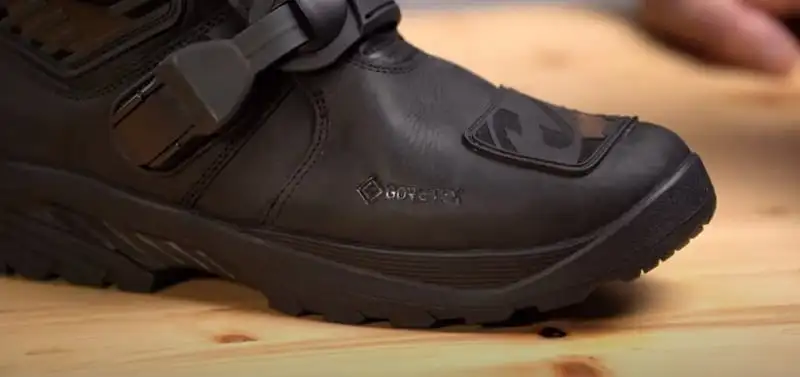 The held Brickland Gore-Tex comes in sizes 37 to 50, which is 3 to 14 and a half for those of us here in the UK, and they're available in either brown or this black finish. 
If you want a shorter boot, there's the Held Brickland LC. It's a lower-cut version that comes in the same colors and sizes.

In Conclusion
A classic, high-quality motorcycle boot that can withstand all of your riding adventures. Made of cowhide leather, these are the ideal choice for the avid rider who wants the ultimate in comfort and durability.
The Gore-Tex membrane is waterproof and breathable, keeping your feet dry and comfortable during the most extreme conditions.
The soft lining provides a more secure fit and superior comfort, while the quick-release buckles make it easy to remove the boots for washing.
A reinforced gear shift pad gives you added grip on the handlebars, while the anti-slip sole provides traction on the most challenging surfaces.
Where To Buy
| Model | Sports Bike Shop |
| --- | --- |
| Held Brickland Gore-Tex | From £363 |