We don't all want to arrive at work wearing big cumbersome motorcycle boots, so some bright spark decided to create motorcycle shoes.
What are the best motorcycle riding shoes? Arrive in style at your favorite restaurant or turn up at work with any of these five top motorcycle riding shoes. Watch our in-depth review video to see the best motorcycle riding shoes in action.
Our Best Motorcycle Riding Shoes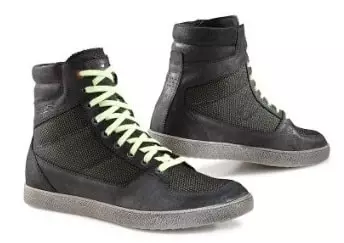 Those of us who play in the Moto industry know the TCX X-Wave riding shoes available from revzilla.com

are the other waterproof shoe from TCX. By that, I mean that the X-Wave walks in a shadow, a shadow cast by the legendary TCX X-Street and its recent replacement, the TCX Street-Ace.
Collectively they make the go-to riding shoes for pretty much every street motorcyclist everywhere ever.
I prefer the underdog X-Wave because it's softer, softer leather, and, more importantly, a more flexible sole. I've spent 12-hour days walking in both the X-Wave and the X-Street.
In either shoe, I was comfortable, but only in the X-Wave did I forget that I was wearing motorcycle footwear at all.
It's cloud level comfortable, and it's also protective. I have really good ankle armor on each side, CE rated, but the heel counter in the toe cup is more mediocre.
You're sacrificing some safety here versus the X-Street, but to be honest, riding shoes aren't all that protective, to begin with, so I think it's worth it.
The X-Waves waterproof riding shoe membrane is exceptionally soft, and it doesn't suffocate my foot. I want a shoe for the XSR 900 review, which involved 10 hours on a blacktop runway in 35-degree heat.
By the end of the day, I'd stripped off every piece of motorcycle clothing I brought except these shoes, which were still cool enough to wear.

The X-Wave comes with a removable shifter strap that goes around the toe area, but the thing was it kept migrating up the toe, and it was also annoying to walk on. I lost mine because I never wanted to use it.
With distressed full-grain leather, I don't care that my shifter leaves a mark. Fit-wise, the X-Wave runs slim. Some people call that a European cut, but feet are the same everywhere, so I'm just going to call it stylish.
The closure is done up with the very typical shoelaces that you learn to tie in kindergarten, yes it's theoretically possible that you could catch one on a footpeg and topple over at the next stoplight, but fashion is a pain.
In Conclusion
TCX X-Wave Air Shoes are the most advanced running shoe on the market, combining a unique new technology with classic style.
We've combined our exclusive Air Tech with a new mesh upper for an unprecedented level of breathability.
These are the most comfortable and lightest running shoes you'll ever wear, and with the latest innovations, they will keep you going all day long.

This is the Street & Steel Kickstarter, a juggernaut within the street and steel line. It is a riding shoe slash riding sneaker if we look at it. It's not CE rated, it's not overly technical, it carries decent moto functionality and protection, and it won't break the bank.
I like it for year-round riding, and in my opinion, if it suits your style, it suits your style. Just know what you're walking into.
Style
At around the $100 mark, it comes with swatted suede leather on the sides, and with rubberized cap toe is a nice touch. 
The biggest thing you have to remember it's a riding sneaker. If you commute to work, wear baggy jeans, and you want to sit this shoe under your jeans all day around the office, it's going to work and be very comfortable off the bike.
Protection
At first glance, it doesn't have a ton of protection. It doesn't have a reflective strip but is down the middle of where functionality meets everyday usage, meets off the bike. That blend of factors is what makes it, in my opinion, a solid riding shoe.
This shoe comes in one color, black, and it only comes with gray laces.
Sizes
The fit on the Street & Steel Kickstarter

is interesting, and here's why it's interesting. First, using the size chart, it only comes in whole sizes, and it's American, so there will be a little bit of extra room.

That means is if you wear a nine buy a size nine. If you wear a 10 by a size 10, buy the nearest whole size if you wear an 11 by an 11. I wear a nine a half sneaker, so I wear size 9.
It has that little bit of extra width and a little bit of extra room in the toe box. the fact that it's a more generous cut, which I am a fan of, means if you're in between sizes or wear a half size go the size down and you should be good to go.
It's not an overly pronounced arch, it's not overly technical on the inside of this boot, but it's a nice touch. 

The other thing we think about the fit is the amount of foam along the ankle. Many riders are wearing casual pants, not technical socks, and the fact that it has Jersey-style mesh will wick sweat away.
It has a nice amount of foam to cradle your ankle and Achilles' back to make it a very soft and comfortable riding shoe to wear if you're wearing a short or athletic sock.
This is a very similar boot that we have seen in the Moto 9 from Speed and Strength. But what sets the Street and steel apart is that it has this rubberized cap toe, which makes it a little more durable, especially on the left side.
The Street & Steel Kickstarter comes with exposed laces. So when you're messing with your controls, there is always the danger of getting tangled up with your controls. But, on the other hand, they're going for that sneaker look, so that's a trade-off.
Materials
This motorcycle shoe goes from brushed rubber into the leather, then into swayed leather with a few different flavors and panels. Finally, it is finished with some accent stitching, which pulls it together.
If you look at the inside of this boot, it's the same as the outside as far as materials go. 
No-frills; the only thing that I would say could be done is because you have so much padding on the lateral and medial sides. Maybe give me a bit more ankle protection.
At around the hundred dollar mark, I don't think you're going to scare anybody off for an extra five to ten dollars in total cost for more ankle protection. 
I think you can make this shoe more protective and useful for what I see as the everyday rider or potentially the sports commuter heading to and from work.
In Conclusion
The upper is suede leather with a mesh lining and padding on the ankle. The toe cap is reinforced with a lace keeper and a rubber sole designed for long life. In addition, it has vent grommets to help with heat transfer.

.
The Alpinestars Parlor is part of their new CD collection. This is an urban-inspired, this to me is something for you riders out there that don't want to have to worry about swapping shoes once you get to the office.



They give me a lot of protection built into this so you can wear it on the motorcycle and then when you get to work you're going to have all-day comfort as well as a classic style that you can use for an office setting.

As far as sizing is concerned I find these fit nice and typical along with other Alpinestars shoes that I've worn. I'm normally a 12 and Alpinestars, I fit perfectly in a 12.

Keep in mind a little bit longer in the toe so while I am a 12 just keep in mind there's a little bit of extra room upfront and as it narrows down tapers as it is more of a dress shoe type style.

As far as sizing is concerned, sizes are going to range from 6 up to a 13 and as far as colorways are concerned you're going to see the black is the only color available so just keep that in mind.

Really nice, really classic style look to it and that's really the name of the game with the Alpinestars Parlor Boots. Alpinestars is known for its role in the dirt world all the way to the street world and in a ton of different pieces in between.

This particular shoe is around that $180 dollar price point so a nice City urban-inspired piece. Again, there is a dry star membrane, this gives you waterproof protection but it's going to be perfect for going into the office as well as wearing all day at the office.

If you want to jump up into something that's more protective you are going to sacrifice some of this style. Something like the Alpinestars Gunnar or the Sierra will give you more protection but it's definitely more of that sport touring style and it's going to be away from what sets the Alpinestars Parlor apart which is this really nice classic office look.

Breaking this down first and foremost full-grain leather throughout the entire shoe. It's has a really nice finish to it and you are going to have that dry star membrane. The drystar membrane goes up to the fifth eyelet so just keep that in mind.

The fifth eyelet is towards the top of the shoe so figure anything higher than that and you're going to be cut off as far as water protection is concerned.

One of the things that I do want to note because we do get some confusion with this and you are wearing this as a commuter shoe if you're not wearing a pair of waterproof pants over top of it water can still seep in through the top.

That's going to be a waterproof membrane as long as you're wearing something to keep water from getting in from the top. As far as jumping around puddles, walking into the office you'll be covered nicely.

It has a really nice sleek sole about a half-inch rise to the heel but it works out really nicely to just complete the overall look and it's a really nice texturized rubber. So as you flip it over to the bottom you're going to see there's a ton of grip on the sole.

What really impressed me the most is that it was super comfortable and grippy so when you're out there in a motorcycle typesetting if you are on some sleek macadam because it is raining it does a really good job of keeping traction on your foot.

Again, with that all-day comfort in mind, there's a lot of flexibility. It isn't going to feel like you're wearing a stiff motorcycle race shoe all day long, there's going to be enough comfort here that you can wear this all day on the motorcycle, at the office and home again and not feel like your feet are worn out at the end of the day.

Moving our way through the top of the shoe you get a reinforced toe box, a mild reinforcement, nothing too crazy. You're not going to feel like you're wearing a steel tip work shoe all day and you're going to notice that there are no shift pads on either foo.

Really nice sleek lines that didn't do anything to detract from the style but there is foam reinforcement inside the toe box. So for all those upshifts, you have padding on the inside to make sure that you're comfortable and again with that reinforcement on the toe, you're going to make sure that you're safe.

That reinforcement carries around to the heel so as we flip the shoe around you have a reinforced heel at the back. As we work our way up the shins you will notice that there are lateral as well as a medial TPU cup on both sides to keep you safe if you do go down, that's going to offer you abrasion resistance in the event of a crash.

The other thing to note is there's no branding on this. Alpinestars doesn't have logos on the shoe, they kept with this style and it really just looks great, the only thing you'll notice is a little dry star logo up at the top but other than that there's no way to tell if these are actually a motorcycle shoe. They are really nice really clean in their design.

In addition to the laced up front one of the things you're going to notice on the inside of the shoe is a quick zipper entry for those of you who want to get in and get out quickly. Additionally, there is that dry star Gator on the inside making sure that water doesn't get in.

One thing I want to point out on the inside is a 3d sweat-wicking mesh, this will do a really good job of adding comfort as well as pulling sweat away from your foot. The other thing to note is that there is a ton of foam reinforcements, both the heel as well as the ankle on this motorcycle shoe working its way down in the toe box.

There's a lot of comforts as well as style baked into this particular shoe, I think Alpinestars has done a phenomenal job of giving you a nice dress shoe that's really going to bake in protection and for those of you that simply don't want to swap shoes out once you get to the office, it's going to be a really nice alternative.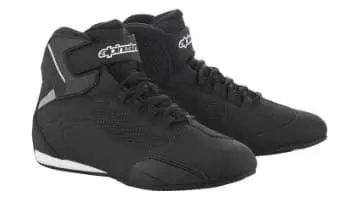 Today we're going to break down the Alpinestars Sektor riding shoes

. The Alpinestars Sektor riding shoes are available in two different versions. We have the vented version and a non vented. The fit between the two will be identical.
When we're writing this article, the retail price is circa $149. Please understand we don't update the articles when the price changes. We only update the price if the product itself has been redesigned.
Sizing
I wear a size 12 US shoe, and these fit me really well. Alpinestars has done a solid job with their size and keeping it uniform.
We've done multiple short riding shoe reviews, and they all fit consistently. So I think you should pick your US size, and odds are you will get a good fit.
As far as the width, I would say they're not slim. They're not wide, but they're accommodating my feet. They do lean towards the wide side.
The construction of the shoe was comfortable enough that it accommodated my feet.
Who Should Buy These? 
The Alpinestars Sektor is right for any rider looking for a lightweight short riding shoe. You don't want to commit to that full-on race style or a taller boot; you need something more low-profile and comfortable.
Style
This looks like some of the driving shoes that Alpinestars has done. They pulled some features into this from the driving shoes, like the lacing system.
The way these lace-up you're able to dial in the fit. Instead of having the metal ring in the shoe to hold the lace, they have a strong fabric that holds the lace.
Adjusting them holds them in a nice and tight position, giving you a nice personalized fit and feel from these motorcycle shoes.
Ventilation
The vented version is perforated along the side of the show with an active vent at the back. The tongue is a kind of mesh fabric on the outside that does allow airflow.
It also has a shift pad to help manage the external wear of the boot. The exterior of this is a microfiber material and has a matte finish look. 
Reinforcement
The shoe has some reinforcements in the toe box and the slider. There are reinforcements in the heel with a slight reflective panel.
In addition, they have an embossed grip panel built-in to the inside of the boot with velcro closure at the top. 
It comes with TPR detail on the outside portion of the boot to help manage impact and abrasion. On the inside, they bolster the show a little bit more with an armored puck inside.
Comfort
You will see the insert once you open it up, this adds to the boot's comfort. But, again, we were pleased with how comfortable these were walking around.
It's not a bulky boot, the sole looks fairly thin, but I have to say, when you walk around, it feels comfortable. I believe you could get to your destination, walk around, and you'd be good to go.
The insole it's ventilated, which helps maintain some airflow inside the boot, so your feet don't stink.
I think at around $149; this boot is a solid option for riders looking for a short riding boot for the summer.
In Conclusion
Alpinestars motorcycle shoes are designed to offer maximum protection from road hazards. 
This is why Alpinestars motorcycle shoes are constructed from a unique blend of materials, including a microfiber outer shell that is exceptionally lightweight, durable, and abrasion-resistant. 
The inner liner of the shoe is made from a special material that is designed to protect the ankle from impact.
Furthermore, the shoe is equipped with strategically placed perforations that offer optimal ventilation and comfort. 
The original speed lace system derived from auto racing shoes provides a personalized fit and feel. 
The upper ankle polymer protection panel ensures a streamlined finish. In addition, the flexible areas on the heel and instep provide enhanced comfort when walking. 
The shoe also features an internal protective toe box and heel counter positioned under the outer shell. In addition, the advanced 3D mesh offers ventilation and more comfort. 
Internal support shank and extremely lightweight, specifically compounded, rubber sole provides a textured grip and enhanced sole rigidity. 
Additionally, this motorcycle shoe meets CE Level 2 89/686/ECC EU safety certifications.

.
The Alpinestars Faster 3 Shoe is an update to the Faster 2. We haven't seen Alpinestars release a base level faster three, we're expecting to see it coming down the road but what we have now is a ride knit version that is replacing the mesh.



This is going to give you plenty of airflows if you're looking at riding in the summer months and then there is a dry starr version which is the waterproof version.

Both of these are going to sit at the $180 price point so just keep that in mind. A slight price increase over the previous Alpinestars Faster 2 but what we're seeing are little improvements throughout and then the right knit especially is a completely different version of the mesh.

Sizes range from a 6 up to a 14, they fit true to size. there should be no surprises there as long as you're using the size chart and there are four different colors available. the real upgrade that we're seeing in the Faster 3's is these are now CE rated motorcycle shoes.

That means you're going to get that extra level reinforcement of the toe, the heel, the sides of the shoe and the CE rating that comes with it.

Taking a look at the similarities that we're going to see between the dry Starr and the ridenit, the only difference that you're going to notice is that you are going to have the mesh, the ride net which is a very tight weave mesh working its way from the top of toe box down the outside of the shoe.

If we're looking at the dry star shoe that mesh is replaced with just a microfiber material that is very similar to the look and feel of leather but you're not going to have the mesh baked in. This is where you're getting your waterproof protection.

That's really the only difference you're going to see from a construction standpoint the rest of this is the same, it's a microfiber textile shoe, you are getting TPU in the reinforcements at the very front of this motorcycle shoe.

If you do get really aggressive with your sportbike and you start rubbing, you are going to have that there. It's not quite as aggressive as what we see from a sportbike shoe but you just had that a little bit of extra reinforcement.

The sole on this is a flat sole, if you upgrade to something like the SP1 V2's that's where you get into more of an aggressive riding shoe, a little bit extra TPU reinforcement and you get the heel. You lose the flat sole but with this, your aim is really to give you sea level protection but also with all-day comfort.

These are riding shoes you could wear all day long with your favorite pair of riding shoes but you're getting that extra level of protection. Again, the reinforcement at the toe box you're going to see if you are familiar with the Faster 2's.

The microfiber has been redesigned around the toe box giving you a little more coverage as it kind of pulls over but then also maximizing the airflow if you're looking at the ride knit version.

As you workaround to the back the reflectivity has been reduced a little bit, at the back heel cockpit is still reinforced, again bumping up in that sea-level protection. You get ankle cuff protection on both sides and then the main thing is the velcro which holds the laces.

Personally using laces on a motorcycle isn't necessarily the most ideal situation. You don't want anything to come loose and get stuck into the motorcycle parts but they are going to give you the extra velcro coverage. Just to make sure you're holding any of the loose laces in and tuck down into the riding shoe.

For those of you out there that are a fan of the Alpine stars riding shoes in the past the faster threes are just the newest iteration and really the biggest thing that is the advantage for me is you are now getting up into a CE rate shoe.

If you like to ride all summer long and your feet overheat what I really like about the ride net is it really flows in an additional amount of air really easily allowing airflow through but still giving you extra protection and reinforcement compared to the old style mesh.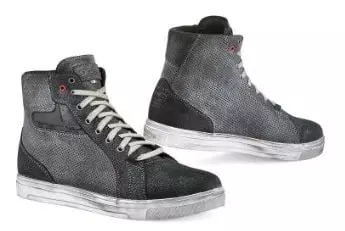 TCX has been spoiling us for years, with quality motorcycle trainers coming in at some of the most competitive prices in the market.
They're one of the flag bearers of that segment, and they remain one of the best brands out there.
We've got another new boot to show you for this riding season, and this is very much aimed at warm weather riding. So if that's your thing, this might be the boot for you.
Design
The Street Ace itself has been out for a couple of seasons and has, all that time, pretty much been the best seller in the motorcycle boot segment. 
The Air offers something for people who want maximum airflow but with a trade-off in weatherproofing.
You've got full-grain leather on the outer with perforations running on both sides. Pretty much everywhere except for the upper toe section. 
That will create lots of airflow in both directions to keep your foot at least warm and clammy as it can be in hot riding conditions. So it's a really good thing, but it doesn't sacrifice things like protection.
Protection
The TCX Street Ace Air

is C approved. The TCX boots have been C-approved for many years, so they're one of the leaders in protection. 
As far as a motorcycle trainer, a relatively low rise motorcycling boot, these are as protective as possible.
You get reinforced heel and toe sections to prevent crush damage, and you've got neatly integrated hidden malleolus protection for the ankle.
This will protect your ankle from the impact on the sides, but you don't have any clumsy ankle cups sewn on the outside.
They look understated, and I think they look like stylish shoes that you'd be happy to wear if you're off the bike.
The branding is minimal, but you have the small 3D heat press leather section with TCX.  
You've got a nice padded area to the opening at the top of the tongue section, which is always good. But, again, you can do these up nice and tight to prevent your ankle from moving around. 
Despite the way they look, they look like they would be very lightweight. 
But, instead, they're slightly more chunky in weight than they might suggest just on looks alone, and I think most of that is coming from the durable sole, so it feels like that's where most of the weight is.
Build
You'll get a lot of use out of these, and I think they will last. They're really well built and put together for something that covers all the bases of a motorcycle-riding shoe.
You also do get a little overlay protector leather section for the upper of the boot. That will help prevent rubbing and fraying into the top section of the boot from things like gear changes.
It's black even if you get a brown boot, so that's slightly odd, but it's a nice little thing to have. You don't need to use it, but if you want to, it's there.
In Conclusion
TCX's new Street Ace shoe is designed to meet the needs of a variety of riders. It's a high-quality shoe that's comfortable and durable.
Its lace-up design allows for easy on and off, while the anatomic and replaceable insole provides optimal support. 
The shoe is equipped with a breathable lining and a malleolus reinforcement to keep feet cool and comfortable. In addition, the CFS Comfort Fit System makes sure that the shoe fits the foot properly. 
The shoe is also designed to be highly resistant to abrasion and impact. As a result, this shoe is the perfect choice for riders who enjoy riding on the Street.

.
The Alpinestars S-MX 3 vented riding shoes are available in sizes 38 to 50 euro which would translate to five to fourteen US. The vented version are available in the all-black colorway as well as a vented black white.



What we have here is we have great summertime riding shoe, this is a perfect compromise between a short riding shoe and a full-on road riding racing shoe of more height.

It's more comfortable, it's going to wear lighter and it's going to be cooler. All the perforations are going to allow air to flow through the shoe so keeping your feet cool and comfortable.

It's got a good wide design, we found these things fit very true to size okay so you can order these with confidence. Alpinestars does a phenomenal job with their Footwear sizing.

Who are these riding shoes for?

Any sport rider, sport-touring rider that wants to have that look, protection, and feel of a full-on shoe with comfort when you're walking around but isn't ready to commit that full height shoe, this is perfect for you.

It comes with a replaceable toast slider, we've got molded protection in the ankle and the heel cup with a high traction sole. The soles are wider than a race shoe that makes it much more comfortable when you are walking around in it.

One of the cool feature sure is integrated into the ankle protection, it is there all-new strapping system. It is fully adjustable, just slide the strap in and ratchet it. To loosen it up you push the release in the center and it comes right out.

The Alpinestars S-MX 3 is a very high-quality riding shoe. It has some padding in the shin area padding all around the ankle. It has a strong velcro a large zip and they also use an expansion panel right if you're bigger in the ankles.

It takes a second to zip it over the fabric is going to stretch so it doesn't pull too hard on the zipper. You've got a Velcro panel to store the zipper out of the way, lots of padding in the ankle with a removable footbed.

It's another great example of the top-level footwear that Alpinestars produces, this is the all-new Alpinestars S-MX 3 vented short riding shoe.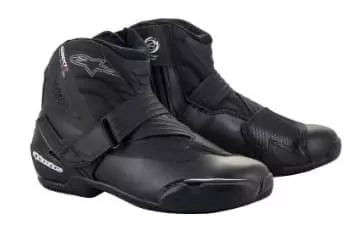 Here we have the Alpinestars SMX 1 riding shoes. It's available in a standard non-perforated version and the ventilated version. 
This shoe comes in at $159.95 for either version as we write this review. Please understand we don't update our reviews for pricing changes, only if the product has been completely redesigned, so check the latest prices by clicking the button below.
When I'm out riding in the nice weather, I always gravitate towards the vented boots. I like the airflow. I'm a fair-weather rider, so imagine no holes, no perforation, okay?
If you're going to ride in cooler climates, or you're just not that sensitive to the airflow on the foot area, then go with a non-perforated version.
On the other hand, like me, you're a fair-weather rider, then go with the fully vented version.
Size
I wear a size 12 US; Alpinestars size chart translates that to an 11 and a half US. So I would say it's pretty darn accurate for me but always check your size first.
Their sizing chart appears to be accurate, so use their size chart to help choose the best fit for yourself.
Who is This Shoe Right For? 
This sports riding boot offers a reliable measure of protection right from the ankle down. This is for a rider who doesn't want a full boot that feels too cumbersome, but they still don't want to sacrifice all the protection you find when you get a high-end race boot.
It comes with a replaceable toe slider, just like you see on their Highline super tech arm. In addition, you've got a reinforced heel cup with plenty of impact and abrasion resistance, and it has reinforcement in the toe box.
Protection
One key feature with any riding shoes that I look for is the shoe's sole. I like to grab it and give the sole a good push.
If you do that with a pair of tennis shoes, the sole just folds in half, it's really important with riding shoes that it doesn't do that, so it's crushproof.
If you have a spill and the bike lands on your foot, and you're wearing just a tennis shoe, it will crush your foot. It will, in all likelihood, result in an injury for that reason.
When it comes to protecting your feet, my advice is to wear riding shoes that are made specifically to protect you from injury, not just plain old trainers because they give you that measure of protection.
There is a shifter pad that's stitched over. They do it to maintain a level of symmetry on both sides of the shoe. You get a motion below and a volume adjustment at the footbridge. This gives a measure of adjustment to make the shoes as comfortable and secure as possible.
In Conclusion
Alpinestars SMX-1 R Boots are the most technologically advanced cycling boots ever made. 
Constructed from a new, advanced microfiber upper, the SMX-1 R is designed to provide a supremely comfortable and supportive ride. 
With an extensive perforated upper, it's engineered to offer exceptional ventilation, while its ergonomic heel counter and front bellows are constructed from textile material for improved breathability. 
The SMX-1 R also features a rear flex zone, which allows you to adjust the fit and position of your foot on the bike. 
An anatomically designed TPU shift pad and heel counter provide excellent grip and control, while the innovative closure system provides a secure and comfortable fit. 
Alpinestars has also included a reverse zip closure for convenience. The SMX-1 R is available in black or white.
.
At a glance you're looking at an adventure shoe sub 200 bucks, so it's adventure styling, it's not going to be as hardcore and crazy technical as you see from some of the shoes that are a lot more of an investment, but it gets a lot of the flavor and it's going to do a lot of the basics really well.



The Firstgear Kathmandu Low comes with full-grain leather upper, velcro closure in and out with the Gator and high pore membrane for waterproof breathability. You have a bit more of a rugged adventure style sole, it is a flexible sole I'm going to give it about a 7 out of 10 on the flex scale and we do have a shank reinforcement.

On the Katmandu compared to the kilee which is the kilee high in the killer load new in the first gear line, you do see this cam lock style buckle which has a rubberized pull and the rubberized poles going to give you the ability to have some flexibility. Again, a nice adventure style with some adventure functionality without going overboard.

I will say from a fit standpoint that 40% of the American population has a wider than D foot. Most shoes are B plus C in there width, these shoes going to fit between D and E width right out of the box so for those of you guys that have a lot wider American foot this is a good option for you.

The Kathmandu Low is waterproof, it's going to cover your full height, it's a nice long-distance adventure touring style shoe with some light dual-sport functionality. You do have some reinforcements above the accordion panel into the shin, different interface panel as well as a heat shield on the inside of the shoe.

Rubberized shift interface light reinforcements in the toe, light reinforcements in the heel on the malleolus which is that ankle bone. There's no hard part but you have some padding on the lateral side and it's a little bit lighter weight on the medial side.

I will say the interior guts on the Katmandu are a wicking material so keep in mind there's also removable arch support as well as a removable heel pad.

TCX X-Street





I love what they've done with the TCX X-Street riding shoe, we've seen this trend from some other manufacturers. This is a vintage styled riding shoe with motorcycle protection, it's great for the guys that really want a little bit of extra protection on their short city commute, or scooter ride into work but also want it to be stylish match her outfit and be able to wear it all day long.

If we look at it it's a full-grain upper, you're not getting lorica here this is full-grain leather. You also have a waterproof liner that's built into the leather, it's a membrane so it's waterproof and breathable.

It's a riding shoe style sole but the beauty of this shoe besides the fact that it's that vintage advantage. It will give you that extra protection, you're getting ankle support both medially or laterally through a malleolus hard part that's built-in.

You also have a full heel cockpit that's built-in reinforcement around the back of your heel and you do have a toe box that's reinforced as well. At first glance under a pair of jeans, there's no way that somebody's going to realize you're wearing a motorcycle riding shoe but if you do hit the pavement you're going to have a little bit better protection than if you're just rocking a pair of Nikes.

You're looking sub $150 price point, we think this shoe will do really well. It's a nice technical piece, TCX is Italian, it makes technical shoes and protection is their claim to fame and with this guy, it's just adding another dimension in the lineup.

They come with laces, they are replaceable and it's high and the inside. They come with a bubble style lining, a mesh that's going to wick sweat away so if you do get stuck out either in the rain and your foot starts to get clammy you have the ability to have it breathe but also that sweats going to get wikked away by the internal lining.

From here you're going to step up into like a really technical riding shoe, touring shoe or sports shoe but this is kind of that basic casual everyday shoe.

TCX Street-Ace



TCX as a brand has been doing shoes for a very long time they only focus on making shoes they put all of their effort or their energy into a damn good product. TCX was actually first started in 2007 but prior to that in 99 they will rock staff and your older guys out there you'll probably recognize the oxtail brand and then prior to that they actually started making shoes.

If you look at the shoe you will see they have a lot of experience when it comes to Footwear. What we've got with the TCX Street-Ace is a really nice shoe for your fine weather riding. The Street-Ace air shoe fits into the 24/7 range that TCX has done, this is something that's a bit more urban a bit more casual and something that you can wear on your bike commuting.

The Street-Ace is a ventilated shoe so you wear this more in a summer environment or when you want some breathability but it's a nice light airflow shoe. Given that it does play so much air this is not going to be a waterproof shoe. There isn't a waterproof version of this in the rain check that out

If we break down the components of the shoe we've got a full leather construction, it is a perforated leather you can see all the ventilation holes through that the outside of it. It is a distressed or more sort of vintage that looks like it looks like you've owned this shoe for a hundred years, but it is designed to be that way that's how they come out of the box.

On the inside of the shoe, we've got the air tech breathable lining, that will allow all that airflow to hit your foot, it's not just going to stop at the internal lining which is kind of cool.

Going to the protection of the shoe we've got your three main points of your foot that you want to protect your toe, the heel, and the ankle. Here we've got your reinforced toe box area, it's quite stiff and hard and you've got your ankle bone support or pad in the side of the shoe.

The support is on both sides of the shoe inside and outside, that's obviously very important as well when you're hugging the bike with your feet you've got a nice soft pad so you're not going to hit your ankle bone against it.

Then you've got your heel counter protection as well, this is a nice stiff piece and finally, they've put a high resistant wear sole on the bottom of this shoe.

The main thing that differs a riding shoe from a normal casual shoe is the stiffness in the sole and this shoe is really quite hard to bend which does mean when you're walking you're going to find you'll lift out of the shoe a little bit but on the bike that's going to plant you in there and be the most protection and the most comfortable as well.

One question you might ask when it comes to the TCX Street ace air shoe is there's no shift pad which means this will wear slightly as you continue to wear it and as you shift gears on your bike. What they include in the box for you is a removable shift guard.

This shift guard is basically an elasticized leather pad. it slips over the front of the shoe so when you are shifting gear on the bike all day and you're going to change bucket loads of gears you're going to get that protection there so you don't wear a big hole in the front of the shoe.

You can simply just take it off so if you're going out for dinner, you're going out for lunch and you don't want to look like a bike shoe that just pulls off and fit it into your pocket.

Finally to close the shoe up we've just got a standard lace system with all your eyelets down the front of the shoe. There's a lot of shoes out there on the market that is very similar to this style of shoe, they're a casual looking riding shoe but this one does offer a lot more support and protection than most.

The TCX Street ace air shoe is available in one color which they call anthracite, they come in sizes 36 to 48 and please check out the sizing guide to make sure you convert your Euro sizing to your correct size.

I normally wear a size 9, the 9 in the TCX fits me perfectly so it should be the same size that you normally buy.

We've got a high vented summer riding shoe, something that you can walk around in all day you can wear on your bike off your bike super comfortable. This riding shoe is a really good addition to your riding wardrobe.

We've got a full-grain leather construction that is perforated, we've got your air tech lining allowing more airflow with your toe heel and ankle protection in a nice casual looking shoe.

TCX have done a really great job of this shoe and I think it's when you really should check out.
Prices