The Richa Armada GTX Pro motorcycle jacket is Richa's flagship jacket for 2022. It's a serious step up from the rest of their range with a three-layer Gor-tex laminated waterproof membrane.
It's a substantial, robust jacket which is as you should expect when it's made from these materials, and costs a penny under £1100 as we write this review.
The main bulk of the outer is regular polyamide that I'd estimate to be a 500 denier with reinforcements in the key areas.

The elbows and forearms get extra slide resistance coverage from the armor core. That's a Cordura material reinforced with extra aramid fiber thread to make it even stronger. Over the top is super fabric, which is a tough material.

If you could have a suit made all from super fabric, then you'd have the best slide protection around. You wouldn't be able to move, so that's why it's just used as reinforcement.
You also get the super fabric on the shoulders and the edges of some of the vents and pockets. But, again, that's about helping those bits survive the handling as you open and close them, not because those areas are vulnerable in a crash.
That outer is laminated with Gortex's three-layer waterproof and breathable membrane. It's the most weather-resistant Gortex material around for motorcyclists, and it's also the most breathable.
Having that membrane laminated to the outer means It works with the outer shell to repel water at the earliest opportunity rather than waiting to soak past the outer material.
So if you plan to ride in the worst weather, Gortex 3-layer laminate like this is the best option.
It repels water better, soaks it up less, and dries out more quickly afterward. As a Tourer or commuter in bad weather, it's always a huge relief to come back and find a dry kit to put on.
A laminating membrane also allows more direct venting because opening the zip separates the waterproof material and creates a proper airflow channel.
There are a couple of layers of material behind this jacket's vents, but nothing will block out much air.

This jacket has a good selection of event locations. You get two short ones in the middle of the front and then the large panels on the front that have magnetic clips to keep them either open or shut.
And then there's also a zip on the side to keep it firmly shut. Finally, there are long underarm vents like you find on outdoor clothing and then vents across and down each side of the back.
Two-way zips at the cuff mean you can have them fastened up at the bottom and then open up to get a vent to let some air in. You can also have a great whacking vent open down the middle of the jacket if it's warm.
Behind the main fastener, there's a mesh panel. So you zip that together, undo the main jacket, and the jacket is still done up, but you can get airflow coming through.
While we're on that main fastener, it's a chunky zip up the front with the storm flap velcroed over the top to stop rain from getting into the teeth.

It's a two-way zip, so things get snug around the bottom. Pull up the bottom of that zip to make a little more expansion ring.
The colors are a relatively basic Velcro fastener with a hook and a loop to hold it back across the throat.
For full-on wet riding, there's also an extra storm collar that attaches with a zip, Velcro, and a magnet to stop rain from getting inside the jacket at the top.
Now the cuffs on this jacket they're ideal for bad weather. They open up wide enough to get a winter glove inside, which isn't always the case with leather jackets, and they also have a short Gortex inner cuff.
This goes inside your riding glove, and then this jacket outer goes over the top of the glove.
So, water can't get inside the glove from the top, and any water that saturates the glove can't soak up and get the clothes on the inside of your jacket wet.
It is more time-consuming to get kitted up. So when you've got this system, but believe me, it's the best way of staying dry.
This jacket has loads of fit adjusters to help get it tailored to suit you. You get them above and below the elbows. There's also a belt around the middle, zipped pleats and Velcro tabs at the waist, and an elasticated drawstring around the waist to help you get a more airtight seal.

There are waterproof pockets on each side near the waist, and they've got a zip-up pocket behind them that you can tuck your hands into.
The 5th pocket on the outside is the lower back pocket which you get on most jackets of this style.
Interior

Let's cover the pockets while we're on that subject, and there is plenty to go out with this jacket.
There's a Napoleon pocket just behind the main zip. Next, there's a neoprene pocket with a cable outlet and two smaller pockets roundabout where your ribs would be.
There are also two pockets for chest armor, which, if you wanted, you could use as storage pockets if you don't want to upgrade to Stick armor in them.

The thermal liner is the most obvious thing missing from this jacket. Unfortunately, it's becoming common in top-end Gortex jackets like this to leave out the liner and let you layer up with whatever suits you best.
Richa has a quilted inner jacket designed to pair up with this jacket. It's called the Houdini, and it costs an extra £150 if you want to go down that route.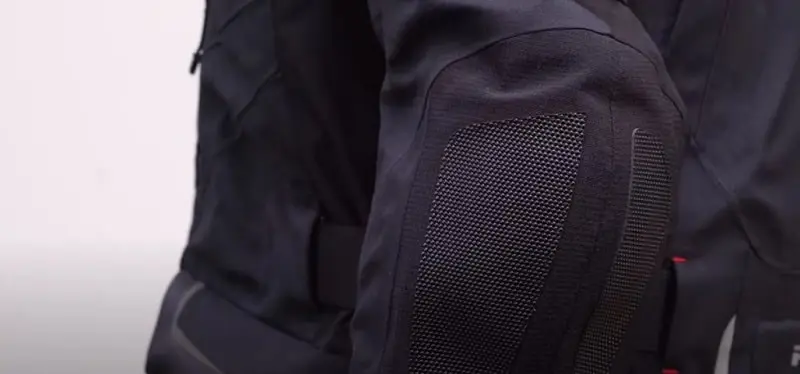 Standard armor is out the shoulders, elbows, and back. Shoulders and elbows are D3O inserts that meet the higher level 2 within the CE standard for impact protection. The back insert is a full back protector that meets the higher level two of CE.
As I said earlier, there's room for Richa's chest armor, and that's £35 for the two inserts, which both meet the basic level one of CE.
The label on the inside of this jacket also shows the overall CE safety rating, which is the middle of three protection levels, and that's AA.
A kidney belt incorporated two pulls the jacket tight around your middle. That belt is easily removed if you don't like that idea, and not everyone will.
There are two connexion zips for trousers. There's a short and a long one, and there are matching our Marda Pro GTX trousers to go with the jacket, which has a laminated membrane level 2 hip and knee armor and an overall CE rating of AA like the jacket.
They cost £700.59 a pair as we write this review which, on top of this jacket, makes a combination of £1860

The quality matches up to that price tag. So when you go for a Gortex laminate jacket like this, you know the standard will be very high.
This is the cheapest way to get a jacket if you want a three-layer Gortex laminate.
If you want the optional warmth liner, then adding one of those takes the total price up to £1250.
For that money, you can buy a Rukka Nivala 2 jacket, which has a similar downline already included, and also comes with the chest protector as standard.
That will be a very attractive rival proposition for many riders, especially those who want the extra warmth.
Whichever way you choose to go, my experience is riding kit made from Gort three-layer laminate gives the best protection against the worst weather, and this is a very good option if that's your main focus, especially if you don't need or want the warmth liner for proper winter rides.
That tells you everything you wanted to know about the Reisha Armada Pro GTX jacket, and if you want to check out the latest price, click here to visit Sports Bike Shop.