Our top six women's full face helmets
The best selling women's full-face motorcycle helmets, at prices that will shock you. Watch our in-depth video reviews so you can make sure you are purchasing the best women's full-face motorcycle helmet.
Bell Women's Qualifier Momentum Snow Helmet
If you're looking for your next cold-weather helmet if you're a snowmobile rider, an Adventure Rider and you ride in those extreme temperatures. The Bell Women's Qualifier Momentum Snow Helmet available from revzilla.com is probably something you need to take a look at.
The base for this helmet is the qualifier. Not much on the helmet has changed; it's all the accessories that are going to go with it.

You're still going to have that excellent intermediate oval fit, polycarbonate, and ABS shell, so it's lightweight and nice and protective.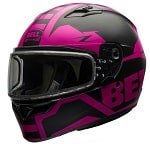 You've still got venting whenever it's not so cold outside, plus you've got the stylish features that this one comes with.
All the different designs, everything about the qualifier, is still going to be there; it's just going to have more.
Electric Snow Sheild
To begin with, we've got a new snow shield. The snow shield on this women's full-face motorcycle helmet is electric so that you can plug this into the bike.
It will heat that shield and make sure it does not freeze up on you while you're out riding.
Condensation rolling down the inside of that shield can cause this thing to freeze on the inside in those frigid temperatures, which can cause a 100 percent decrease invisibility.
If you've got a frozen sheet of ice in front of you, you're not going to be able to see anything, your rides going to be over.

If you want to keep riding whenever it's freezing, you need something to combat that, and that's where that electric snow shield is going to come in.
This one hooks up the same way as all your other Bell shields, but this one's a bit different. There is a double layer liner on this shield, which is similar to a lock.
This has an extra liner that's sealed up on the inside that makes sure the breath that you're breathing out, which is warm, doesn't come in contact with the cool outer portion.
That freezing air that's on the outside and it can cause condensation from your breath as you breathe out.
All that moisture will freeze up on the inside, and again you're going to get that decreased invisibility.
This helmet has your typical standard dual-layer lenses and your pin locks, but whenever it's cold outside, you need something that's going to function better, and that's where these come in.
This visor has a heating element that runs across the top and the bottom, so it warms that air that's on the inside of the shield.
The electric shield will combat it even further and make sure you can drive even if it's sub-zero temperatures outside.
If it's that cold, you're going to need something that's going to help keep that condensation at bay.
Otherwise, those things are going to freeze up solid, and you're not going to be able to see anything.
Parts That Go With The Shield
To begin with, we've got a pigtail cable, and the line is what connects to the shield. All Bell helmets that come with these electric shields are going to hook up the same way.
The pigtail pushes into a connector on the side of the shield and locks into place. This pigtail cable stays with the shield whenever you get on and off the bike, but it is easy to unplug.
The pigtail cable plugs into an extension cable that lets you move around on your motorcycle.

The extension cable is long enough so that if you have a passenger, they can plug in and defrost their helmet visor if they also have a heated face shield.
When you connect the pigtail and the extension cable, there is a small clip that keeps the wires fixed together.
These clips are typically made out of hard plastic, but what Bell has done on this cable clip is make them out of a rubberized material, so they bend and flex.

If you have a hard plastic the first time you try to unclip the cables and it's cold outside, it's just going to snap in half, so these are an excellent rubberized material.
You can push them together and connect the clip, and they aren't going to go anywhere.
The extension cable then goes into the wiring harness, and the wiring harness hooks directly into the bike.
There are no regulators or anything like just one heat level that is the same all the time, and it's just there to keep that shield from freezing up.
At the end of the extension cable, you have both a negative and a positive clip that you can connect to your bikes battery. If you have an external fuse block, you can hook them up to that instead.
If you didn't want to use the shield and you didn't want your extension cable, it easy to remove and store.
As you can see, with all of the wires connected, it's not going to be challenging to reach any part of your ATV, your snowmobile, your motorcycle.
Interior
On the inside of this women's motorcycle helmet, there is a moisture-wicking liner. It's antimicrobial, just like all of the other Bell helmets out there. It is DOT and ECE certified plus that heated shield.
You've got all the wiring to make that heated shield work, and you can get everything for around the $190 mark.
The heated shield by itself is $89.95, so you're getting a helmet for a hundred bucks, and you can get it in different colors and different patterns, so whatever style you prefer, it is there.
If you're looking at a qualifier helmet and you do ride in those cold conditions, then you should check out the snow version so you can get all of that stuff together.
Product Overview
Contoured cheek pads
Integrated speaker pockets
DOT and ECE approved
Industry-leading Five-year warranty
Padded chin strap with D-ring closure
Removable/washable interior
Padded Wind Collar drastically reduces wind and road noise
Velocity Flow Ventilation™ system with FlowAdjust™
Full coverage Breath Box with adjusting the nose bridge
Click Release Snow Hinge Plates optimized for the added weight of Electric Snow Shield OR Double Lens Shield
NutraFog II™ anti-fog, anti-scratch, distortion-free, dual-layer electrically heated face shield, and UV protected shield• Velocity Flow Ventilation™ system with FlowAdjust™
Lightweight Polycarbonate/ABS Shell Construction.
ClickRelease™ Snow Shield for fast, easy and tool-free shield replacement
GMax FF49 Yarrow Full Face Street Helmet
What we see with G max is they've changed the letter designation in front of a lot of their numbers, and the FF Nance now stands for the full face.
So it's easy to understand which helmet you're looking at by just looking at the letters in front of the number designation.
With the GMax FF49, Available from revzilla.com

, is one of the entry-level helmets that you will see from G max.
Construction
The GMax FF49 is a thermoplastic construction and comes in two shell sizes, when we threw this on the scale it weighs 3.2 .ounces. This helmet is a DOT certified helmet. As far as the fitment is concerned, it is a little more on the neutral round side of things.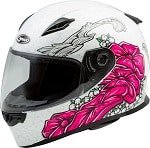 Helmet Certification
If your head has more of a round shape to it, you're going to have a little bit shorter front to back, a little bit more room the side of the head, and it will work very nicely for you now.
If you want to consider bumping up from the FF49, GMax has something like the FF 88, which is one of the very first helmets we've seen from Gmax, which carries an ECE safety rating.
Price Points
The FF88 will give you more venting than what we see with the FF49, but depending on where your budget falls.
The FF49 is that nice entry-level piece for around the $100 price point for the solid colors, and around 90 dollars if you want to bump up to a graphic.
Sizing
There are two different shell sizes, and the size breakdown for this is from extra small up to large you're getting the first shell size, and then when you get up into extra-large – three XL, that's where you're going to bump up to the second shell size.
Keep that in mind if you're somewhere between a medium or a large, you will bump up with the larger shell. If you are between a large and extra-large, you will bump up to that larger shell.
Ventilation
Starting with the front and working our way through, you are going to see three intake vents. There is one vent at on the chin. It does actuate with a simple switch to help push airflow through.
You then have dual chimney vents on the brow of the helmet, unlike some other helmet vents.
The vents open by pulling the slider sideways rather than backward, and that will actuate the vent for you. At the back of the helmet, there is a wing with three exhaust vents just below the wing.
Face Shield
When we come to the face shield, the one thing you'll note is that they have done an excellent job of giving you a breather vent that's more secure than the one we've seen with the FF88.
The breath guard on this works nicely, the airflow pushes through, and it doesn't vent up.
The face shield is the same face shield we see GMAX using on a lot of helmets.
It's straightforward to remove the shield for cleaning, first fully open she face shield, then push down the small nub or nipple you will find just below where the face shield clips onto the helmet.
Push the nipple down, then once that's fully depressed, you can slide a small plastic arm out of the way, and the visor will pop right off.
Once you're done with that, and you have cleaned it or swapped it for a different color, you can pop it back into place by reversing what you did to remove it.
Interior
The FF49 comes with sweat-wicking cheek pads. They have still had a nice contour to them, but it's not that soft spa design you would see with some of the FF88, so this is where you bump down to the $85 price point when you're looking at the FF49.
When you're considering which features are essential to you, this is the stuff that you can see that it's going to help you make your decision for whether or not it's worth it for you to bump up.
Internal Speakers
With this women's full-face helmet, you will still get the speaker pockets, so, if you want to install a comm system, you're not going to have cutaways in the actual helmet or the EPs itself, but you are going to have little pockets that are worked into the cheek pads.
You slide the speaker right in the cheek pockets, and it will sit in there so you can listen to music or talk on the phone if you were to install a comm system on this particular helmet.
Comfort
The two cheek pads pop out together with the interior liner. One of the things that GMAX does, even on there more affordable entry-level helmets, is they don't use snaps along the forehead to mount the interior liner.
They use a brow mount, and the reason this is important is you don't have those snaps pushing against your forehead when you're out there riding.
There's still a nice contoured feel to the overall liner, but it's just not going to have that soft spa technology worked into it.
One of the things you'll notice is that GMAX does an excellent job of giving you those full cutaway channels to help that airflow push through.
Even when we're talking about a helmet like the FF49, that helmet doesn't have quite the venting scheme that we've seen with the FF88.
You're still getting those nice Channel cutaways into this single density EPS to help push that airflow through from the front to the back.
You will see those channels do an excellent job of going all the way down to the back of the shell.
For those of you that are looking for a nice affordable entry-level helmet, or maybe just a second helmet for the passenger, the FF49 is one that's not going to break the bank.
Product Overview
DOT approved
Lightweight Poly Alloy Shell
Lightweight- only 3.2 lbs. in a medium shell
Large eye port for improved range of vision
100% UV400 protection from the anti-scratch face shield which is hard coated for a longer-lasting clear view
Flow-through intake/exhaust venting forehead vents and rear exhaust vents help pull fresh air in & remove hot air through channeled vents
Removable, adjustable, washable Coolmax® interior allows for easy cleaning and custom fitting
DuPont Coolmax® interior keeps you dry and comfortable. Coolmax® fabric wicks moisture away from your body and dries quickly
GMax FF98 Full Face Willow Helmet
When you're looking at the GMax FF98 helmet available from revzilla.com

, you will notice a few new things from G max. First and foremost, this is the first helmet the G max is released.
It's carrying an ECE safety rating, so that's a big step forward for the brand.
The other thing you notice is a new FF designation in front of the number, and this means full face.
For those of you out there looking for your first full-face helmet or you bought a new motorcycle and you want a full-face helmet carrying EC safety rating that's not going to break the bank, this is one to take a look at.
Weight
When we're talking about the helmets shell construction, this is an ABS plastic shell.
There are two different shell sizes available, and when we threw this on the scale, it came in at three pounds six ounces in the large.
Shape
As I said, it is DOT approved, but it also carries the ECE rating for the FF88, and as far as the shape of the overall helmet is concerned, it's more of a neutral oval.
What I mean by that is that it's a little bit shorter front to back, you have a little bit more room on the side of the head.
If you have more of a round shape to your overall noodle sitting on your shoulder, this helmet is going to work nicely for you,
When you're considering your helmet, whether it's your first time at your second, it's really about finding the right helmet to fit the shape.
I did mention that the FF88 is going to come in at the very top of G Max's lineup, again the first helmet with that ECE safety rating.
If you're taking a look at what else is out there, you're probably considering how much like the LS2 stream or maybe the bell qualifier it is.
Coming in at around that $150 price point, the Gmax FF98 is going to fall in that same niche, something like the bell qualifier.
You're looking at the advantages there being four different shell sizes, so it's a matter of choosing which helmet is best for you.
The FF88 comes in ABS plastic shell, it does have two shell sizes, and we're breaking this down via size, extra small up to large will have the first shell size, and then when you get from extra large up to three XL, you'll bump into this second shell size.
Ventilation
With the GMAX FF98, you get six intake vents and six exhaust vents. They count the chin vent as two, the brow vent as two, and the two chimney vents as two separate vents.
Depending on whether you're looking at one, two, three, four, or you count them as six, it still gives me an excellent ventilation scheme.
The brow vent has a sliding vent actuated, and when you're looking at the chin vent, it slides down to open. The chimney vent has sliders on either side, giving you an excellent active ventilation system.
At the back of the helmet, there is one big slider vent. Just slide it down to open, giving you free flow of air from the six front vents through the helmet to the one large exhaust vent at the back.
On the inside of the helmet, there are nice cutaways throughout the EPS. This works to push airflow through, and that's one of the advantages that we see with the FF98.
Face Shield
When you're looking at the face shield on this helmet, you will notice that it is a little bit of a two-handed job to get the face shield on and off. To remove the helmet shield for cleaning it's relatively easy.
On the side of the helmet, just in front of where the shield attaches to the helmet, you will see a plastic pin. Use one hand to push the pin in, then use the other hand to push down the small bar next to the pin.
Once the bar is pushed down, you can pull the shield away from the helmet. To put it back on, press the face shield back into place and move the slider back up.
It's not overly complicated, but it's easier to do it on a flat surface rather than with the helmet sitting on your bike seat.
Another thing of note here is at the breath guard does tend to fall out, so if I were going to get this helmet, I would consider taking it out and going without the breath guard; otherwise, you are going to find yourself constantly pushing it back into place.
If I were looking at the FF88 for myself, I would probably pull the breath guard out of this particular helmet and do without it.
Graphics
There are a variety of different graphics, and there are also some matte color options for you in a solid finish.
If you're looking for solid colo
r or graphics, again, they come in around that $117 mark
. Then you're bumping up to about $125 if you're looking at the graphic option.
Interior
GMAX is calling the interior for this helmet the soft spa liner, and it's a combination of Coolmax as well as bamboo and charcoal.
When removing the internal pads from the helmet, you will notice there are some interior pockets for those of you that want to put a comm system into the helmet.
Inside the cheek pads, you will see they've got the indentations for the speaker output together with a nice cutaway if you do want to put a speaker in there. It is compatible with most of the universal Bluetooth options.
The soft spa pads contain the charcoal as well as the bamboo giving you the moisture-wicking antimicrobial factor.
When you started ripping the cheek pad apart, you will notice it has a nice contour, and it fits nicely against your face.
When you look at the venting scheme inside the helmet, you'll notice the liner itself has a brow mount, so you're not going to have any uncomfortable snaps in your forehead.
Some of the manufacturers you see with some of the more entry-level priced helmets include snaps that can cause pressure points. The fact that GMAX went with a brow mount on this makes it nice and comfortable.
This helmet has the same spa soft liner throughout the entire helmet and a nice 3D wicking mesh that helps to wick sweat away.
When you look at the EPS, you will see it is a single density EPS, and it will be the maximum ventilation that pushes the FF98 ahead for this particular price point.
You will see starting at the top all the different cutouts for the vents, and those channels are going to carry through to the back, giving you a tremendous amount of airflow.
For riders riding in a warmer season or warmer climate and you're looking for an entry-level helmet, the G max is one to consider.
Features:
Speaker pockets
ECE and DOT approved
Lightweight Polly Alloy shell
Internal sun visor with anti-fog coating
Scratch-resistant, locking face shield
Integrated multi-function red LED rear light included
Removable, adjustable and washable SpaSoft DuPont Coolmax liner wicks moisture and is easy to clean
HJC RPHA 70 ST Vias MC-8SF Helmet For Women
This is the new HJC RPHA 70 ST Helmet available from revzilla.com

. It's kind of badass, its aggressive, it is an evolution of the Arfa ST, which we loved in 2014 when it came out.
But, at this stage of the game, our FST is your grandmother's pearls, and at this stage of the game, the Arfa 70 ST is the venom to the sport-touring mix.
If we look at it just as a base level helmet, it is a much narrower shell, six intakes, two exhaust, but if we look at it, they've newly refined and made it much more aggressive.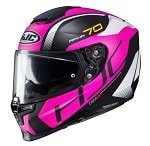 I will tell you it's still a premium helmet; it's the advanced integrated matrix composite they have from HJC, so it's the top of the line.
It's ultimately that Arfa 11 pro with the same composite they're using on the racetrack.
What they've done with this helmet though is they've increased the ventilation, made it more aggressive, making it more narrow and in our estimation.
It's competing for much more heads up at this stage of the game with something like that GT Air from Shoei.
You still have your drop-down Sun Visor, but the beauty of it is it is now DOT, and ECE rated whereas this helmet used to be DOT rated only.
What I like about that is that you're taking a helmet, you're increasing the safety rating. It's still organized for upright or three-quarter riding. It looks that much more aggressive, but it only gained a few ounces.
Weight
Putting it on the scale, we see three pounds four ounces to three pounds six. For a sport touring helmet with a drop-down Sun Visor, DOT ECE rated that now has emergency cheek pads.
It has added all the things, including the extra vents. We're looking at this helmet and saying it's a huge win; they've only added two ounces.
I will tell you that it's going up 40 bucks, but it doesn't scare us. It comes in under $400, and ultimately there's not a lot that we can pick apart because HJC, as they've done for the last couple of years.
It has blown us away as soon as they launched new helmets. They've continued to innovate, and they've continued to bring things to the next level.
I know that sounds vague, but when I walked through the full helmet, you're going to see that I mean even single things like the shape, the fact that the vents in the back now have three positions on the top.
The vent opened halfway and closed, and even the back vents or non actuate events are fully passed through and cheerful, so they're extracting air whereas your Arfa ST had them for looks. They looked great, but they were not fully featured.
It's not a full overhaul, really an iteration, but enough has changed that we look at this through the lens of a new helmet. It's staying within the standards of what we expect these days from HJC, but ultimately still not over $400
Now carrying an ECE rating really and optimized for multi-season sport or in commuting sport riding without breaking the bank.
Fitment
The fit has not changed; it's still intermediate oval head shaped, which should work for most riders. A little bit longer front to back, it's not overly round and not excessively narrow.
Interior
They've updated the interior guts. It is antimicrobial with the multi cold system, which has a cooling property to it but again, premium guts.
It now comes with an emergency cheek pad removal system. It's not an overly racing fit, it's more of a touring contour, but ultimately the fit won't surprise you.
If we think about some of the other features, it comes with a fiberglass composite now with a lower profile and more aerodynamic.
Ventilation
The airflow has been improved, and they've changed and added vents. The chin vent is actuated on the inside.
This vent didn't do a whole lot for us, but ultimately this is meant for riding in the upright riding position, and depending on if you have a windshield and how it is configured, you may or may not get that airflow.
The top vent and scoop, which has become more dramatic again, have three-position, open, closed, and the halfway point and that was one of the big themes we saw the Arfa 11 pro come out one of the best venting helmets we've ever seen.
Ultimately much more dramatic looking, much narrower, and if you look at the back of the helmets, you will see big flares are leading down to the open and closable vents, which are full extractors.
There has been a significant overhaul in the aerodynamic profile and a big overhaul in the ventilation scheme. In my opinion, it is much better on this helmet than the previous version.
On the venting side of things, we went out on our bike, and we pushed this helmet, and my thoughts were okay when you're adding that much airflow.
You're going to feel it that much more which we did and
Is it going to become annoyingly noisy at that point with so much air moving through it?
I found that that the ear pockets were compartmentalized enough and separated from the vents to where you can open everything, and it wasn't annoyingly loud, which was a nice feature.
Face Shield
This helmet comes pin lock ready and is still very simple to remove. You open the shield fully, pull the tabs on the side of the helmet, and it comes right off.
Profile
When we talk about the profile of this women's full-face helmet, we've spoken of venting, we've talked about the weight again the premium composites it's using.
The last thing I'm going to delve into is on the previous version, and you had a lever actuation on the side. Now you have a jawline actuation that is done with a cable that is smoother and more positive.
Interior
The neck pads are now made from a rubberized material that allows it to not slide off your seat if you put it on your bike. It has an emergency cheek pad removal system.
If you're knocked out cold, the EMT can save your neck if you happen to have a cervical vertebrae issue.
It's easy to pull the cheek pads of if they don't know about any injury you may have to your neck. They pull them off and slide the helmet off the crown of your head versus wrangling it when you're out cold.
On the underside of the chin, there is a removable chin spoiler. Just behind that is the actuation for the front vent.
The removable head insert is a 3D construction with multiple layers, multiple densities of foam again flowing a ton of air through on the top and the sides of the helmet.
But again, staying out of the way, making itself non-existent from a pressure point standpoint, which is enormous.
The ear pockets can be removed. They cover up holes that cover the speaker pocket so you can add a third party communication unit to this helmet.
When you are not using the speaker pocket, you can cover it over, which makes the helmet a lot quieter.
The top of the helmet on the inside has lots of channels, lots of vents, which makes an excellent ventilation scheme, and it's not overly loud.
HJC has done a great job of improving things by adding better looking and more aggressive, more massive scoops, and adding additional exits.
There are two that are positive – they're passive, but they both flow air with six total inputs in the helmet.
From the previous version, it went up in price by 40 bucks. It went up two ounces.
I don't care about either those things because the helmet, relatively speaking, for where it plays in the market is still underpriced. They could charge more for it.
I don't care about two ounces when you go to 3.4 pounds to 3.6. I don't care that's still an extremely light helmet under the 3.8 pounds mark, and ultimately if we think about the rest of the helmet, they've improved many many things over the previous version.
The only gripe I might have about this helmet is sometimes you're not getting the benefit out of the chin vent depending on how you ride, but it looks badass.
Features:
ECE & D.O.T. Approved
Adjustable Rear Vent Switch: Rear vent switch for easy control of airflow
HJ-26ST Anti-Scratch Clear Pin-prepared Shield. Eyeglasses and sunglasses friendly EPS
Dual Shield lock System: Innovative Center one-touch shield lock with spring controlled lever
5 Year Limited Warranty: Free of defects in materials/workmanship for the original purchaser.
Up to 5mm initial shield position by releasing shield lock
Premium Integrated Matrix Plus (PIM Plus): Reinforcement materials, including Carbon and Carbon-Glass Hybrid fabric, provide enhanced Shock-Resistant performance. more comfort, & lightness of helmet
Dual Purpose Top Vent: Top intake/exhaust vents operate simultaneously for maximum air circulation
Multi-Cool™ Interior: Anti-bacterial, Polygiene® Infused silver chloride Technology. Anti-bacterial fabric with moisture-wicking and quick-drying capabilities. Recessed speaker pockets with removable ear pocket pads. Removable and washable crown/cheek pads. Cheek pads are interchangeable in all sizes
RapidFire™ II Shield Replacement System: Simple and secure shield ratchet system provides ultra-quick, tool-less removal and installation for efficient operations
HJ-L1 Integrated SunShield – New! bottom position operating System: Anti-fog smoke tinted 2-Stage SunShield system with positive ("UP" position) lock.
Emergency helmet release: Cheek pads are designed for safe/quick helmet removal in emergency and rescue situations
Weight: SM 3.26 lbs. (1,480 +/- 45g)
MD to LG 3.37 lbs. (1,530 +/- 45g)
XL to 2XL 3.51 lbs. (1,595 +/- 45g)
HJC Women's CL-17 Boost Helmet
The HJC CL-17 streamlined women's graphic helmet available from revzilla.com is an entry-level helmet from HJC that is a Snell safety rated lid.
If you look at the streamline graphic, it comes on top of a nice matte finish helmet with a high visibility pink stripe over the top.
The one thing I will note is I like this graphic. I wish that HJC would have included this in men's sizes as well because when they're talking about the fact that this is a women's graphic.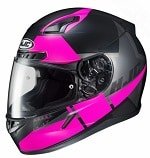 Sizes Available
Really what they're doing is the helmet is the same size up to extra-large.
They're just going to limit the sizes past that, so between extra small up to XL, this is going to work in the same men's sizes.
They just added a color that is going to do more towards the appeal of the women's market.
Weight
The CL-17 is a polycarbonate shell, and there are two shell sizes available. This women's helmet weighs in at 3 pounds 9 ounces when we throw it on our scale.
The HJC CL-17 streamlined women's graphic helmet is Snell and DOT safety rated as far as this fitment is concerned.
It is more of an intermediate level fit, a little bit longer front to back, and narrowed down the sides of the helmet. It will work nicely for the majority of you riders out there in the American market.
Graphics
Again this is a women's only helmet, and that's going to limit your sizes, but it is very similar to the other streamlined graphics we see in the CL-17 range.
You can have a matte black helmet, and one of the things that I will compliment HJC on every time is they've gotten good at matte finishes.
Their matte finishes are second to none and with this helmet, what they've done is they've incorporated a traditional 60-70s muscle car rally stripe going down the top, and it is finished in that lovely matte high-vis pink.
Those rally stripes work their way around the front, and as they workaround to the back, they almost begin to taper off with blocks of matte finishing using between them
The pink stripe runs over the top of the helmet towards the back, stopping at the vents. It then continuing down the back to finish at the neckline.
The other thing that I like the HJC did with this is they left it very clean. There's not an abundance of HJC logos except the one you have on the front.
Some of the other HJC graphics we've seen they include logos on the front, the sides, the back, so they've kept it with a clean, muted tone.
Features:
Integrated air deflector is included
Pinlock-ready (Pinlock lens insert sold separately)
Crown and cheek pads are fully removable and washable
All CL-17 cheek pad sizes are interchangeable for a custom fit
SuperCool Interior made from anti-bacterial, moisture-wicking fabric
Meets or exceeds DOT and Snell 2015 standards (sizes 3XL-5XL are DOT only)
ACS (Advanced Channeling Ventilation System) provides full front to back airflow which flushes heat and humidity up and out
RapidFire Shield Replacement System provides ultra-quick and tool-less removal and installation of the face shield
2-Stage face shield closure system with one-touch center open/close shield locking system for an extremely tight and secure seal
Advanced polycarbonate composite shell is lightweight and features superior fit and comfort by using CAD technology
Anti-Scratch Pinlock-ready Face shield (HJ-09) features a 3D design with 95% UV protection
Side face shield lock mechanism for an ultra-secure seal
Shoei RF-1200 Harmonic Full Face Helmet For Women
If you're not familiar with the Shoei RF-1200 harmonic full-face helmet for women available from revzilla.com

, it is constructed using an AIM plus try composite shell.
It has an intermediate oval head shape and comes in sizes ranging from extra small the two XL with four shell sizes in for EPS liners.
Weight
This helmet weighs in at three pounds eight ounces in a medium-size and comes with a DOT Snell safety rating.
Graphics
What you will see with the harmonic graphic is just a ray of pretty flowers. You have got pink or blue to choose from with a little bit of metallic sheen worked into the paint.
As I said, two colors with all the flowers you could want, you're going to get blue or pink one clear facial is included in the box, and if you want to check out the most up to date prices, click the buttons below to learn more about the Shoei RF-1200 harmonic full-face helmet for women.
Features:
Four shell sizes
Dual-density EPS liner
Superior ventilation
3D Max-Dry System II Liner
Neatly secures chin strap
Includes Pinlock pins and lens insert
Includes breath guard and chin curtain
Snell M2015 and DOT Certified
E.Q.R.S. (Emergency Quick-Release System) CWR-1 Shield System