We risk our lives every day we ride a motorcycle, so we must do our best to protect ourselves from a head injury, and what better way than investing in a top-quality motorcycle helmet.
My feeling is when you stick your head into a small confined space for long periods; it's pretty nice to have it surrounded by some top-quality materials. I'm not saying everybody should go out and get a Shoei because the price is way up there. What I am saying is if you've got the money to invest, Shoei helmets are pretty freaking phenomenal and well worth the extra cost.
A lot has changed in helmet manufacturing over the years. Design materials, testing practices, quality assurance procedures, they've all evolved. 
One thing that has remained a necessary constant is that Shoei helmets are still made by hand in one of our two state-of-the-art factories in Japan. So the words hand-built in Japan are more than just a catchy marketing slogan. 

They're an intricate collection of production processes that allow Shoei to control every step of helmet development with precise accuracy, ultimately yielding the world's premier motorcycle helmets you like the very first show, a Helmet built by their founder in 1959.
Where Are Shoei Helmets Made?
Every Shoei helmet today is still handmade in Japan, utilizing a proven sophisticated process that involves over 50 people for each and every helmet with a world-class team of designers and engineers leading the charge. 
In addition, Shoei utilizes its 55-year wealth of knowledge, state-of-the-art wind tunnel facility, and the industry's most stringent quality assurance practices. 
During the development of every helmet model, each helmet must pass several rigorous inspections throughout production before being awarded the famous showy hexagons despite passing each inspection with flying colors.
Every year several thousand production helmets are pulled from their inventory, put through their paces, and then destroyed to ensure that all helmet models are performing at their optimum.
Shoei helmets are the result of countless hours of conceptualization and R&D, but equally as important to the development process is the time spent testing with the most hardcore critics of them all. Tour professional racing teams from MotoGP race teams to world-class athletes like Marc Marquez.
Their products are put through the wringer resulting in the highest performing most functional helmets on earth. From racer-driven progression to mind-blowing advances in technology, helmet development at showy is a constantly evolving heart.

I have had my Shoei's X14, and I am absolutely infatuated with it. We all know Shoei helmets are expensive and high quality, and the X14 does not disappoint, in either of those categories.
The X14 comes in from $500 to $900. Keep in that mine has the dark smoke visor, and that's going to set you back another 55 bucks, so we're not talking about a low-cost helmet.
Are Shoei Helmets Round Or Oval?
The helmet's shape is an intermediate oval which means it's slightly longer front to back than it is side to side weight-wise. So it's going to come in at 3.62 pounds.
When Shoei was making this helmet, they had three main criteria.
If they want the ventilation to be solid, they wanted it to be durable. They wanted it to be lightweight. I've ridden around this thing for a couple of weeks now and what I can tell you is that it is lightweight. 
It does have really good ventilation; I haven't crashed in it yet, so I haven't tested the durability, but I'm not really a big fan of testing that for my first fit review.
Safety Standards
Shoei helmets are DOT approved and snell certified, so it should be a solid helmet. It also has an EQRS system installed which is a system that lets a medical professional easily remove a rider's head from the helmet without having to move their neck. They do that by pulling on the little red straps at the bottom of the helmet.
It even comes with a little sticker at the bottom to let you know about the EQRS system. So if you were to go down on a track, I'm sure the medical professionals there would know about it so they wouldn't damage your neck while trying to get your helmet off.
The only thing I worry about is if you're riding on the road, what are the odds that a regular medical professional will be trained with an EQRS system to look for that in a motorcycle helmet? Regardless, it is an added safety feature that I do appreciate.
How Do I Change My Shoei Visor?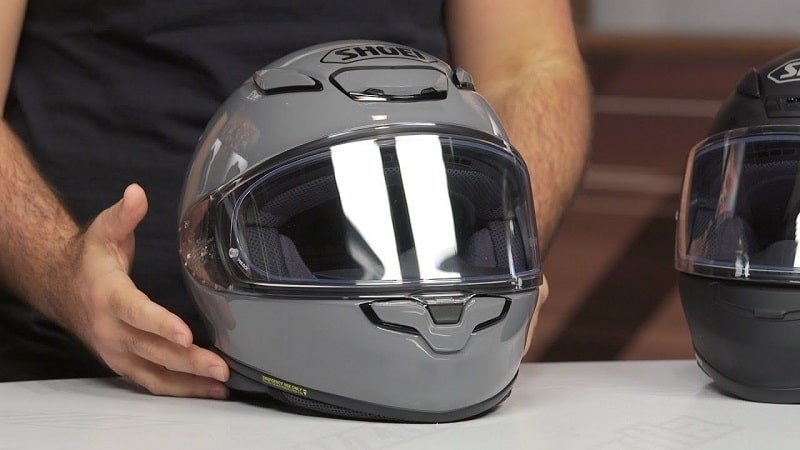 Replacing the shield on this helmet was extremely easy. Shoei has on it what they call a QRE base plate system which allows for tool-less shield removal.
As an icon variant user, the fact that I didn't have to use a tool to get the shield off was absolutely fantastic. It took like 10 seconds, and I never found any issues where I had a problem with the tab setting once I got the shield on.
The visor has a nice solid feel and supposedly gives you 99% protection from UVA and B rays, which was a nice little bonus. They also have a website with exclusive vortex generators on the side to reduce air friction.
Now I'm a simple man and not well versed in the science of air friction, so I went to their website, and I'll give them credit; the Shoei website has awesome images of explaining what the helmet can do and what it's built up of. 

But let me break it down for you. Those little things on the side are vortex generators, and supposedly, they help the helmet's aerodynamics.
I couldn't tell the difference between the vortex generators during my testing, but that could be because I don't ride fast enough to deal with air friction.
A couple more notes on the shield. I like the satisfying clicks you get when moving it up and down. When paying this much for a helmet, I better have a solid visor that doesn't move around on me.

So I was happy to see this it also has a dual shield locking system to prevent it from opening when you don't want it to.
I felt like this worked a little too well because I felt like I was about to break my neck trying to pop the visor open a couple of times. However, once I wear it in a little, I'm sure it won't be so hard to just pop it open with my thumb.
Aerodynamics
Speaking of aerodynamics, I thought they were incredible. I can honestly say I have never ridden with a helmet that had so little force on my head while riding down the highway.
I could move my head all around, and I feel the wind pushing my head in a certain way in no position. It was a little weird at first, but after riding down the highway for a little while, I quickly got used to it and I enjoyed the hell out of it.
So against my better judgment, I thought, what better way to test the ventilation of the X-14 than to take it out on a 95-degree Atlanta summer day and ride around with it.
With the visor shut, with slow-moving traffic, honestly, it was terrible, but as any helmet would be regardless of the ventilation. I can't happily say that once I even got slightly moving, just the tiniest bit, there was plenty of air to start cooling me down instantly.
Ventilation
This helmet does that because it has a cheek pad cooling system.
It vents air from the front of the helmet through the cheek pads and then out of the back of the helmet through the vents.
My final big takeaway from testing this helmet was what ended up being my favorite part of the entire helmet, and that's comfort.
Comfort
I can honestly say this is the most comfortable helmet I have ever ridden in. Of course, once the helmet is on, it feels snug and safe to ride in. Still, when I was riding in the X-14, the interior liner felt a little more soft and comfortable and a little higher quality.
Wearing Glasses
I asked on Twitter, "what do you look for in a helmet." A lot of you guys said a lot of stuff that I expected, but many of you said you wear prescription glasses. So you want to know how the helmet feels with glasses on.
I've got a pair of glasses for this review, and my safety glasses will be playing the role of prescription glasses that people would typically wear.
I must admit they were a pain in the ass to get on, but once they're on, they feel really good; they were super comfortable.
How should a Shoei Fit?
To maximize head protection and safety, your helmet must fit properly. The retention system must be securely fastened under your chin to help prevent the helmet from coming off during an accident.
Proper fit can also help reduce noise levels and ensure a comfortable,
distraction-free riding experience. 
The first step in determining the proper helmet fit is to measure your head and cross-reference the results using the Shoei sizing chart located on their website.
First, pass a soft, flexible tape measure horizontally around your head, approximately one inch above your eyebrows. Next, move the tape measure up and down slightly to find the largest measurement. 
Next, select the helmet size that is closest to your head measurement using the Shoei sizing chart. If your head measurement falls between two helmet sizes, try on the smaller of the two helmets first.
| Size | Guidelines for Setting |
| --- | --- |
| XS | 53 cm |
| S | 55 cm |
| M | 57 cm |
| L | 59 cm |
| XL | 61 cm |
| XXL | 63 cm |
Firmly grasp the chin straps and expand the opening of the helmet with your hands. Slide the helmet on your head in a front-to-back motion.
A properly fitting helmet may take some effort to slide over your head, as it should be a bit on the snug side. If the helmet falls onto your head with little resistance and you notice it's loose around your crown is likely too big for you.
If the helmet is too small, it will be extremely difficult to get on your head and will likely cause immediate pressure points. Once the helmet is on, pay close attention to the fit around the crown of your head.
We will address the cheek pads in a later step. The helmet should fit snug around the crown of your head without feeling overwhelming pressure, and the brow lining should fit snugly against your forehead.
When wearing the correct size helmet, you should not be able to slide your fingers between the helmet liner and your brow.
Another good visual indicator is to identify where your eyes are located within the helmet's viewpoint located near the center is generally best. If your eyes are sitting near the top of the viewport, chances are good the helmet is too big.
Place your hands on either side of the helmet, and without moving your head move the helmet up and down and side to side. With the correct size helmet, there is little movement.
If the helmet fits snugly and securely, you should feel the skin around the crown of your head and face-pulling slightly as you move the helmet. If the helmet is too big, it will move independently of your head with little resistance.
The next step is to properly fasten the chin strap so that it is tight against your chin with no slack. With the chin strap fastened, place your hands on the back of the helmet and try to push the helmet off by rotating it forward. 
Next, put your hands on the front of the helmet and try pushing it off by rotating it rearward. Again, there should be little movement with the correct sized helmet, and the helmet will stay securely in place.
Once you've completed these steps, you should have determined the properly sized helmet for the crown of your head. However, you may still wish to adjust the size of your cheek pads to fine-tune the overall fit. 
The cheek pads should contact your cheeks, and a little bit of inward pressure is preferred. You should feel your teeth lightly graze the inside of your cheeks when you open and close your mouth.
Proper fitting cheek pads will help reduce noise levels and buffeting, so it's important to ensure a snug fit. A helmet will break in after a few rides, and if you feel they are too snug or too loose after proper break-in, we recommend customizing the fit with a set of optional size pads. 
There's a sticker on the backside of the cheek pad that tells you its size. The numbers reference the thickness of the cheek pad in millimeters, the smaller the number, the thinner the pad. 
Thinner pads can be used to loosen the fit. The larger the number, the thicker the pad. Thicker pads can be used to make the helmet fit more snugly. In addition, Shoei offers a cheek pad exchange program on brand new, unused cheek pads. Contact their customer service team for more information. 
Remember, a properly fitting helmet is not only important to comfort but safety as well.
That is the X-14 from Shoei. It is expensive as hell, but you know what? I can finally see why so many people spend so much money on these damn helmets.
There was not a single time I was riding around with this helmet that anything felt less than top quality; it was a pretty magical experience, I have to say.
So if you want to check the helmet out for yourself, check out the prices over at Revzilla.com. They have a wide range of Shoei helmets at prices that can't be beaten.
Table Of Content