If the Nolan N60-6 isn't the best value sporty lid on the market, I don't know which one. It offers more value for their money. The Nolan N66 is their entry-level full-face helmet with a pre-installed Pinlock max vision. 
It has a drop-down sun visor with an anti-fog coating that meets the new ECE 2206 safety standard. 
All that for circa £150 if you're happy with plain black or white or £180 if you want to inject a little bit more color into your life.
The £150 starting price tag for this helmet means it's the cheapest lid we have found to meet the new safety standard, which has to be a credit to Nolan.

Nolan N60-6 Review
Shell Construction
The shell is made from Lexan, which is a high-grade polycarbonate.
Weight
One of the frequent criticisms you hear of plastic shelled helmets is they make them heavy, but no one can say that about this N66.
The medium-sized helmet weighs in on our scales at 1446 grams/3.2 lbs, which is pretty damn light to my mind. 
We've weighed 88 different helmet models since we started this project, and only 19 of them have been lighter than this one.
Ventilation
The ventilation is decent too. A chunky slider on the chin allows air to flow through the top of the chin bar and into the eye-port.
On top of the helmet, twin scoops pull air into it, which flows between two sections of the EPS impact liner before it can work through channels towards the rear exhaust vents.
I found airflow through the chin vent more noticeable than through the vents on top.

There isn't a direct route for air to flow through to your head from these vents, so it seems to be more a case of cooling down the EPS liner, so I'm sure that's effective over time.
It's not a case of opening that vent and feeling the air rush in to hit your skin.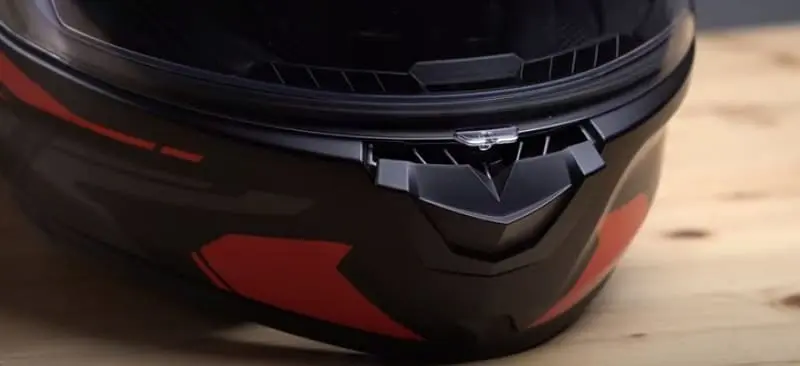 Visor
The visor for this lid is a tried and trusted one. It's the same one Nolan used on their old N87 and is also in use on the new N88.
It's really simple to change, and it lifts and lowers with one central tab located on the bottom front of the visor.
From fully up, there are five stages before the visor hits the seal, which leaves a small gap around the bottom for some air to get through.
If you need to give it an extra push, then it clicks in place more securely.
I found the two smallest openings to be very useful when riding at low speed in town, and the visor also stayed up if I needed it to rather than just shutting in the wind flow.
Sun Visor
The main visor for this helmet is backed up by an internal sun visor which operates on a switch by the left-hand visor pivot. 
It's got a staged drop, so you can also leave it partially down if you want.
Another plus point for the Nolan is this it has an anti-fog coating like every Nolan I've tried. 
If you're buying a helmet for commuting, that's particularly important in the mornings, especially since there's often a lot of moisture in the air and often a low sun to contend with.
If the sun visor missed up, you've got a choice of what will blind you today. 
Will it be the glare from the sun or the opaque bit of plastic that sat a couple of inches in front of your eyes?

If you've got an anti-mist sun visor like this one, you don't have to have either of those problems.
I used this for about a week's worth of daily commuting, so that's 300 miles or so, and that sunrise worked beautifully and stayed clear the whole time.

Anti Fogging
It's protected against mist by a Pinlock insert which is max-vision, so the outer edges won't interfere much or at all with your vision.

There's no Pinlock branding on the insert, so I can't say what grade it is for certain, but it is a proper Pinlock.
I'd say it's a Pinlock 70, which is the middle of their three grades. 
You also get two bonuses with this visor and Pinlock combo. First, the Pinlocks are already fitted when you buy the lid. 
It's not hard to fit a Pinlock, but if I had a choice between fitting it myself or not, I would always choose not to fit it.
Secondly, if you need to adjust the tension of the Pinlock to get a better seal against the inner surface of the visor, then it's really easy on this lid.
The adjusters on the outside rotate, and that alters the tension.
Some helmet manufacturers who charge three times the price of this helmet would do well to look at this system and find out why theirs isn't easier.
Interior
There's nothing flashy about this lining, but it works. It's fully removable, and it's really easy to change and fits in there nicely and securely. 
There's even a synthetic leather section around the base of the trim to help make it more durable. The cheek pads are what Nolan calls eyewear adaptive. 
If you wear glasses and don't have enough room to squeeze the spectacle arms in comfortably, then pop the cheek pads out and pull out a small piece of foam that should leave enough room for those spectacle arms.
There are a couple of things this helmet lacks over the next one up in Nolan's range: the N88 helmet. The first of those is emergency release cheek pads. 
If this had them, that would make a medic's task a bit easier for them to take your lid off for you. 
The second thing that's missing is probably something that will upset more people. There are no recesses for intercom speakers to slot into.

Bluetooth
I tried fitting a couple of intercoms in the name of research. The first one I tried was a Cardo PACKTALK Bold, and it was no good as there just wasn't enough room for both my ears and the speakers.
The speakers that you get with Senna's 20s Evo was the other one I tried. 
They are slimmer, and I could stick those inside this lid and still wear them, but the speakers were right against my ear.
I'm not sure every rider would find that comfortable, especially when starting to ride longer distances.
Strap Fastener
One final but important detail about the interior is the strap fastener. It does up with a micrometric buckle like all of Nolan's helmets, but this one's a basic pull and release rather than the two-stage device you get on more expensive Nolans.
Sizing
The N66 comes in sizes ranging from double extra small to triple extra large, and that biggest size covers a 65-centimeter head.
There are two shell sizes to cover that range of helmet sizes. The smaller shell covers helmet sizes up to and including medium, while anything bigger than that goes in the larger of the two shells.
In some instances, that will be an issue, especially for people with the smallest and the biggest heads within each of those shell sizes.
Instead of padding the lid out with foam to make it fit smaller heads, Nolan has six different thicknesses of EPS impact liner.
That means you'll never end up with either crazy thick or crazy thin foam comfort linings, which is always the risk with some helmets that come in only one or two shell sizes.

Safety Ratings
In terms of approvals, as I said earlier, this helmet meets the new and improved ECE 2206 safety standard for the road. 
So, this is currently the cheapest helmet on the market that passes that new test.
Some helmets are coming with a similar price and meet the new approval. But at the moment, Nolan is the only brand with a sub £400 helmet that meets 2206, and they have two of them, the N88 and this one.
In Conclusion
I started by saying this has to be one of the best-value sporty lids. You can get a lightweight helmet with decent venting, a Pinlock insert, a sun visor that doesn't mist up, and a bang-up-to-date safety test pass for between £150 and £180. There's a massive feather in Nolan's cap, in my opinion.
Spending more money on a helmet will always mean you get a more luxurious experience and a few extras that will make your life a bit easier. 
Still, in terms of the important stuff, this helmet does everything I think a motorcyclist needs, and it shouldn't ruin your bank balance.
Where To Buy