Wearing glasses with a motorcycle helmet can be uncomfortable, but some helmets can help.
I've been wearing glasses with my motorcycle helmet for a very long time. I have contacts, but let's be serious; after a while, contacts get uncomfortable. Here's the problem, glasses suck when you are wearing a motorcycle helmet, but they needn't, and here's why.
Wearing my glasses with my motorcycle helmets can be really uncomfortable. I would say they are most of the time, but there's really only a couple of times I find it difficult for me to wear glasses.
The first is if you're trying to fit your head in a helmet that's too narrow. So, if you really love that beautiful bell race star helmet, but you have a very rounded shaped head, then, of course, you're sizing up to fit your head's width, but then it's still very, very tight, and then it's too long.

If your helmet is too narrow, then that's going to make wearing your glasses very challenging, the other times are, and I would hate to say this. Still, usually, in the lower price point helmets, the liners aren't as soft and aren't as forgiving to allow you to slide your frames in without any friction.
How Much Should You Spend?
Most of the time, when you're hitting the $350-400 helmet price point, the liners are really soft, they are really smooth, and there's usually plenty of room for you to slide your eyeglasses into.
The other time it can be an issue is when your glasses don't have a standard plastic frame, mine is very light and very thin, so I love them.
What Type Of Glasses Should I Buy?
If you wear Oakley's and I know a lot of their sports glasses have little silicone tips on the end so that they grip the side of your head better, which makes absolute sense, especially if you're really active in other sports and you're wearing these glasses where you need that grip.
The other times I've seen it is when a few people wear really old-style wiry framed glasses. With these glasses, you literally curl the frames around your ears' back, and they're really thin and super light, but they're too bendy.
They're so bendy you can't slide them in because the frame isn't stiff enough to actually push them into your helmet.
How To Wear Motorcycle Helmet With Glasses
My glasses are just a nice standard plastic frame, and when I put them in, I start by pushing the arms toward the top of my ears and then inside my helmet. I can actually shimmy them down a little bit once the arms are over the top of my ears.

For those of you who are buying new helmets, keep in mind that you may need to change your cheek pad, or you may need to wait until you break that helmet in before you can actually wear your glasses.
If your frames are really fashion frames and they're just a little too thick, then hopefully you can change the liner, the top liner, or the end of the cheek pads to accommodate your glasses.
If you spend a little more money on your helmet, you will find yourself wearing glasses in a little bit nicer helmet. The liners will be far more forgiving and smooth and soft.
If you are purchasing a helmet because you need to wear glasses, the question is, which is the best motorcycle helmet for glasses wearers?
Best Motorcycle Helmet For Glasses Wearers
There are lots of different types of helmets you can use with your glasses. There are open-face touring, ADV, sport, racing and modular. The first one we will look at is the scorpion Belfast open face helmet.
Scorpion Belfast Open Face Helmet
The Scorpion Belfast, available from Revzill.com, is my retro cruiser of choice because there's something it doesn't have. There's lots of padding on your cheeks, but scorpion didn't stuff foam into the top of the cheek pads, and that's brilliant.
Obviously, it leaves room for the temples of my glasses so they can sit on my face without any pressure points. What's unique about this design is that I can adjust how my glasses sit.
So many helmets carve eyeglass channels into the liner, which is only good if you want your glasses to sit at the precise angle of the channel. But with the Belfast, I have a hollow patch rather than a hollow line, so my glasses are comfortable in almost any position.
I will say that it's still a squeeze to put the glasses on and off inside this helmet just because of the way 3/4 lids are designed. They tend to squeeze a little bit more on the sides.
What else should you know about the Scorpion Belfast?
The main thing about this helmet is hand craftsmanship. The fiberglass shell is hand made, and the napa leather is hand-stitched. It's a lovely place to stick your head as long as you don't mind paying 250 dollars to do so.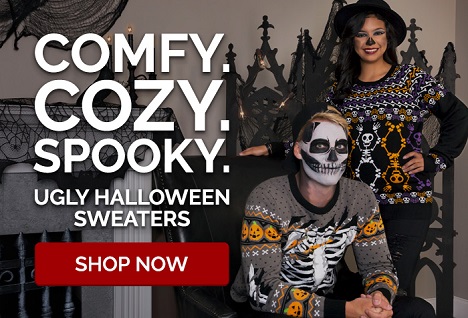 Unfortunately, the weather liner cannot be removed for washing and the rear goggle straps are far too low but at least you get a drop-down Sun Visor, that's kind of rare on open-faced lids.
Pro: Easy fits lining – Drop Down Sun Visor
Cons: Can't remove weather liner

Note: The Scorpion Belfast runs a full size small. If the size chart suggests a size LG, order an XL instead.
Features:
The fiberglass shell is individually hand laid to ensure it meets the top industry standards
Retractable and interchangeable internal SpeedView sun visor
Nappa leather accents
Kwikfit cheek pads allow easy on and off of the most common styles of eyeglasses and eliminate temple pressure found on most helmets
Plush hand-stitched liner
3 shell sizes
DOT approved
5-year warranty
---
Scorpion EXO-T510 Touring Helmet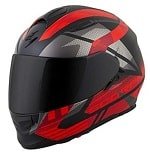 My second choice is the Scorpion EXO-T510 available from revzilla.com.

In my opinion, it is the best touring helmet for wearing glasses, that's because it has something called a quick fit and air fit.
Quick fit is scorpions super fun word for a standard eyeglass channel. There's nothing special going on here, and as I already mentioned, it's annoying that it forces your frames to a certain angle, but air fit is outstanding.

A lot of visually challenged riders will choose a helmet that's too wide for them because it makes it easier to take their glasses on and off. Of course, the downside of that is that having a helmet that's a little bit too loose on the sides so is bad for safety.
With air fit, you can have the best of both worlds. In the resting position, the EXO-T510 is loose enough to slip glasses in and out, but then it's also designed to be pumped, which inflates a bladder behind the cheek pads and that snugs the helmet in on each side.
When you want to take the glasses off, you deflate the bladder, and you regain your wiggle room.
The pros and cons are easy.
The EXO-T510 is way too loud for a touring helmet; that's a con. But then it does have emergency quick-release cheek pads and a visor lock. Scorpion always seems to remember those little safety features; that's a pro in every other way.
The EXO-T510 is just some helmet, it is 1640 grams and for this size medium, neither light nor heavy considering the shell as a polycarbonate. It has a drop-down Sun Visor, it vents okay, it comes through the air, okay and the 270 dollar price tag is OK.
I used this lid for the can-am Spyder review last year, and it left no impression whatsoever; it's just some helmet. Unless you have eyeglasses, in which case the EXO-T510 and its air fit system is brilliant.
Features
Premium polycarbonate shell is engineered to minimize weight and disperse impact
EverClear No-Fog face shield optically-clear with anti-scratch hardened coating and 100% UV protection
SpeedView SunVisor with 3 positions setting also features EverClear anti-fog coating on all surfaces
AirFit Liner Inflation System inflatable cheek pad system for a superior personalized fit.
KwikWick II Liner Fabric anti-microbial fabric keeps you cool and dry in warm weather, warm in cool weather and easily removable and washable KwikFit cheek pads allow easy on and off of the most common styles of eyeglasses
Emergency Release System tabs located on the neck roll allow easy removal of the cheek pads by trained emergency medical personnel
Ellip-Tec Ratchet System is the easy, Secure, tool-less face shield that changes in seconds and also pulls the shield back against the eye port gasket during closing to ensure a proper seal
Aero-Tuned Ventilation with four intake ports across the front of helmet force cool air in while one MEGA exhaust vents maximize movement of hot air out
Face Shield Lock/Vent System securely locks the shield in place or turn down the lever to allow light airflow into the helmet
3 shell sizes
DOt Approved
5-year warranty
---
Arai XD-4 Adventure Helmet
The best AVG helmet for wearing glasses is the Arai XD-4 (available from revzilla.com

). This is the best eyeglass helmet in my entire article. The padding falls away above each ear-opening into an expansive free space.
This is the only helmet I have worn that does not inhibit glasses. They go on without pressure points. They stay on without pressure points, and there are oodles of room to adjust without pressure points.
It's hard to show but easy to describe. Wearing glasses in the Arai XD-4, It's like wearing glasses with no helmet at all.
The other thing is that Arais padding has 5 millimeters of peel away foam, so even if you don't get a perfect fit for your glasses off the factory line, you can make like the card and make it so.
The Arai XD-4 might be the best for the IED helmet in the world, but it is also one of my favorite adventure lids.
The XD-4 is a real 50/50 helmet. It's reasonably light, 1,650 grams for a size medium, and breezy with rear visor vents and four-way chimneys.
The XD-4 is an airy helmet to float around the trail, but it's also brilliant on the pavement. It has better soundproofing than almost anything in its class and idiot-proof aerodynamics.
I mean, no matter what Toula system you have, ratchets, thumb screws, whatever, nothing is going to be easier than the smoosh down pull up Sun peak.
On the XD-4, idiot-proof safety is a whole other discussion for an entire article. In short, though the XD-4's external parts, the Sun peak the vent cowls, they're all designed to snap off in case of a crash rather than transferring torque to your neck.
The helmet also passed snow, and it has emergency quick-release cheek pads, so yeah, it's safer than almost any other ADV lid.
Two things I don't like about the XD-4.
The I port is too small for large frame goggles, and I can't afford one at $700. When it comes to wearing goggles under a supersport helmet, I got screwed. That's because the most comfortable option is also the most expensive.
Features
Comfort headliner, with micro fitting 5mm, peel away temple pads
Fully removable/replaceable/washable Interior: Comfort headliner, Cheek pads, Chinstrap covers
Dry-Cool technology keeps you dry and cool for greater comfort
FCS (Facial Contour Support) cheek pad design with a 5mm peel away layer Improved shell shape for better aerodynamic stability at higher street speeds
Exhaust ports added to the top diffuser vents
Chin vent with more intake ports
Larger sculpted side cowl vents improve ventilation
Snell M2015 approved
---
Arai Corsair-X Race Helmet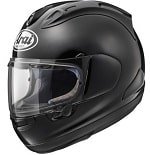 The Arai Corsair-X available from revzilla.com

, costs a thousand dollars, so nobody wants to buy one.
It's too bad because the thing is remarkable, it looks small and slippery from the outside, but once you get your head in here, it feels hugely spacious and precise; it's like an optical illusion.
Just like the XD-4, that means your glasses can slide and stay in without any pressure points. It also has that five-millimeter peel away from customizable foam padding, if you need to make even more room.
Plus, the visor lock can double as a leaver, opening the shield the cracks or your glasses don't fog. That's a good thing too because otherwise, this chin curtain locks in way too much humidity.
Arise big thing is glancing blows, which I already touched on a bit, and these cowls are designed to snap off.
These side pods are sunk flush with the shell; even the visor was designed with a sliding pivot point. And that allows the hinge to sit lower so more of the upper shell can be perfectly round.
The result is one of the safest snell helmets out there, and like I said, the best racing helmet for wearing eyeglasses.
I love the Corsair-X, and there's no way in hell I can afford one. So I threw on my glasses and scoured the shelves for a cheaper alternative. I tried every Bell star.
I tried the ARF-10 and 11. I tried HJC's and LS 2s and Schubert's and scorpions, and what was the second-best option I found? The $650 Shoei RF-1200.
Features
VAS (Variable Axis System) shield and side pods are exclusive to the Arai Corsair X Helmet
Dual function lever releases both the side pod and the face shield for quick and simple face shield removal
VAS shield latch system captures and holds the face shield closed and provides a de-mist position to slightly crack the shield open
VAS MAX Vision face shield provides excellent visibility in all seasons thanks to the included Pinlock insert
Neckroll is removable and has additional exhaust channels to remove interior heat
Cheek pads have the Emergency Release Tab feature
IC Duct5 forehead vent provides 11% more airflow than the Corsair V, features 3 positions and is overall large and easy to operate with gloves
PB SNC2 Shell has superb tensile strength due to a variety of carefully-positioned materials and lightweight resin
Arai's R75 shell shape creates a rounder, smoother helmet to enhance energy and impact dispersion
Includes clear Pinlock insert
Snell 2015 and DOT approved
---
Shoei RF-1200
So the Shoei RF-1200 available from Revzilla.com

ain't exactly cheap, but it is roomy and comfy to wear with glasses.
I will say that the on/off maneuver is just a little bit finicky in here. The sports helmets are made to fit snug, so I guess that's hardly surprising.
Odds are you've already heard the deets on this helmet; every one of their grandmothers has one.
It's one thousand five hundred and seventy-five grams for a size medium, which is 25 less than the Arai course Rx thanks to an innovative weave of organic and glass fibers.
Now, this helmet passed Snell ratings, and it has this height rimmed racers cut, which poses less risk of breaking your clavicle.
It also frees up neck movement to go into that full tuck position or to shoulder check on the losers behind you.
The last significant benefit of the Shoei RF-1200 is quietness. Shoei threw in more soundproofing and a tighter visor spring since the previous iteration, and so this helmet locks out road noise better than most.
It also ventilates worse than most, especially at close speeds and that is the definition of karma.
Features
Four shell sizes
Dual-density EPS liner
Superior ventilation
3D Max-Dry System II Liner
E.Q.R.S. (Emergency Quick-Release System) CWR-1 Shield System
Neatly secures chin strap
Includes Pinlock pins and lens insert
Includes breath guard and chin curtain
Snell M2015 and DOT Certified
---
HJC RPHA-Max Modular Helmet
Finally, the best modular helmet to wear with glasses is the HJC RPHA-Max and is available from revzilla.com

Most modular helmets are pretty comfortable to wear with glasses. They don't wrap the face as tight as a standard helmet, and they flip up, so it's straightforward to put your glasses on and off in the open position.
The HJC RPHA-Max has an extra advantage, partially because it's roomy in the temples with eyeglass channels that are deeper than average, and partly because of the RPHA-Max vents so well. So fogging on your glasses is rarely an issue.
I was secretly hoping the RPHA-Max would prove most comfortable to wear with glasses because it's such an easy helmet to recommend.
The carbon aramid and fiberglass shell bring the way down to 1580 grams, which is wetter than pretty much everything in its class.
It just feels nice., it feels premium, it feels more expensive than the five hundred and fifty dollar price tag.
This wouldn't be a review without some negative feedback, so here we go.
The Sun Visor is shit. For one, it's nowhere near dark enough. Two, you have to press the button and the lever at the same time to reach that third in the lowest position, which is only accessible if you're using both hands, and then whoa, what the hell am I piloting the motorcycle with.
The third problem is HJC uses such a wimpy spring that it barely retracts fully when it's new, let alone two years down the road.
Features
One-Touch integrated three-position adjustable smoke tinted sun shield; optional tinted sun shields available
Superior fog resistant clear Pinlock max vision shield comes complete with a clear Pinlock insert; extremely quiet helmet at even high speeds
Superior fog resistant clear Pinlock max vision shield comes complete with a clear Pinlock insert; RapidFire ii shield replacement system: simple and secure shield ratchet system provides ultra-quick, tool-less removal and installation
2-Stage shield closure mechanism; compresses shield into eye port gasket providing an extremely secure seal; ACS advanced channeling ventilation system; full front to back airflow flushes heat and humidity up and out
Cool4Ever interior; lightweight, moisture-wicking, odor-free and antibacterial, premium soft feel with ginkgo extract; innovative new fabric offers self-cooling properties, cooling faster than other major fabrics
That's it for the best eyeglass motorcycle helmets, thanks for reading and safe riding.