Today we are going to review the Sedici Misano motorcycle gloves. The Missano gloves are geared towards sport riders enthusiast.
Missano motorcycle gloves available from Revzilla best price guaranteed. Click here to read more

.
Personally, I like wearing short cuff gloves on my daily commute, so this glove is going to be a great application for that.
The Misano has a very low profile, excellent tactile feel, and a good amount of protection. 

Protection
I will say for those of you out there who like this style, but you want something a little more in the protection department. 
You could check out the Corsa because this is the lower half of that Corsa option. The Corsa has a little bit more coverage around the wrist. 
That's going to allow you to take that to the track and give you that extra level of protection if you're looking for it.
This glove has a goatskin leather main construction, so it will break in very well, leading me to my next point. Let's talk about the overall fit. 
How Does The Sedici Misan Fit?
I typically wear a size large in most of my gloves. I measure over eight and a half inches around my hand's full circumference, and the large size fits me perfectly in these gloves.
So I'd certainly say they're running true to what the sizing chart will recommend for you. 
So, get your measurements, reference that chart, and you should be all set.
Let's Talk about some of the finer details here, starting at the cuff. This glove comes with a velcro main entry. 
It's very straightforward, with a little flap made of leather that will help protect your wrist if you're sliding down the tarmac. 
We'll get into more of those additional pieces of protection in just a moment.
On the back of the hand, you will see a little bit of perforation. I did want to mention that underneath the perforation, a layer of Aramid will help with some additional abrasion resistance. 
I will say, I would have loved to see a little bit more perforation. We've got it at the back of the hand and in the four sheets, but considering we have that Aramid directly against the skin so that it can build a little bit of heat.
I would have loved to see a bit more perforation throughout this glove, especially as it is geared towards the summer riding months, but that's my one nitpick with these particular gloves.
Now, as we continue working our way down the hand, you have the dual-density split knuckle. 
It's a floating knuckle with little foam padding underneath to make it comfortable for you up against your skin. 
As we continue working our way down the fingers, you're going to see a little bit of additional TPU protection across the trigger fingers. 
It's important to have those when you're manipulating your controls. It just makes it a little bit easier for you. 
I like the super fabric. This is something that I've crashed in multiple times on a variety of different gloves. 
The awesome fabric stuff does work, so I like that we've got those touches on the fingers.
This glove comes with a covered outer seam on the pinky. Again something I'm always going to call out and always going to be looking for.
Touch Tech Capability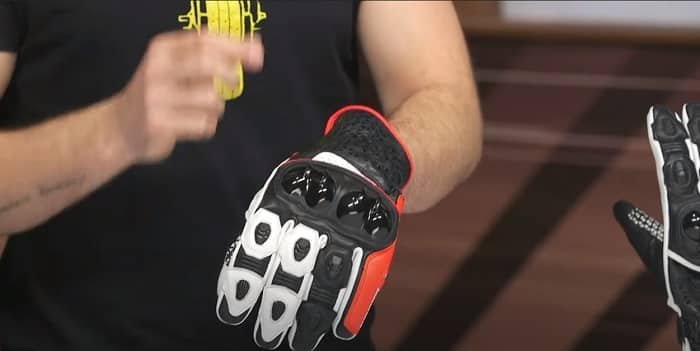 Let's work our way to the inside of the hand. This glove comes with touch tech capability. 
It comes with touch tech capabilities on the index finger and thumb; it's always great to get it on both. 
I like being able to manipulate my phone, touch screen, or GPS device without taking off my gloves.

And then we've got the silicone gripper on the palm area of the glove.
That's not only going to give you some additional reinforcement in the palm area, but it's going to help with the overall grip.
As I mentioned before, the Sedici Misano glove comes with protection on the outer edge of your finger. 
This is something I'm always looking for in pretty much every glove I wear. 
You're going to see a little bit of a break at the bottom of your ginger to make it a little bit more comfortable when you're grabbing your handlebar.
As we get towards the base of the palm, you've got some scaphoid protection. 
This is going to provide an impact, as well as abrasion resistance in this area. 
This is a high-impact area, but I like the placement. Its split will not hinder it. 
Comfort
You know your comfort when you're grabbing your handlebars. So nice to get that extra level of protection without sacrificing any comfort.
This glove is a great option for commuters and sport riders that may not want full gauntlet protection, but again, I think it could use a little more perforation. That would be my only nitpick.
I like the comfort, I like the protection level, and I really enjoy the tactile feel that I'm getting with these gloves. But of course, if you're looking for more details, you can always click here.
That's going to take you over to RevZilla com, where you can read other rider reviews, good or bad so check them out here.
Free Shipping
If you're shopping around for motorcycle Apparel and you're looking for the best price, Revzilla offers free shipping and the best customer experience anywhere on the internet.
For more information and to get the best price available anywhere, click here.

Related Articles