Being a short rider, good motorcycle boots are really important to make you feel comfortable on the bike, but also give you some extra clearance.
If you are looking for motorcycle boots for short riders and you're familiar with the Daytona family, then YOU KNOW why they're special. The Daytona M-Star boots with their unique cork insole are at the top of the food chain, handmade in Bavaria, waterproof, breathable, and guaranteed for life through their gore-tex membrane.
We typically see the Daytona Road Star GTX be the most popular and are available in sizes for both men and women. The M-Star is very interesting in a sense, then in sizes 40 through 43, it affords an option that has a thick sole or platform that allows a little bit extra height to the boot, and that's why you would invest in an M-Star over a Daytona Road star.
Features And Benefits
Keeps Your Feet Cool and Dry – These boots are designed with the true hardcore rider in mind. They have a waterproof, breathable GORE-TEX membrane on the exterior, and a special full cowhide construction on the interior. This is a boot you can depend on in the most extreme conditions.
Vibration and Shock Absorption – The reinforced heel cushion and anatomically formed insole reduce vibration and shock when walking long distances.
Extreme Comfort – The removable, washable PU insoles and gel layer under the sole provide all-day comfort for your feet.
Looks Good – These boots are designed to blend in with the outdoors and have an aggressive hot-dip galvanized steel inlay on the bottom for a great-looking, non-marking surface.
Durability – All the features that make these boots comfortable and durable also make them extremely hard-wearing. They will last a lifetime if treated properly.
This boot for short riders gives us two and a half center meters in the heel, eight millimeters in the toe, and a removable leather coated cork instep.

There are subtle differences between the Daytona Road star, like the covered zippers and the way the top of the Gator is done. But remember, this boot is a multi-season touring gore-tex boot, so it is waterproof breathable, and guaranteed for life. 
You're getting a mixture of high-quality components that comprise an heirloom product made by hand for multi-year multi-season use. really in a lot of different Road riding scenarios 
It has a phenomenal amount of protection. I would dual-sport in them, but if I went into hardcore dual-sport or adventure style riding, I might want something that has more external protection. Although, this boot has great toe ankle, heel, and shin protection.
Size
We talked about the cork insert that allows you to get that extra height, great for shorter riders; that's why it only goes up to size 43. They assume if your size 44, which is going to be size 10 to 10 and a half, 45 and up, you're probably tall enough with a long enough instep that most bikes are going to be just fine. However, I do find the Daytona runs a hair big, so keep that in mind.
What I would want you to do is look at the size chart on the Daytona M-Star page. Assume that an M-Star in size 42 is really about a nine and a half, where typically I'm a nine and a half, and I'd wear about a size 43. I find they run from half size to a full size large, so make sure you look at that side of our page.
You should also note that with a higher heel and a higher instep, even though it's not a higher external heel, it should be very stable and get your feet to the ground. 
But it's going to feel like you have a little bit of a higher arch, and you're going to feel it in the toe as well, which is a little bit thicker. So keep that in mind that we do ship for free if you're concerned about fitment.

Waterproofing
Looking from the outside and working our way in. it comes with full-grain hydrophobic leather, which means it will breathe. Full-grain leather boots with gore-tex are better because it breathes better than synthetic layer. Hydrophobic means it's naturally water repellent down to the tanning process.
This boot has a basic shift panel and dual recess stitching across the top. You're going to see covered zippers for entry and exit over both the lateral side, which is the outside and medial side.
Safety
The sole is a bit of a chunkier sole than that Daytona Road star, but again I told you why. On the stiffness scale, even though it is steel reinforced, I give these boots about a 7 out of 10. They offer great feedback and don't take a lot to break in. 
On the M-Star, there are some things that you can't see. That includes TPU reinforcement on the toe. It is reinforced laterally and immediately along the ankle with a big reinforcement heel in the ankle cockpit.
There are also aramid reinforcement fibers in the heel and the toe to aid internal heat transfer and slide resistance. They've beefed up the boot from the inside out, in case you low side at 90 miles an hour and are sliding right on the outside of the boot. You're going to have a better time sliding for longer and not having that heat transfer to your foot because of those internal layers.
As you move up to the front of this boot, remember we talked about hardcore shin protection, same on all the Daytona lines, it has great protection from your footpeg.
Fitment
If you move your way around the back of the boot, you will see you have the ability to adjust the circumference of the calf with elasticated bellows. 
There are a few important things. 
You might have a beefy muscular calf 
You might be wearing a set of road leathers you want to tuck into the boot.
The Daytona M-Star has a double-walled construction which almost creates that extra Gator. They do this a lot in Europe, and it's nice to see it here in the States. What I also like is they have a flap the covers the big coiled YKK zipper completely.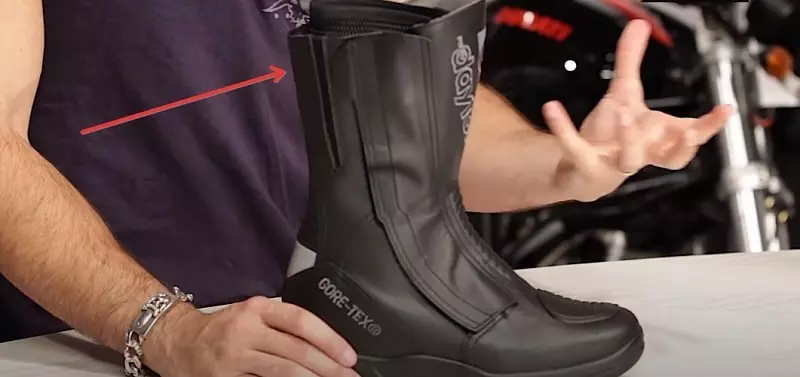 Another unique feature is a double layer to keep the boot waterproof. What you have is a dual-layer, so if you want your leathers to fold inside your boot, you can. The leathers can be fitted over the inner bootie, a non-removable, waterproof breathable gore-tex liner.

One other feature is it has a fleece-lined on the inside that's a true gore-tex wicking liner. So you can put your leathers on the inside, you can put the waterproof Gator from your pants on the inside and then adjust it to make sure you have enough circumference to zip it up completely.
You are getting the best of both worlds for hardcore multi-season riding. If you're in a monsoon, you can have four layers for any water to even get inside your boot, which is a nice touch. Everything is soft and fleecy; it will be built to hold up in the longer term. 
A few other things are going on inside the boot that you really can't see. One is that for multi-season, multi-year use, because you're looking around that $500 mark, you're not going to want to have to replace these any time soon.

They have reinforcements along the toe where your shift would go or where your toe would go. So, a lot of times, people's toenails, believe it or not, could poke through that waterproof gore-tex liner. 
They are completely reinforced, so you're never going to have that issue because Daytona knows that these boots are built to last for five six seven seasons. So again, people are resoling them to take care of their boots to get the most out of them. 
Also, what you have is a shock-absorbing latex liner in the footbed, which absorbs shock, creates a more comfortable ride on the pegs, and gives you another layer of latex protection from water coming in through the seam and getting to that gore-tex liner.
Raised Cork Instep
With regards to the M-stars raised instep raised heel and raised toe box in this cork reinforced insert. You could remove that as a normal styled boot with a shoulder or a gel insert.
The interior of this boot has a TPU, which is exposed. You will see a steel shank for reinforcement in the composite outsole, which is a nice touch. I would give it a seven on the stiffness scale, and it has that nice raised heel.
Zippers
The first zipper is longer curved because, in a crash situation, the curvature of this zipper will keep it from going all the way down and getting it ripped off your foot. 
That being said, when you're putting the boot on and off, always do the curved zipper first because it's a little tougher with your foot in it, and then you'd use the internal zipper to bring it all together.
That's an ergonomic and safety feature that Daytona is doing that I haven't seen anyone else do.
Remember, all Daytona does is make boots. They focus on boots for both Road and sport riding, and they think about ergonomics, protection, and defense from Mother Nature, which is their claim to fame.
Maintenance
You need to take care of these bad boys. If they get muddy, rinse them off and let them air dry. If they get wet on the inside, stuff them with newspaper and let them dry at room temperature.
You never want to sit them under a heat lamp as it will crack your leather. You never want to blow dry them; dry let them dry naturally with pieces of newspaper in them to absorb that water.
If you're going to replace the DWR on the outside, use Nick wax. Never use hardcore oil because oil affects the gore-tex membrane, and you don't want to clog those tiny microscopic pores that allow your foot to breathe.
The next step in your journey is to click right here to read other rider reviews of the Daytona M-Star. Remember, you're buying an M-Star, if you want that height option; other than that, you're buying a Daytona Road star because that's your classic choice.