If anyone has the credibility to bring out a retro helmet that harks back to the styling of the 1980s, then it's Arai.
The slash-cut vents in the rapid chinbar are reminiscent of Freddy spencer's lid and the simplicity of the overall look, but this is a thoroughly modern helmet that shares a lot with Arai's most recent helmet releases.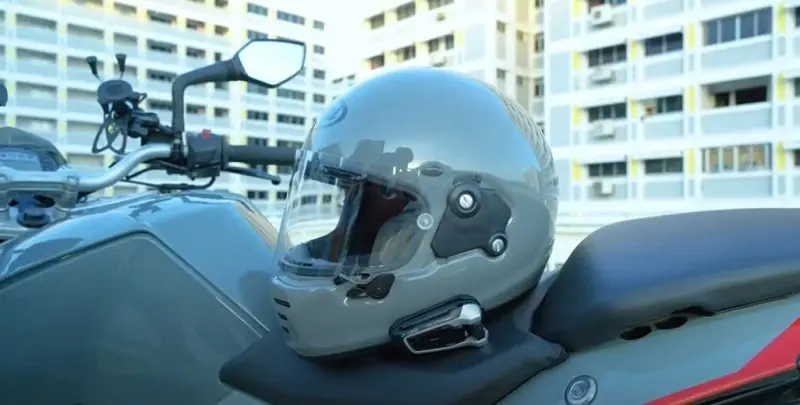 Arai Rapide Review
Shell Construction
The shell is the PB ECLC composite of fibers. That stands for peripherally belted e-complex laminate construction. 

The material is designed to balance toughness and lightweight. The peripherally belted portion of the title means there's a reinforcing band in the shell just above the eye-port.
That shell material is the same as Arai has used on their newest helmet, the Quantic. So there's nothing retro about that material when it comes to weight.
Weight
The Rapide in a size medium weighs on our scales at 1557 grams/3.4 lbs, which is not exactly lightweight, but it is a lardy lump.
Ventilation
The slash-cut vents at the front are the most obvious ways of getting air inside the helmet, and they're also the only air inlets in the shell itself.
There's an internal shutter switch on the inside of the chamber so you can slide it up or down to allow air in or block it out. 
Some air travels through and is channeled through the helmet's base. It can then escape through vents at the rear of the shell and on the neck roll.
The other vents are on the top of the visor and are an Arai specialty. They allow air to enter and travel through the internal ducts towards your temples.
In my opinion, they are the most effective vents on the helmet, and they make quite a big difference overall.

Ventilation isn't on par with helmets with vents on top of the shell, but it's pretty good, considering that there are only air intakes on the chin and visor.
As for the rest of the visor, it's the same vast V-type visor that's been used on all new Arai full-face helmets since 2015, including the top-of-the-range RX-7V race helmet.

Pinlock Anti Fogging
A Pinlock 120 anti-mist insert protects it, so it's the best protection against fog and covers most of the visible space inside the eye-port.
The visor is the same as the visor used on quite a few modern Arai, but the mounting is different, and there are no side pods with the Rapido. 
Instead, you must unscrew the retaining plates and the two skews; the visor unclips around those mountings.
Once you've removed them from the helmet, it's a simple enough process, but it is a bit fiddly.
I changed the visor a few times while reviewing this helmet and timed myself. For the last change, it took five minutes and two seconds.
That's not exactly the end of the world, a five-minute change. I would probably speed that time up with some practice, but I wouldn't want to be swapping visors too frequently.
Sun Visor
If this helmet had an internal sun visor, that would only be a tiny issue. However, Arai believes that fitting sun visors on their helmets make them less safe so they won't do it.
They do make a replacement visor with an external sun visor that slides over the outer surface to give you a choice between tinted and clear visors.
Those would make visor swaps much less frequent, but those proceed visors are over £100, so that's worth bearing in mind.
Interior
The interior of this helmet is quite sporty. However, the comfort padding fabric is quick-drying, so this isn't a retro liner.
SomeArai's use a very soft fabric that takes quite a while to dry, but this one is antimicrobial and dries quickly.

I wore this helmet in the hottest part of our summer, and it was good at drying out after one of those sticky, sweaty rides.

Bluetooth
The lining is also fully removable, and there are pockets within the cheek pads where you can fit speakers for an intercom.
I fitted a Cardo PACKTALK Bold system to this helmet. It fitted neatly and was dead easy to use within this helmet.

Safety Straps
The strap fastener is a D-ring, exactly as everyone would expect on an Arai because all of their helmets have a D-ring fastener.
This helmet's been around since 2020, and as we write this, we've had 15 customers who've left a review. Only one of those reviewers left less than the maximum five stars, and that was a four-star review.
He felt the visor latch was a bit fiddly. This part is hard for me to disagree with as it takes a while to become second nature.
I've used that visor latch on several different ROI helmets now, and after a while, you get used to it, but, as I said, it does feel fiddly at first.
The other issue I'd raise after my time with the Arai Rapido is the time it takes to change a visor. 
That's not an issue if you only have a ride with a clear or a tint advisor or if you're okay with splashing another hundred pounds on a pro shade visor.
Something else I noticed in my time with this particular helmet was the popularity of the paint scheme.
It's the blue and beige dream design for 2021 I tested, and it drew a lot of comments from loads of people, even john Reynolds the former British superbike champion.
Sizing
The Rapide comes in sizes XS to XL, with three shell sizes. The smaller shell covers helmet sizes extra small and small, the middle shell covers medium and large, and then the largest of all the shell sizes covers size XL.
Safety Standards
It's approved to ECE 2205 for the road, and ACU gold approved, so you can wear it for track days and racing if you like.

In Conclusion
This Arai Rapide Retro Motorcycle Helmet is a retro motorcycle helmet with a futuristic style. 
This helmet is made from multi-composite PB e-CLC outer shell construction, which makes it lightweight. 
It has a variable axis system quick-release visor. In addition, it has adjustable air vents, a free flow system, multiple hidden internal air channels for cooling, and front brow and inner chin intake vents.
It comes with a rear neck, side air ventilation exhaust, and a fixed chin spoiler for speed stability.
It has a double-D chin strap retention system, pinlock ready, supplied with the insert and emergency quick-release cheek pads.
It has a facial contour system for a more secure fit, a 5mm peel-away temple and cheek pads, a smooth glance-off shape for added protection, and dedicated intercom system speaker pockets.
It also has a removable antimicrobial liner, cheek pads, and an emergency quick-release cheek pad.
Where To Buy
| Model | Sports Bike Shop |
| --- | --- |
| Arai Rapide Retro | From £399 |