There is no best motorcycle camera only a camera that suits your requirements. You may want a camera to catch the excitement of racing on a track or simply use a camera to record your journey to work and back. Our top pick is the GoPro Hero 7 Black but we have reviewed four more cameras here so you can decide what your best camera is.
Top 5 Motorcycle Helmet Cameras Reviewed
Since you'll be mounting the camera on your helmet to document your road trips and experiences, it's important to find the right model. You'll need to have an action camera with high definition resolution and superior image quality, it should also be able to handle fast speeds and shaky movements.
Today we'll bring you the top five best motorcycle helmet cameras, whether you need the best of the best or just the most affordable option, we have one that's right for you.

GoPro Hero 7 Black
Securing the top spot on the list is the GoPro Hero 7 black (available from Amazon). Its hailed as the new king of action cameras delivering exceptional video quality in all types of weather. It's waterproof and ready to fight against the harshest weather conditions, it's also by far the most advanced GoPro on the market today.
It's powered by hyper smooth image stabilization technology which guarantees ultimate 4k video footage even without the help of a gimbal. It predicts the movements, correcting camera shake motion and ensuring amazing videos.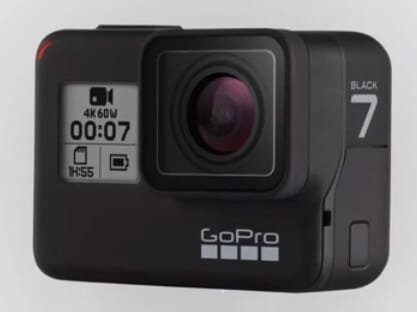 It converts long activities into shorter shareable movements by increasing the speed up to 30 times.
It also lets you slo-mo the video up to 8 times using the high frame rate 1080p 240 video reliving epic funny or interesting moments.
If you want to share your exciting experiences instantly the GoPro app allows live-streaming via Facebook Live.
You can also stream live to other platforms by utilizing the RTMP or real-time messaging protocol URL and save the stream videos on a high-resolution SD card to preserve your memories.
Switch to photo mode and use this super photo feature that intelligently applies HDR noise reduction and local tone mapping to optimize every shot you take. You'll have the most brilliant 12-megapixel images of everything you wanted to capture.
If you think that these impressive features stop there you're wrong, because you can also control the highly responsive motorcycle camera hands-free with voice commands such as GoPro start recording or GoPro take a photo. It comes with a head strap that you can wear directly on the head or over a helmet.

DJI Osmo Pocket Handheld Camera
Our second product is the DJI Osmo pocket handheld camera. It is an ultra-compact 4-inch camera weighs 116 ounces with up to 2 hours of battery life. It features a three-axis gimbal for superior stabilization during the action.
This built-in gimbal counteracts unwanted motions that ensure ultrafine video footage, it's also intelligently designed for people who want to tell a story.
This can be a great tool for vloggers who want to capture moments in cinematic memory, you can shoot 4k footage up to 60 frames per second without a glitch.
The time-lapse feature lets you squeeze longer videos into a single clip while the motion lapse brings dramatic effects transforming your videos into incredible mini-films of your life.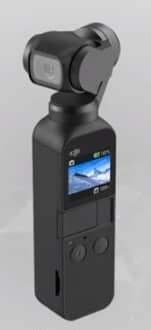 The built-in dual microphone with an advanced noise-canceling algorithm captures high-quality audio helping you create an excellent voiceover for your footages.
When it comes to editing there's also a dedicated app with premium tools that you can use to make amazing visual stories for photo-perfect shots that are worth sharing.
There is a one-point two-point three-inch sensor an F 2.0 aperture and eighty-degree for the field of view that work together and deliver stunning details.
It automatically illuminates low-light scenes give you brighter 12-megapixel pictures. For amazing selfie photos tap the selfie mode to enable the Face track putting you in the middle of every shot, tapping the subject on the screen enables the active track to function.
Cam Park ACT 74 Camera
Securing our third spot is the Cam Park Act 74 camera. This portable camera can record real-time action at 30 frames per second and 4k resolution. It has a 170-degree wide-angle lens that captures every single detail of the scene.
It also includes features like time-lapse, loop recording and slow-motion modes that help make moving images smoother. Equally impressive is its HD quality photos at a 16-megapixel resolution which can be viewed on a two-inch screen of the camera.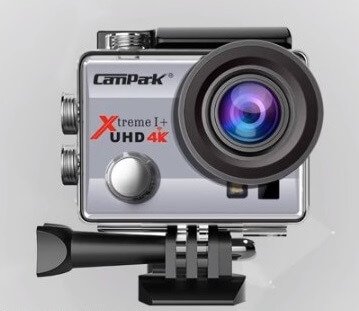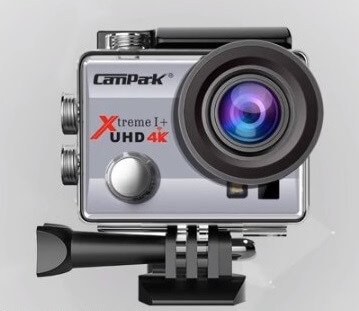 The superior visual quality is enhanced by setting the ISO sensitivity, image sharpness, white balance, and exposure compensation, it also remarkably reduces any ghosting effect.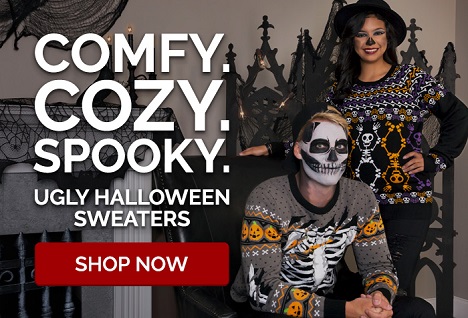 All of your recordings are stored on the 32 gigabyte SD card that comes with the camera when you purchase.
Another cool thing about this camera is its ability to go underwater up to 98 feet or 30 meters, with a waterproof case.

It's a perfect companion for snorkeling, surfing, diving or swimming as well as any other outdoor sports.
It can be mounted on all types of motorcycle helmets, armbands, belt, bike and surfboards allowing you to capture all the highlights of your extreme activities in various conditions.

This versatile camera can also be used as a dashcam or security cam while recording your adventure as you drive your motorcycle or car.
It's also equipped with an HDMI output and Wi-Fi system which allows you to connect with your smartphone helping you share thrilling moments to Instagram, Facebook, and Twitter.
The dual rechargeable lithium batteries can last up to 240 minutes of continuous shooting.
Akkaso EK 7000 Sports Camera
At number four on our list is the Akkaso EK 7000 sports camera. This powerful DV camcorder is true to its promise in delivering smooth and high definition 4k video recordings. It's built with a hundred and seventy-degree wide-angle lens that provides an expansive view allowing you to capture wider angles.
It also comes with a wireless wrist remote control that helps you select or change the mode while recording the activity. This 2.4 gigabyte highly responsive remote allows shifting from video to photo mode, framing shots, burst images or time-lapse.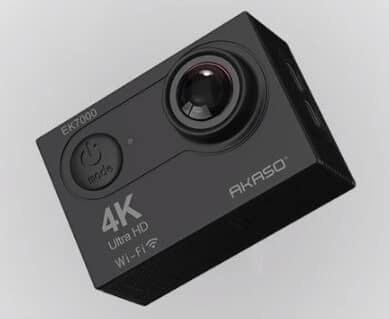 The remote is not water-resistant so you won't be able to use it while shooting underwater or under harsh weather conditions.
However, the durable waterproof camera case guarantees protection as you go underwater for depths of up to a hundred feet.
To capture moments automatically, program the intervals from 0.5 up to 60 seconds.
The burst photo mode helps you capture moments at 30 frames per second, all images are sharper and more lifelike because of a 12-megapixel resolution capability.
Stay connected to your social media platforms by utilizing the built-in Wi-Fi and HDMI components. download the eye smart TV app on your tablet or smartphone to share seamless real-time videos or photos.
This versatile action camera doubles up as a dashcam, turn on the screen rotation and enables the loop reporting function. It comes with two rechargeable 10 50 mega ampere-hour batteries, each battery guarantees up to 90 minutes of recording.
Sony YI Light Action Camera
Our fifth and final item is the Sony YI light action camera. It's a small but incredibly impressive camera because of its amazing features. It has a hundred and fifty-degree angle lens with an F29 aperture that can capture clear and bright images or videos.
In low-light conditions, you can manually choose the right parameters of the scenes by utilizing the integrated self-defined image quality or IQ feature.
The advanced electronic image stabilization or EIS provides steady and seamless footage. Its 2-inch touchscreen LCD offers 320 by 240 resolution, which clearly displays the view of your footage allowing you to make adjustments as needed.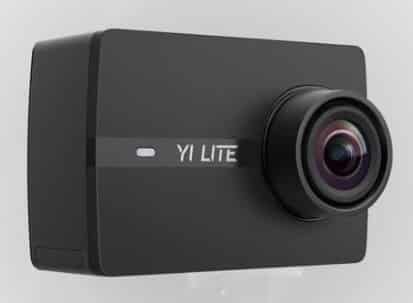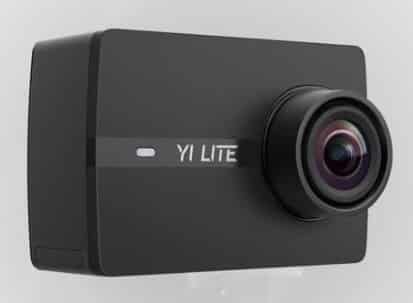 It also has an intuitive user interface that navigates the settings, modes, preview, and playback easily.
The Corning Gorilla Glass of the LCD protects the screen from scratches and accidental impact.
The patented Sony ex armor image sensor makes it possible for you to seamlessly record video footage up to 4k resolution and capture it at 16-megapixel photos.
All of your recordings are stored in the advanced 35:56 chipset that allows you to record 1080p at 60 frames per second video without worrying about running out of memory. It also uses a reliable lithium battery that can last up to a hundred and thirty minutes without overheating.
This highly efficient compact camera helps you connect to your social media platforms with its dual-band Wi-Fi feature and 4.1 Bluetooth Low Energy. You can remotely control the camera up to ten meters of distance using the Bluetooth.
Each of these cameras is truly impressive, pick the one that suits your needs and your preferences and get recording. Invest in a professional camera that can capture the epic and thrilling moments of your life, don't settle for inferior cameras that can't meet your expectations. If you're on a budget buy the best one that guarantees exceptional video recording and images.
Time to live life by the fullest by documenting all of your exciting events while on the road or underwater.
If there's a product you'd like to see in one of our next posts write them in the comment box and we'll feature your request as soon as we can.